printer friendly version
Foxboro buoyancy level transmitter
August 2019
Level Measurement & Control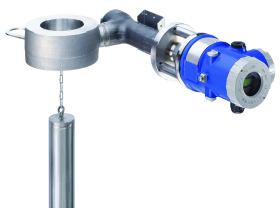 Principle of operation
When an element a (displacer rod) is immersed into a liquid, according to Archimedes' Principle, the displacer will 'lose' some of its weight proportional to the level of the liquid and its density. These changes in weight are converted to a measuring signal via a torque tube and can be used to determine liquid level, density and interface. When the displacer is fully immersed in the liquid, the density and interface level can be directed by suspending the displacer in a constant calendric shape into the liquid. This weight difference is detected by the use of a torque tube sensor that converts it to an electronic signal.
Foxboro's intelligent 244LD LevelStar buoyancy transmitter is designed to perform continuous measurements for liquid level, interface or density in industrial process applications. The instrument is extremely robust and durable and easured values can be transferred using analog and digital methods. Digital communication facilitates complete operation and configuration via PC or control system. Despite extreme temperatures, high process pressure and corrosive liquids, the 244LD measures with consistent reliability and high precision. It is approved for installations in contact with explosive atmospheres and combines the abundant experience of Foxboro with most advanced digital technology.
Foxboro's Model 244LD LevelStar is its most powerful version for high temperature and high pressure applications. Key features include:
• Process temperatures from –196 to 400°C.
• Process pressures from full vacuum up to 550 bar.
• Class 2500 and API 10000 version available.
• No moving parts = maintenance free.
• Easy two button and LCD display field calibration.
• FDT/DTM technology.
This turnkey solution consisting of a transmitter, displacer element and displacer chambers meets all EPC instrument specifications and is easy to setup and recalibrate in the field.
For more information contact Johan van Jaarsveldt, EOH Process Automation Solutions, +27 87 803 9783, johan.vanjaarsveldt@eoh-pas.co.za, johan.vanjaarsveldt@eoh-pas.co.za
Credit(s)
Further reading:
A new approach to wireless networks
June 2020, EOH Process Automation Solutions. , Industrial Wireless
The Instrument Area Network (IAN) has been developed by Schneider Electric as a cost-efficient and flexible industrial wireless network as an alternative to more costly systems. Bluetooth communication 
...
Read more...
---
New additions to Optiflex level transmitter series
May 2020 , Level Measurement & Control
Krohne has introduced four new additions to the Optiflex series of guided radar (TDR) level transmitters. Each device is designed for specific areas of application in the chemical, oil and gas, power, 
...
Read more...
---
Capacitive level switch for fluid, pasty and powdery media
May 2020, GHM Messtechnik SA , Level Measurement & Control
Martens, part of the GHM group of companies, has introduced its MLC 437 capacitive level switches for use principally for the registration of limit levels, full/empty signals in pipes and tanks in fluid, 
...
Read more...
---
Top-mounted level indicator
May 2020, WIKA Instruments , Level Measurement & Control
WIKA's model UTN top-mounted level indicator consists of a measuring chamber, a float with guide rod and a magnetic system. Mounting onto the vessel is made via appropriate process connections (flanged 
...
Read more...
---
New 80 GHz compact radar transmitters
May 2020, Siemens Digital Industries , Level Measurement & Control
Siemens has introduced the Sitrans LR100 series 8 GHz radar level transmitters, a compact instrument with a narrow beam for flexible installations in existing vessel openings or even non-intrusively through 
...
Read more...
---
New compact radar sensor
April 2020, VEGA Controls SA , Level Measurement & Control
A new era in radar level measurement began a few years ago when Vegapuls sensors based on 80 GHz technology were introduced. Thanks to the more precise focusing of the radar beam, the sensor virtually 
...
Read more...
---
Digital innovations using the vibronics measuring principle
February 2020, Endress+Hauser South Africa , Level Measurement & Control
Continuous optimisation and increasingly automated processes are shaping the history of process automation, as well as that of industrialisation.
Read more...
---
High-speed level measurement
February 2020, Morton Controls , Level Measurement & Control
Morton Controls in partnership with Anderson-Negele has introduced the innovative NSL-F level sensor based on a modular device platform. The new platform strategy used with this sensor is based on a building-block 
...
Read more...
---
Capacitive level limit switch
February 2020, Morton Controls , Level Measurement & Control
The Capanivo level limit switch can be used in most solids and liquids as a full or empty detector. The robust, glass reinforced PPS (polyphenylene sulphide) sensor is suitable for food applications while 
...
Read more...
---
Rotary paddle switch with rope extension for point level measurement in silos
February 2020, Morton Controls , Level Measurement & Control
Limit detection is required in most silos and containers to avoid overfilling or unnecessary downtime. The sensor needs to deal with an assortment of process conditions within a wide range of industries. 
...
Read more...
---