printer friendly version
Foxboro buoyancy level transmitter
August 2019
Level Measurement & Control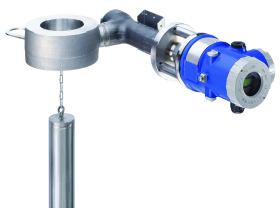 Principle of operation
When an element a (displacer rod) is immersed into a liquid, according to Archimedes' Principle, the displacer will 'lose' some of its weight proportional to the level of the liquid and its density. These changes in weight are converted to a measuring signal via a torque tube and can be used to determine liquid level, density and interface. When the displacer is fully immersed in the liquid, the density and interface level can be directed by suspending the displacer in a constant calendric shape into the liquid. This weight difference is detected by the use of a torque tube sensor that converts it to an electronic signal.
Foxboro's intelligent 244LD LevelStar buoyancy transmitter is designed to perform continuous measurements for liquid level, interface or density in industrial process applications. The instrument is extremely robust and durable and easured values can be transferred using analog and digital methods. Digital communication facilitates complete operation and configuration via PC or control system. Despite extreme temperatures, high process pressure and corrosive liquids, the 244LD measures with consistent reliability and high precision. It is approved for installations in contact with explosive atmospheres and combines the abundant experience of Foxboro with most advanced digital technology.
Foxboro's Model 244LD LevelStar is its most powerful version for high temperature and high pressure applications. Key features include:
• Process temperatures from –196 to 400°C.
• Process pressures from full vacuum up to 550 bar.
• Class 2500 and API 10000 version available.
• No moving parts = maintenance free.
• Easy two button and LCD display field calibration.
• FDT/DTM technology.
This turnkey solution consisting of a transmitter, displacer element and displacer chambers meets all EPC instrument specifications and is easy to setup and recalibrate in the field.
For more information contact Johan van Jaarsveldt, EOH Process Automation Solutions, +27 87 803 9783, johan.vanjaarsveldt@eoh-pas.co.za, johan.vanjaarsveldt@eoh-pas.co.za
Credit(s)
Further reading:
Radiometric solutions in refineries
November 2019, Mecosa , Level Measurement & Control
Berthold Technologies' radiometric instruments for non-contacting level and density measurement are widely used in the oil refining industry, where customers include Exxon Mobil, Sinopec, Shell, BP, Conoco 
...
Read more...
---
Interface measurement in desalters
November 2019, Mecosa , Level Measurement & Control
Interface measurements in desalters are often regarded as non-critical, even though every drop of oil to be refined passes through the desalter. As refineries try to maximise their margins, so-called 
...
Read more...
---
Level monitoring of groundwater
October 2019, WIKA Instruments , Level Measurement & Control
Much of our drinking water is extracted from subterranean resources. Water that falls to the surface of the Earth drains not only into rivers and lakes, much of it will permeate into subterranean reservoirs. 
...
Read more...
---
Ultrasonic sensor for remote water level measurement
October 2019, Instrotech , Level Measurement & Control
Instrotech has available the Senix ToughSonic CHEM range of ultrasonic sensors, in service around the world in some of the most demanding and corrosive industrial environments. They measure a wide variety 
...
Read more...
---
Simple measurement of liquid levels
October 2019, VEGA Controls SA , Level Measurement & Control
In 2016, VEGA introduced the Vegapuls 64, its first radar level sensor for liquids that measures at a frequency of 80 GHz, which allows considerably better focusing of the radar beam. With Vegapuls 64, 
...
Read more...
---
Density compensated pressurised vessel level measurement
October 2019 , Level Measurement & Control
The traditional approach to level measurement in closed vessels such as boilers, evaporators, crystallisers or distillation columns, has been to use a conventional differential pressure (DP) transmitter 
...
Read more...
---
Kobold's new float level switches
August 2019, Instrotech , Level Measurement & Control
Kobold's M-series level switch comprises a float that slides up and down with the liquid along a guide tube. Thus, up to 4 reed contacts moulded in the guide tube are switched in a non-contacting fashion 
...
Read more...
---
Level measurement for sanitary applications
August 2019, WIKA Instruments , Level Measurement & Control
WIKA's model FLM-H magnetostrictive sensor has been specifically designed to meet the requirements of the food and beverage, pharmaceutical and biotechnology industries. The sensor is particularly suitable 
...
Read more...
---
Water level system controls cathodic protection
August 2019, Omniflex Remote Monitoring Specialists , Level Measurement & Control
Corrosion Control Services is a leading specialist in the design, installation, commissioning and monitoring of cathodic protection. CCSL carries out works on reinforced concrete structures, historic 
...
Read more...
---
A case for IIoT's future in supply chain management
Technews Industry Guide: Industrial Internet of Things & Industry 4.0, VEGA Controls SA , Level Measurement & Control
This paper will explore how one construction materials hauling company used level measurement sensors and IIoT networks to manage their operation while simultaneously securing its customers' supply chain, and keeping costs low.
Read more...
---