printer friendly version
Countering the counterfeiters
August 2019
News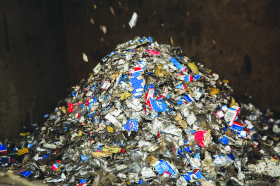 In 2017, working with law-enforcement authorities, SKF destroyed 15 tonnes of counterfeit bearings that were identified and seized several years ago. The batch, which comprised 17 000 individual items, had been destined for unsuspecting customers in the marine supply chain.
That haul was unusually large, but in other ways it was far from unique. Fake bearings are widespread in the maritime sector and analysis suggests that up to 50% of vessel managers may have inadvertently purchased counterfeit parts in recent years. When SKF shared this data with customers, their first reaction was disbelief. Few marine maintenance or purchasing professionals have any idea that counterfeiting is an issue in product categories such as bearings. Fewer still realise that it is an activity with such scale and reach, but it is a common issue for many global brand bearing manufacturers.
That is one reason why the marine sector has proved to be a lucrative market for counterfeiters, but there are other important factors at play. First there's the nature of the product. Bearings vary widely in the detail of their design and construction, with different products built using different materials and designed for different operating conditions. Yet most bearings are manufactured in ISO-standard sizes. That makes life easy for the fakers. They can buy batches of cheap products on the open market, then add counterfeit branding, identification marks and packaging. At a stroke, a low-cost commodity bearing looks to the untrained eye like a unit from SKF or another top-tier manufacturer.
Then there's the nature of the supply chain. Vessels are mobile assets, and maintenance or repair activities may take place in ports all over the world. When operators need new parts, they usually need them urgently, so they can get equipment fixed without adversely affecting schedules. Replacement parts are often sourced on an ad-hoc basis from local suppliers. Those suppliers are not typically specialists with direct relationships with the big industrial manufacturers.
Together, those conditions provide counterfeiters with straightforward access to a large market, even though every other participant in the chain is making their purchases in good faith. The best way to stamp it out is to ensure that the parts bought come from an approved source. Bearing manufacturer websites and customer services departments can point users to approved local suppliers anywhere in the world.
For more information contact Samantha Joubert, SKF South Africa, +27 11 821 3500, samantha.joubert@skf.com, www.skf.com
Credit(s)
Further reading:
From the editor's desk: IT-OT integration becoming a must, but there are challenges
October 2019, Technews Publishing (SA Instrumentation & Control) , News
We're seeing the insecurity around digital transformation start to fade as the history of case studies builds to show how enlightened manufacturing companies have applied the ideas to rationalise their 
...
Read more...
---
Rockwell Automation announced as Founding Member of ISA Global Cybersecurity Alliance
October 2019, Rockwell Automation , News
Production facilities can contain thousands of technologies from different vendors. Cybersecurity threats only need to exploit one of them to steal trade secrets, stop production or even harm workers. 
...
Read more...
---
Emerson helps complete first Caspian subsea project
October 2019, Emerson Automation Solutions , News
Emerson has completed its $48 million contract for automation systems and cloud engineering software-as-a-service for the Shah Deniz 2 project in Azerbaijan and is fulfilling an ongoing five-year services 
...
Read more...
---
Ham-Let smart valve nominated for IoT award
October 2019, Fluid Systems Africa , News
In another remarkable achievement for the Ham-Let Group, its state-of-the art IoTH800 was nominated for best product award at the First Industry Of Things World Award 2019. The Ham-Let Internet-of-Things 
...
Read more...
---
BMG emphasises Hallite hydraulic and pneumatic seals
October 2019, Bearing Man Group t/a BMG , News
BMG supplies an extensive range of hydraulic and pneumatic seals and sealing solutions for demanding environments, and is also the distributor for Hallite Seals International within central and southern 
...
Read more...
---
KZN Expo brings industrial technology solutions under one roof for diverse exhibitor base
October 2019, Specialised Exhibitions Montgomery , News
Once again proving that it's the definitive platform for its 145+ exhibitors to showcase their industrial technology solutions, the KwaZulu-Natal Industrial Technology Exhibition (KITE) attracted a captive 
...
Read more...
---
Cummins stirs interest in pump-engine product line
October 2019 , News
Cummins recently hosted a highly successful seminar in both Dubai and at its Power Hub in Waterfall City, Johannesburg, to introduce end users and OEMs to its range of high-quality engines for the pumps 
...
Read more...
---
KZN a key growth area for Bearings International
October 2019 , News
The Bearings International (BI) Durban branch stocks a wide range of bearings, electric motors, gearboxes, lubricants, seals, tools, and power transmission products for a range of industries. These include 
...
Read more...
---
Trafo supplies transformers for data centre application
October 2019 , News
Trafo Power Solutions recently supplied two 2000 kVA 11,6 kV/415 V dry-type transformers to a large data centre in Cape Town. Manufactured under stringent quality control conditions at Italian transformer 
...
Read more...
---
BMG and AAC partner in Jeppestown clean up
October 2019, Bearing Man Group t/a BMG , News
The joy of teamwork is clearly evident in the partnership between engineering specialists, BMG and entrepreneurs, Agri Arts & Construction (AAC). "Through this match made in Jeppestown, home to both companies, 
...
Read more...
---