printer friendly version
What is going on in the Milky Way?
July 2019
Motion Control & Drives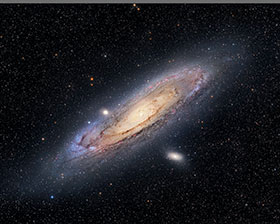 One of the regions we know very little about is the dense part in the centre of the galaxy, where countless stars and gas clouds cluster around a presumed black hole. But a major astronomy project is about to close many knowledge gaps. The project was commissioned by the European Southern Observatory (ESO), which operates some of the world's most powerful telescopes in the Chilean Atacama Desert. This includes the Very Large Telescope (VLT) with a mirror diameter of 8,2 metres at the Paranal Observatory.
The goal of the project is to equip the VLT with a new instrument to capture optical signals from space. The instrument in question is a spectrograph, which is capable of simultaneously capturing a large number of cosmic objects in the visible and infrared part of the spectrum. Its abbreviated designation gives the project its name: Multi-Object Optical and Near-infrared Spectrograph, MOONS.
With this new technology, MOONS opens up entirely new possibilities in observing space. It captures minute details. The huge lens and mirror of the VLT are pointed at the part of space that is to be observed. Then the ends of exactly 1001 optical fibres in MOONS are aligned to individual objects within this cosmic region. Instead of capturing the entire selected area like a camera, the new instrument focuses the fibres on certain points in the universe. These points are not just photographed, but instead their light is separated by prisms into different wavelengths.
"This method yields much more information than an image," explains Dr Taylor at the UK Astronomy Technology Centre (UK ATC). "It allows us to calculate its dynamics – the velocity and direction of movement. Because MOONS captures the near-infrared spectrum, we can precisely analyse the redshift that the light from distant objects travelling to us is subjected to."
One of the objectives of the project is to create a 3D map of the Milky Way, which would allow GPS navigation throughout our galaxy. "The MOONS technology with its unprecedented resolution enables us to look very far, and thus also very far back in time. We will be able to approximate the Big Bang to within a few hundred million years. This will give scientists insights into the universe's infancy. We will be able to map the universe to an unprecedented depth," adds Taylor.
The astronomers aim to target several million objects over a period of about five years. To reach that aim, the 1001 optical fibres of the spectrograph have to be pointed at the cosmic targets quickly and mostly automatically. This is achieved with an equal number of fibre positioning units (FPUs). Each FPU has two stepper motor drive units fitted to reduced backlash spur gearheads. The one in the back moves the central axis of the FPU. Eccentrically mounted on this, the front motor-gearhead drive unit simultaneously moves the fibre tip. The combination of the two axial movements allows each FPU to cover a circular area, within which the fibre can be randomly aligned. This area partially overlaps the areas of adjacent FPUs. That means that every point within the capture zone can be controlled.
To meet the challenging requirements in terms of positional repeatability, which is a must to avoid collisions between FPU end tips, the drive system solution has to be extremely precise. To ensure the required precision and to avoid collisions between the FPU tips, the systems must operate with high repeatability. The high quality stepper motors come from Faulhaber Precistep; the zero backlash gearheads from Faulhaber Minimotor contribute to the positioning accuracy.
The high precision and extreme reliability of the components allow the control to be kept simple. Complex electronics and control logics would severely impede the quick and simultaneous control of 1001 units. Thanks to the high quality of the components, precise alignment is achieved by means of simple open loop control. The technology must also be very sturdy and virtually maintenance-free in order to perform its tasks without interruption over the planned 10 year service life of the system.
Project manager, Dr Alasdair Fairley, is already looking beyond such technical concerns. "We are confident that the FPU will remain fully operational for 10 years without maintenance," he concludes.
For more information contact David Horne, Horne Technologies, +27 76 563 2084, sales@hornet.cc, www.hornet.cc
Credit(s)
Further reading:
Smart devices for Ex areas: Unbelievably simple mistakes that prevent control.
September 2019, Michael Brown Control Engineering , Editor's Choice, Motion Control & Drives
I am often astounded by finding really basic problems with controls in plants, which have operated that way for years. These problems are so basic that one can only wonder at how these controls could 
...
Read more...
---
DLM V-Drives
September 2019, Dupleix Liquid Meters (DLM) , Motion Control & Drives
DLM V-Drives control the latest generation of permanent magnet and standard induction motors. DLM offers the AMC (advanced motor control) and EPC (efficient pump control) V-Drives, which are available 
...
Read more...
---
Complete drive solutions to boost efficiency and cut costs
September 2019, SEW-Eurodrive , Motion Control & Drives
The importance of the sugar industry in KwaZulu-Natal to SEW-Eurodrive as a key growth area for its complete drive solutions was underscored when it exhibited at the Congress of the South African Sugar 
...
Read more...
---
RS announces drive controller kit
September 2019, RS Components SA , Motion Control & Drives
RS Components has announced the launch of the K4 Drive System Development Kit (K4DSDK) from ebm-papst, one of the world's leading manufacturers of high-efficiency fan and motor drive products. Targeting 
...
Read more...
---
Feed mill project relies on SEW-Eurodrive
August 2019, SEW-Eurodrive , Motion Control & Drives
SEW-Eurodrive has supplied 120 geared motors to Dalein Agriplan for a customised 100 tph feed mill for a major beef producer in the Free State. This is not only one of the largest single projects undertaken 
...
Read more...
---
Dust solutions for conveyor systems in bulk handling
August 2019 , Motion Control & Drives
BLTWorld works closely with ScrapeTec, to offer advanced solutions for conveyor systems used in the handling of materials with excessive dust. "AirScrape, TailScrape and DustScrape have been developed 
...
Read more...
---
Case History 167: Test your analytical capabilities
July 2019, Michael Brown Control Engineering , Editor's Choice, Motion Control & Drives
Answer to the question at the end of Case History 166 (
www.instrumentation.co.za/8690r
) In the last Case History article, I suggested you try and see what was not so good about a level control, which 
...
Read more...
---
BMG drives sewage and effluent management
July 2019, Bearing Man Group t/a BMG , Motion Control & Drives
BMG supplies a range of drives designed specially for optimum efficiency in sewage treatment applications. "Nord drives, which consist of Unicase helical shaft mount geared motors, have special features 
...
Read more...
---
Bauer motors for water treatment plants
July 2019 , Motion Control & Drives
According to Bearings International (BI) electric motors product manager Lewis Hiepner, the arduous operating conditions at water-treatment plants mean that the motors specified not only have to be high-efficiency, 
...
Read more...
---
Motors, drives, alternators and ATEX induction motors
July 2019 , Motion Control & Drives
Vert Energy is the sole distributor for Leroy-Somer in southern Africa and supplies and supports the entire LS range, which includes standard and adapted AC and DC motors, geared and brake motors, variable 
...
Read more...
---