printer friendly version
Continuous level measurement
July 2019
Level Measurement & Control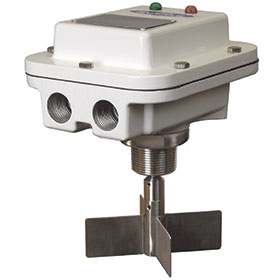 DRH Components is the official distributor of Bindicator bin level sensors in South Africa. These prevent overflow spills, controlling surge bins, detecting blocked chutes and providing on/off control of pumps and conveyors in the dry bulk industry.
Bindicator offers a full range of point and continuous level measurement products certified for hazardous and normal atmospheres. The diaphragm type AB-S is the original electromechanical point level switch. Diaphragm-type level controls were the first to enjoy general usage in the industry. These simple
devices eliminate bin overflow, empty bins, clogged conveyors and blocked chutes, preventing damage and waste to plant and product. The diaphragm sensors are available in various sizes and have six different types of diaphragms to suit most dry bulk applications.
Point level products, such as the Roto-Bin-Dicator PRO paddlewheel and the VRFII Series capacitance probe are on/off devices with relay contact outputs. Point level sensors indicate when material in a vessel is present or absent at a specific point. These durable, simple devices are easy to install, they don't require calibration or special tools, and they need little or no maintenance.
Continuous level measurement products from DRH Components continuously monitor the level of material in a vessel as it rises and falls. Bindicator has a variety of products available such as TDR2000 guided wave radar that provides continuous, non-mechanical level measurement utilising guided wave radar technology. The TDR-2000 is particularly suited for measuring the level of solids, granules and powders, as well as a wide range of liquids. The Yo-Yo Series cable and weight bin level sensors are specifically designed for continuous level measurement of a dry bulk solids inventory. Available as an option, the Yo-Yo Readout is an LCD display that can monitor up to 99 sensors and is used to program each cable and weight.
The F78MP Series through-air radar is accurate and reliable in difficult environments. The F78MP Series air radar sensor withstands corrosive environments and takes consistent measurements in steam, dust and other turbulent conditions. Outputs for most continuous level sensors include relay contact, 4-20 mA and PLC interface, with various fieldbus connectivity options.
For more information contact Rob Hare, DRH Components, +27 12 991 2119, robh@drhcomponents.co.za, www.drhcomponents.co.za
Credit(s)
Further reading:
New additions to Optiflex level transmitter series
May 2020 , Level Measurement & Control
Krohne has introduced four new additions to the Optiflex series of guided radar (TDR) level transmitters. Each device is designed for specific areas of application in the chemical, oil and gas, power, 
...
Read more...
---
Capacitive level switch for fluid, pasty and powdery media
May 2020, GHM Messtechnik SA , Level Measurement & Control
Martens, part of the GHM group of companies, has introduced its MLC 437 capacitive level switches for use principally for the registration of limit levels, full/empty signals in pipes and tanks in fluid, 
...
Read more...
---
Top-mounted level indicator
May 2020, WIKA Instruments , Level Measurement & Control
WIKA's model UTN top-mounted level indicator consists of a measuring chamber, a float with guide rod and a magnetic system. Mounting onto the vessel is made via appropriate process connections (flanged 
...
Read more...
---
New 80 GHz compact radar transmitters
May 2020, Siemens Digital Industries , Level Measurement & Control
Siemens has introduced the Sitrans LR100 series 8 GHz radar level transmitters, a compact instrument with a narrow beam for flexible installations in existing vessel openings or even non-intrusively through 
...
Read more...
---
New compact radar sensor
April 2020, VEGA Controls SA , Level Measurement & Control
A new era in radar level measurement began a few years ago when Vegapuls sensors based on 80 GHz technology were introduced. Thanks to the more precise focusing of the radar beam, the sensor virtually 
...
Read more...
---
Digital innovations using the vibronics measuring principle
February 2020, Endress+Hauser South Africa , Level Measurement & Control
Continuous optimisation and increasingly automated processes are shaping the history of process automation, as well as that of industrialisation.
Read more...
---
High-speed level measurement
February 2020, Morton Controls , Level Measurement & Control
Morton Controls in partnership with Anderson-Negele has introduced the innovative NSL-F level sensor based on a modular device platform. The new platform strategy used with this sensor is based on a building-block 
...
Read more...
---
Capacitive level limit switch
February 2020, Morton Controls , Level Measurement & Control
The Capanivo level limit switch can be used in most solids and liquids as a full or empty detector. The robust, glass reinforced PPS (polyphenylene sulphide) sensor is suitable for food applications while 
...
Read more...
---
Rotary paddle switch with rope extension for point level measurement in silos
February 2020, Morton Controls , Level Measurement & Control
Limit detection is required in most silos and containers to avoid overfilling or unnecessary downtime. The sensor needs to deal with an assortment of process conditions within a wide range of industries. 
...
Read more...
---
Digital float switch
January 2020, WIKA Instruments , Level Measurement & Control
As its first instrument of this kind, WIKA has launched a float switch with a PNP/NPN output signal. The model GLS-1000 detects the level of liquids with an accuracy of 1 mm or less. The digitised float 
...
Read more...
---