printer friendly version
New manifold valve design for pressure transmitters
July 2019
Valves, Actuators & Pump Control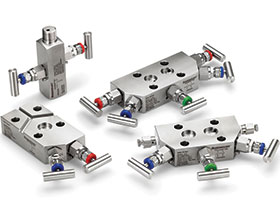 Emerson has introduced a new manifold product family for its Rosemount pressure transmitters. Manifolds shut off or equalise pressure at the transmitter and also provide the critical mounting mechanisms required in many installations. The Rosemount R305 integral manifolds and Rosemount R306 in-line manifolds have been designed to offer significant user improvements on these basic functions.
The most important improvement for both manifolds is the new Pressure-Lock valve design, which simplifies high pressure operation, increases safety and enhances reliability. New features include:
• Two-piece stem does not rotate in the seat, providing solid closure with minimal wear.
• Easy to turn while delivering positive shut-off.
• Adjustable packing nut simplifies valve maintenance.
• Back seating prevents blowouts for increased user safety.
• Stem and bonnet threads are fully isolated from the process fluid to minimise potential corrosion.
• Modular packing ensures only the stem and body are exposed to the process fluid.
• Larger internal passages to enhance reliability.
The Rosemount R305 is designed for both differential or gauge pressure applications and mounts directly to any Rosemount Coplanar transmitter for a complete solution. This reduces the number of potential leak points by 50% compared to traditional bi-planar transmitter setups. Two-, three- and five-valve configurations are available.
The Rosemount R306 is designed for in-line pressure transmitters for gauge or absolute pressure applications. When a Rosemount R305 or R306 is selected with a transmitter, the components are fully assembled and high pressure leak tested at the factory. This allows the transmitter to be installed right out of the box, saving time and money.
"Pressure transmitter manifolds often don't get much attention, but users understand how vital they are for effective operation," says Scott Nelson, vice president and general manager for Emerson's Rosemount pressure products. "Emerson takes all these elements seriously and has introduced this improved offering to make this critical operation easier and safer for technicians who work with these products every day."
For more information contact Devesh Roopnarain, Emerson Automation Solutions,+27 11 451 3700, devesh.roopnarain@emerson.com, www.emerson.com
Credit(s)
Further reading:
Emerson publishes 2019 Social Responsibility Report
July 2020, Emerson Automation Solutions , News
Emerson combines industry-leading technology and innovation to make a positive impact on employees, customers and communities around the world.
Read more...
---
HMIs improve operations and maintenance collaboration
June 2020, Emerson Automation Solutions , System Integration & Control Systems Design
It is essential that operators and maintenance engineers work together to resolve issues quickly, before they affect plant performance. However, coordinating actions between these departments can be challenging.  
...
Read more...
---
Valves for pump protection
July 2020, Valve & Automation , Valves, Actuators & Pump Control
Thyssenkrupp Steel Europe has opted for Schroeder pump protection valves during the recent overhaul of Unit 4 of its power station in Duisburg. The valves that were installed previously from another supplier 
...
Read more...
---
Stafsjö MV standard knife gate valve
July 2020, Valve & Automation , Valves, Actuators & Pump Control
Do you want to try the MV performance? The MV is an all-round valve with a proven global track record both on dry solids and wet fluids. The valve's ideal internal clearances lower friction and make it 
...
Read more...
---
Vibration sensor for prescriptive analytics
June 2020, Emerson Automation Solutions , Industrial Wireless
Emerson has introduced the AMS Wireless Vibration Monitor, a low-cost, easy to deploy vibration sensor that performs prescriptive analytics on vibration data using native software to automatically identify 
...
Read more...
---
Wireless detection of erosion corrosion
June 2020, Emerson Automation Solutions , Maintenance, Test & Measurement, Calibration
While many forms of corrosion can be anticipated depending on the presence of corrosion causing factors such as H
2
S, water injection and oxygen in dry pipelines, erosion caused as a result of sand or 
...
Read more...
---
Advanced pump control
July 2020, Instrotech , Valves, Actuators & Pump Control
Factory automation continues to develop year on year and pumps are increasingly required to supply real-time operating data to control networks so that their performance can be monitored and adjusted 
...
Read more...
---
Emerson introduces software for flow measurement
July 2020, Emerson Automation Solutions , Flow Measurement & Control
Emerson has released Micro Motion ProcessViz, a standalone, cost-effective software solution for flowmeter process data visualisation. Having an instant visualisation of raw process data translates into 
...
Read more...
---
Emerson's new thermowell design tool
June 2020, Emerson Automation Solutions , Temperature Measurement
Emerson has introduced the Rosemount Thermowell Design Accelerator, a free online thermowell design tool that eliminates manual thermowell iterations facing process design engineers when sizing thermowells. 
...
Read more...
---
Emerson's software secures health and safety
May 2020, Emerson Automation Solutions , IT in Manufacturing
Emerson's new DataManager software v8.2 helps refiners monitor corrosion of hydrofluoric (HF) acid alkylation units to prevent costly, unplanned shutdowns and maximise profits and productivity. DataManager 
...
Read more...
---