printer friendly version
Water regulation made easy
July 2019
Flow Measurement & Control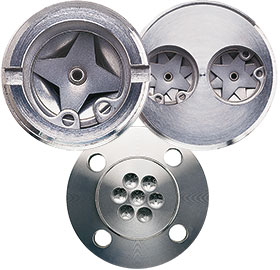 Kobold's REG mechanical flow restrictors and rate regulators, with their simple yet effective functionality, are ideally suited to consumer applications and uniform supply to multiple consumers. Once installed, the REG limits flow to a preset value of throughputs of water or of liquids similar to water, regardless of pressure fluctuations. The flow restrictors ensure equilibrium, particularly in systems with many users and resulting pressure fluctuations caused by random flow conditions. In other words, the desired throughput is not exceeded.
The REG valve operates without power supply, keeping the flow rate of fluids constant with great accuracy (±0,2 l/min) regardless of fluctuating inlet pressure. The principle is impressive yet uniquely simple. The constant flow is generated by two stainless steel spring plates of the regulating orifice, riveted together across each other, and which, depending on the differential pressure, open or close to a greater or lesser extent the ring or regulating funnel thus created.
The REG flow limiter can be used wherever a constant flow rate is required despite pressure fluctuations in the system, for example switching a consumer unit on and off. 
So, it is not only in the sanitation and heating fields that unwanted fluctuations in flow and temperature occur, but also in many areas of general industry and plant construction, such as, heat exchange, livestock, cooling circuits, building technologies, filtration, dosing, watering and humidification. Due to the high quality stainless steel design, REG is completely maintenance-free.
For more information contact Instrotech, +27 10 595 1831, sales@instrotech.co.za, www.instrotech.co.za
Credit(s)
Further reading:
Kobold's electromagnetic flowmeter
September 2019, Instrotech , Flow Measurement & Control
Instrotech now offers Kobold's new electromagnetic flowmeter model EPS with a standard accuracy of 0,3% of reading. The newly developed, microprocessor-controlled converter guarantees the high accuracy 
...
Read more...
---
Electronic pressure gauges for Ex areas
September 2019, Instrotech , Pressure Measurement & Control
Instrotech now offers Keller's range of intrinsically safe electronic pressure gauges for use in areas subject to gas explosion risks. The type approvals are compliant with the ATEX Explosion Protection 
...
Read more...
---
Kobold's new float level switches
August 2019, Instrotech , Level Measurement & Control
Kobold's M-series level switch comprises a float that slides up and down with the liquid along a guide tube. Thus, up to 4 reed contacts moulded in the guide tube are switched in a non-contacting fashion 
...
Read more...
---
Sensor technologies help wine growers to vintage success
August 2019, Instrotech , Sensors & Transducers
As English wine grows in popularity, more and more people recognise its award winning qualities and production is growing by the year. A generation ago, it was wise to steer clear of British wine, blends 
...
Read more...
---
Ultrasonic sensors in agricultural automation
August 2019, Instrotech , Sensors & Transducers
German manufacturer Dallmeier has announced a development partnership with AnyVision, a pioneer in AI-based facial, body, and object recognition. The aim of the cooperation is to integrate AnyVision's 
...
Read more...
---
Systematic flow metering
July 2019, Siemens Digital Industries , Flow Measurement & Control
Aguas de Saltillo, the water utility company which serves the Mexican city of Saltillo, is responsible for supplying drinking water to a population of around 850 000. To ensure a reliable supply to this 
...
Read more...
---
Accurate flow and mass measurement
July 2019, Actum Industrial , Flow Measurement & Control
Measurement of flowing media containing solids and particles poses a great challenge in the mining industry, due to the damage caused to inline flowmeters. The installation of inline flowmeters can be 
...
Read more...
---
Accurate bulk flow measurement in the cement industry
June 2019, SICK Automation Southern Africa , Flow Measurement & Control
The rapid development of sensor technology provides cement producers with a toolbox of solutions to optimise performance and strengthen market presence. Non-contact volume flow measurement of conveyed 
...
Read more...
---
Flow sensor for liquid media
June 2019, Festo , Flow Measurement & Control
The new flow sensor SFAW from Festo is ideal for monitoring cooling circuits, for example in welding guns in the automotive industry as well as in front-end applications in the semiconductor and electronics 
...
Read more...
---
Electromagnetic flowmeters
Africa Automation Fair 2019 Preview, Dupleix Liquid Meters (DLM) , Flow Measurement & Control
Badger Meter's electromagnetic flowmeters are ideally suited for flow measurement of all liquids with a minimum conductivity of 5 μS cm. The flow measurement is independent of density, temperature and 
...
Read more...
---