printer friendly version
Bauer motors for water treatment plants
July 2019
Motion Control & Drives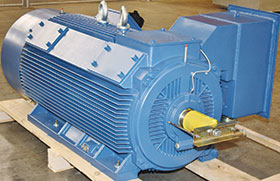 According to Bearings International (BI) electric motors product manager Lewis Hiepner, the arduous operating conditions at water-treatment plants mean that the motors specified not only have to be high-efficiency, but must also be IP65-rated for corrosion resistance. This is where Bauer motors come into their own, applied mainly to drive pumps and aerators. The Bauer range for the water-treatment industry features IE2, IE3 AND IE4 energy efficiency, in addition to an IP65 rating and Class H insulation, with flange-mounted vertical and horizontal options.
Apart from the motors themselves, gearboxes also have to be IP65-rated, in addition to having a special corrosion-resistance coating to protect the motor casings and shafts by ensuring adequate lubrication of all internal components.
Chain products used in water-treatment plants are mainly stainless steel for added durability, apart from the mild-steel sprockets themselves. BI chains and gears product manager Frikkie Ras explains: "We are able to supply a complete solution for water, sewage and effluent plants, including couplings, pulleys and belts, gearboxes and bearings, which ensure that such plants operate optimally and with minimal downtime."
Highly-engineered chain products for water-treatment plants cater for different pitch sizes and construction materials, including grades 314 and 316 stainless steel. Here the most common sizes used are three-, four- and six-inch chain. Other BI products ideal for the water-treatment industry are the smaller TR inline gearboxes, which are ideal to drive reticulation pumps, clarifiers, and raw water pumps. The Bauer range even includes a two-stage gearbox for larger aerators.
"What gives BI the leading edge in the water-treatment industry is not only the premium product range we supply, but the fact that we offer free plant inspections and maintenance checks to ensure that the products are installed and applied correctly for maximum efficiency," adds Ras.
BI also has a dedicated water industry specialist to provide technical advice and help customers to resolve specific problems or issues, as well as optimise existing facilities with the latest equipment.
"We are able to visit a plant to assess its specific requirements, which forms the basis of a complete solution," concludes Ras. "Product training is also provided for plant engineers, workshop foreman, or general staff, which goes a long way to assist with preventative maintenance."
For more information contact Bearings International, +27 11 899 0000, info@bearings.co.za, www.bearings.co.za
Further reading:
Case History 167: Test your analytical capabilities
July 2019, Michael Brown Control Engineering , Editor's Choice, Motion Control & Drives
Answer to the question at the end of Case History 166 (
www.instrumentation.co.za/8690r
) In the last Case History article, I suggested you try and see what was not so good about a level control, which 
...
Read more...
---
BMG drives sewage and effluent management
July 2019, Bearing Man Group t/a BMG , Motion Control & Drives
BMG supplies a range of drives designed specially for optimum efficiency in sewage treatment applications. "Nord drives, which consist of Unicase helical shaft mount geared motors, have special features 
...
Read more...
---
Motors, drives, alternators and ATEX induction motors
July 2019 , Motion Control & Drives
Vert Energy is the sole distributor for Leroy-Somer in southern Africa and supplies and supports the entire LS range, which includes standard and adapted AC and DC motors, geared and brake motors, variable 
...
Read more...
---
Future-proof chair lift system
July 2019, Siemens Digital Industries , Motion Control & Drives
At Snow Space, a winter sports resort near Salzburg, Bergbahnen Wagrain, operates the Sonntagskogelbahn 2, a chair lift for taking skiing enthusiasts to the piste. To provide the most comfortable ride 
...
Read more...
---
Planetary gearboxes for railway maintenance
July 2019, Bearing Man Group t/a BMG , Motion Control & Drives
BMG supplies the local railways sector with custom-designed planetary gearboxes for use in railway maintenance programmes. "Dinamic Oil gearboxes, which are supplied with 22 kW brake motors, are used 
...
Read more...
---
Flying motion
July 2019, Beckhoff Automation , Motion Control & Drives
A planar motor system of free-floating movers with six degrees of freedom.
Read more...
---
When zero is hero: Class 0 oil-free vs technically oil-free air
July 2019 , Motion Control & Drives
Oil-free compressed air is used throughout industry, where the purest compressed air quality is critical to the end product and to the processes involved, such as in the pharmaceutical or food and beverage 
...
Read more...
---
What is going on in the Milky Way?
July 2019, Horne Technologies , Motion Control & Drives
One of the regions we know very little about is the dense part in the centre of the galaxy, where countless stars and gas clouds cluster around a presumed black hole. But a major astronomy project is 
...
Read more...
---
New sonic industrial imager
July 2019, Comtest , Motion Control & Drives
Fluke's new ii900 is a handheld sonic industrial imager that enables maintenance teams to quickly and accurately locate air, steam, gas and vacuum leaks in compressed air systems. The straightforward, 
...
Read more...
---
New functions for Sinamics V90 servo converter
July 2019, Siemens Digital Industries , Motion Control & Drives
New functions are being added to the proven Sinamics V90 servo drive system with the V1.11 version of the Sinamics firmware. The Fast PTI mode is now available for the drive system, increasing Pulse Train 
...
Read more...
---