printer friendly version
Bauer motors for water treatment plants
July 2019
Motion Control & Drives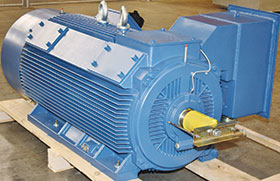 According to Bearings International (BI) electric motors product manager Lewis Hiepner, the arduous operating conditions at water-treatment plants mean that the motors specified not only have to be high-efficiency, but must also be IP65-rated for corrosion resistance. This is where Bauer motors come into their own, applied mainly to drive pumps and aerators. The Bauer range for the water-treatment industry features IE2, IE3 AND IE4 energy efficiency, in addition to an IP65 rating and Class H insulation, with flange-mounted vertical and horizontal options.
Apart from the motors themselves, gearboxes also have to be IP65-rated, in addition to having a special corrosion-resistance coating to protect the motor casings and shafts by ensuring adequate lubrication of all internal components.
Chain products used in water-treatment plants are mainly stainless steel for added durability, apart from the mild-steel sprockets themselves. BI chains and gears product manager Frikkie Ras explains: "We are able to supply a complete solution for water, sewage and effluent plants, including couplings, pulleys and belts, gearboxes and bearings, which ensure that such plants operate optimally and with minimal downtime."
Highly-engineered chain products for water-treatment plants cater for different pitch sizes and construction materials, including grades 314 and 316 stainless steel. Here the most common sizes used are three-, four- and six-inch chain. Other BI products ideal for the water-treatment industry are the smaller TR inline gearboxes, which are ideal to drive reticulation pumps, clarifiers, and raw water pumps. The Bauer range even includes a two-stage gearbox for larger aerators.
"What gives BI the leading edge in the water-treatment industry is not only the premium product range we supply, but the fact that we offer free plant inspections and maintenance checks to ensure that the products are installed and applied correctly for maximum efficiency," adds Ras.
BI also has a dedicated water industry specialist to provide technical advice and help customers to resolve specific problems or issues, as well as optimise existing facilities with the latest equipment.
"We are able to visit a plant to assess its specific requirements, which forms the basis of a complete solution," concludes Ras. "Product training is also provided for plant engineers, workshop foreman, or general staff, which goes a long way to assist with preventative maintenance."
For more information contact Bearings International, +27 11 899 0000, info@bearings.co.za, www.bearings.co.za
Further reading:
Space chair automation
December 2019, Siemens Digital Industries , Motion Control & Drives
The Euro Space Centre adventure park in Transinne in Belgium is home to a number of different simulators, including the original NASA multi-axis chair dating back to the 1960s which was used to familiarise 
...
Read more...
---
Superior Filtration relies on Movidrive
December 2019, SEW-Eurodrive , Motion Control & Drives
An industrial water filtration specialist that has used gearmotors from SEW-Eurodrive for many years has adopted its Movidrive inverters with CMP servo motors and customisable iPOS software for its latest 
...
Read more...
---
New XTS functionality enables novel solutions in machine building
November 2019, Beckhoff Automation , Motion Control & Drives
XTS is a smart transport system of magnetically driven movers that travel along tracks consisting of motor modules and guide rails. A Beckhoff Industrial PC is able to control the movers independently 
...
Read more...
---
Couplings for high torque applications
November 2019, SKF South Africa , Motion Control & Drives
Available in a variety of configurations, SKF's range of Disc Couplings provide affordable, lubrication-free service in medium to high torque applications that require torsional rigidity. These innovative 
...
Read more...
---
Belting for food applications
November 2019, Bearing Man Group t/a BMG , Motion Control & Drives
BMG's Light Materials Handling division supplies and supports a comprehensive range of belting products suitable for the food processing, bottling and packaging sectors. "New to BMG's range of belting 
...
Read more...
---
Sawmills and sugar mills underpin growth for SEW-Eurodrive
October 2019, SEW-Eurodrive , Motion Control & Drives
Ageing sawmills and sugar mills in KwaZulu-Natal represent a significant growth opportunity for SEW-Eurodrive to introduce its latest energy-efficient technology. This is an increasing trend as both the 
...
Read more...
---
Smart devices for Ex areas: Unbelievably simple mistakes that prevent control.
September 2019, Michael Brown Control Engineering , Editor's Choice, Motion Control & Drives
I am often astounded by finding really basic problems with controls in plants, which have operated that way for years. These problems are so basic that one can only wonder at how these controls could 
...
Read more...
---
DLM V-Drives
September 2019, Dupleix Liquid Meters (DLM) , Motion Control & Drives
DLM V-Drives control the latest generation of permanent magnet and standard induction motors. DLM offers the AMC (advanced motor control) and EPC (efficient pump control) V-Drives, which are available 
...
Read more...
---
Complete drive solutions to boost efficiency and cut costs
September 2019, SEW-Eurodrive , Motion Control & Drives
The importance of the sugar industry in KwaZulu-Natal to SEW-Eurodrive as a key growth area for its complete drive solutions was underscored when it exhibited at the Congress of the South African Sugar 
...
Read more...
---
RS announces drive controller kit
September 2019, RS Components SA , Motion Control & Drives
RS Components has announced the launch of the K4 Drive System Development Kit (K4DSDK) from ebm-papst, one of the world's leading manufacturers of high-efficiency fan and motor drive products. Targeting 
...
Read more...
---