printer friendly version
Using IS phones or tablets for barcode scanning
Technews Industry Guide: Industrial Internet of Things & Industry 4.0
Industrial Wireless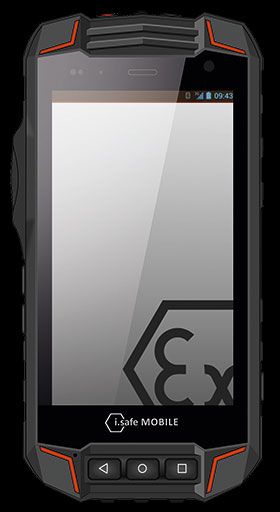 Extech Safety Systems worked with Mobexx in the UK to develop the mobXscan mobile application for barcode scanning with mobile devices. The application (https://mobxscan.com) has been released for Windows 10 and Android offering 100 ms scanning times.
Barcode scanner: mobXscan adds the capability of barcode scanning to any Windows 10 tablet PC or Android device and uses the built-in camera to scan and capture the barcode. Easy to use, the interface makes it simple to add barcode reading functionality.
Easy integration: mobXscan is designed to be as easy to use as possible. Simply open the app and press the scan button to read the barcode and enter it into the device. Alternatively send a simple command from the application to trigger mobXscan.
Clever design: mobXscan makes the use of barcodes easy, but also powerful. It is fully compliant with Microsoft Windows 10 and Android 5.0 and above, but offers some clever features to make it really easy to add to the application, and really simple for the operator to use – the easier to use, the easier operators will accept a new process.
For almost 30 years, South Africa-based Extech has been providing instrumentation, especially intrinsic safety, for hazardous area operations in southern Africa. In recent years, it has signed with several leading industrial networking and mobile communications companies with the view to offer a comprehensive solution for IIoT/Industry 4.0 in hazardous areas.
"MobXscan opens up true 100 ms barcode scanning at a fraction of the cost of traditional IS barcode scanners," explains Extech sales director, Gary Friend. "Extech can offer the AEGEx Windows 10 tablet and/or i.safe Mobile smartphone (IS520.1) or tablet (IS910.1) to allow this application to be used in all hazardous areas."
.As sole agents for MTL, Beka Associates, Extronics, MercuryHMI and authorised reseller for AEGEx, CorDEX, i.safe MOBILE and XPlore Technologies in southern Africa, listed are some of the areas where Extech Safety Systems can assist: IS zener barriers and galvanic isolators; HART interfaces; fieldbus; industrial Ethernet; industrial security; industrial wireless networks; visualisation; displays, indicators, sirens, beacons and lamps; ISafe and flameproof cameras (incl. infrared); rugged IS smartphones and tablets (Android and Windows); hazardous area Exd access points for zone 1; hazardous area CCTV cameras for Group I and II; hazardous area barcode scanners; RFID tracking; surge protection; process alarm equipment; and hazardous area access control systems.
For more information contact Gary Friend, Extech Safety Systems, +27 11 791 6000, sales@extech.co.za, www.extech.co.za
Credit(s)
Further reading:
Intrinsic safety barcode scanning from Extech Safety Systems
September 2019, Extech Safety Systems , IS & Ex
Extech Safety Systems has worked with UK-based Mobexx to develop the MobXscan mobile application for barcode scanning with mobile devices. The app has been released for Windows 10 and Android, offering 
...
Read more...
---
Intelligent wireless connectivity
September 2019, RJ Connect , Industrial Wireless
The ultimate goal of most industrial automation applications is to obtain actionable insights from data sources for more precise decision-making. To achieve this, businesses need to make their field data 
...
Read more...
---
Industrial Scientific expands ­connected safety portfolio
August 2019, Comtest , Industrial Wireless
Comtest has announced the expansion of Industrial Scientific's connected safety portfolio to include cellular and Wi-Fi capability in the VentisPro5 Personal Gas Monitor and a satellite communication 
...
Read more...
---
Long range wireless communication for air instrumentation
Technews Industry Guide: Industrial Internet of Things & Industry 4.0, Artic Driers , Industrial Wireless
Artic Driers in association with Suto iTEC of Germany have launched a long range wireless communication system for the comprehensive range of compressed air instrumentation marketed by Artic. Wireless 
...
Read more...
---
Sensear appoints Extech Safety Systems as authorised distributor in sub-Saharan Africa
July 2019, Extech Safety Systems , News
Extech has partnered with Sensear to distribute its products in sub-Saharan Africa. Sensear is a global leader in digital communication and active listening headsets and earplugs for use in high noise 
...
Read more...
---
Bluetooth low energy IoT development kit
July 2019, RS Components SA , Industrial Wireless
RS Components is now offering the Bluetooth Low Energy IoT Development Kit (B-IDK) from ON Semiconductor. Based on the industry's lowest power Bluetooth Low Energy radio System-on-Chip (SoC), the modular 
...
Read more...
---
Linearise all your signals
July 2019, Omniflex Remote Monitoring Specialists , Industrial Wireless
Signal conditioners have progressed over the years to become mainstream protection front ends for PLC and DCS control systems. They provide signal isolation and protection from the harsh plant conditions 
...
Read more...
---
Adroit brings M2M, IoT and IIoT to the industrial world
June 2019, Adroit Technologies , Industrial Wireless
Combining the new IIoT capability with GIS interfaces, situational awareness and alarm management data, all can use the big data and analytical processing capability of Adroit's standard scada Intelligence software package to derive greater insights and value from their processes.
Read more...
---
Wireless networks for AGV systems
June 2019, RJ Connect , Industrial Wireless
In order for factories to perform their tasks efficiently and optimise production, automated material handling (AMH) systems, such as AS/RS and AGVs, need the flexibility to move around on their designated 
...
Read more...
---
Merging control and telemetry
June 2019, Omniflex Remote Monitoring Specialists , Industrial Wireless
Wireless telemetry and control in plants have become a necessity with the data acquisition requirement of modern plant control to lift performance and compliance. In-plant cabling costs often push the 
...
Read more...
---