printer friendly version
PoolSense: set to change the face of pool maintenance forever
Technews Industry Guide: Industrial Internet of Things & Industry 4.0
News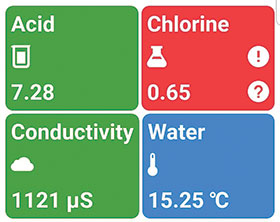 The automatic pool cleaner changed the face of pool cleaning forever, but maintaining the quality of the water has remained a difficult and expensive task. PoolSense is about to change this. An unobtrusive device that floats in the pool and regularly samples and transmits the quality of the water now delivers simple dosing instructions to an app running on the user's smartphone. It is a simple and effective solution to an age-old problem, designed to save pool owners both time and money.
The technology
The PoolSense device continuously measures temperature, pH and oxidation reduction potential (ORP), and regularly transmits this data to the cloud. From there, the data is continuously run through a self-learning algorithm that effectively understands how each pool responds to the addition of chemicals as requested by the app. This allows continuous refinement of the decisions around just how much acid and chlorine must be added to keep water condition optimal at all times.
Dave Wibberley, managing director of Adroit Technologies and a founding member of PoolSesnse designer Pro Automation, explains: "The Internet of Things, combined with low power networks like Sigfox, has enabled this development. We could finally get to a price point that makes a device like PoolSense affordable to everyone who owns a pool. In the future, it will not be a 'nice to have' device for techies, but we believe every pool owner will have one. It pays for itself through the cost saving on chemicals, and takes away the hassle of manual measurements and the guesswork associated with the quantity of each chemical that must be added to maintain a perfect pool all year round."
Pro Automation technical lead Heinrich Heesen adds: "The IoT and cloud computing allowed us to tackle the problem on a large scale and develop a better understanding of the chemistry and performance required for a cost-effective solution. A system like this requires a multi-disciplinary approach and the efficiency of the Sigfox network allowed us to add a global communication capability and still meet the design criteria for a 2-year (minimum) operating life for this innovative new instrument."
The product has won accolades from the Innovation Hub and also made the finals of the 2018 MTN IoT Awards, which take place in September. For further reading please go to: https://www.dataweek.co.za/62170n
For more information contact Kevin Herbert, Pro Automation, +27 82 605 8260, kevin@proautomation.co, www.poolsense.net
Further reading:
From the editor's desk: Is additive manufacturing poised to go mainstream?
March 2021, Technews Publishing (SA Instrumentation & Control) , News
As digital manufacturing technology pushes its way further towards the production floor, additive manufacturing (3D printing) is emerging as a viable option to complement the more traditional methods 
...
Read more...
---
SKF bearings help Mars Rover collect samples on the planet's surface
April 2021, SKF South Africa , News
Enabling the Mars Rover's core operations in the harsh environment on Mars are Kaydon RealiSlim thin-section ball bearings, designed and manufactured by SKF.
Read more...
---
Water 4.0 for Botswana
April 2021, Siemens Digital Industries , News
Thanks to automation and electrical engineering from Siemens Solution Partner Moreflow, a new water treatment plant delivers 11 million litres of this precious resource every day.
Read more...
---
Comtest to represent Netscout
April 2021, Comtest , News
Comtest has announced that it now represents Netscout Systems, assuring digital business services against disruptions in availability, performance and security. Netscout's market and technology leadership 
...
Read more...
---
EtherCAT Technology Group (ETG) celebrates successful defence of America's Cup with Emirates Team New Zealand
March 2021 , News
The races featured a spectacular new class of boat that can reach over 100 km/h on or above the water thanks to canting hydrofoils with highly dynamic controllable flaps.
Read more...
---
Danfoss continues to invest in sustainable transformation
March 2021, Danfoss , News
Danfoss Drives office in South Africa is rolling out a series of thought leadership webinars on the topic of Energy Efficiency in 2020.
Read more...
---
Endress+Hauser and partners drive digitalisation towards customer value
April 2021, Endress+Hauser South Africa , News
The Endress+Hauser Open Integration partner programme unites thirteen manufacturers that want to ensure the streamlined interaction of their complementing products.
Read more...
---
New online control loop optimisation and tuning service
April 2021, Michael Brown Control Engineering , News
Michael Brown has introduced an online control loop optimisation and tuning consultation service designed to help plant engineers all over the world understand why their loops are not behaving the way 
...
Read more...
---
From the editor's desk: Sustainability – the holy grail of digital transformation
April 2021, Technews Publishing (SA Instrumentation & Control) , News
As we head into our post-pandemic future, one of the morals we are left with is the importance of sustainability in business. So, while industry leaders ponder how best to incorporate sustainability into 
...
Read more...
---
Iritron and the I3 Group build on synergies
April 2021, Iritron , News
Although 2020 was a tough year for everyone, Alwyn Rautenbach, CEO of the I3 Group, not only ensured its survival, but strategised to strengthen the business for future growth.
Read more...
---