printer friendly version
PoolSense: set to change the face of pool maintenance forever
Technews Industry Guide: Industrial Internet of Things & Industry 4.0
News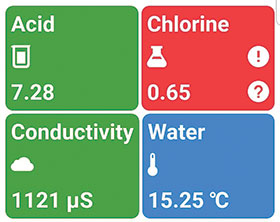 The automatic pool cleaner changed the face of pool cleaning forever, but maintaining the quality of the water has remained a difficult and expensive task. PoolSense is about to change this. An unobtrusive device that floats in the pool and regularly samples and transmits the quality of the water now delivers simple dosing instructions to an app running on the user's smartphone. It is a simple and effective solution to an age-old problem, designed to save pool owners both time and money.
The technology
The PoolSense device continuously measures temperature, pH and oxidation reduction potential (ORP), and regularly transmits this data to the cloud. From there, the data is continuously run through a self-learning algorithm that effectively understands how each pool responds to the addition of chemicals as requested by the app. This allows continuous refinement of the decisions around just how much acid and chlorine must be added to keep water condition optimal at all times.
Dave Wibberley, managing director of Adroit Technologies and a founding member of PoolSesnse designer Pro Automation, explains: "The Internet of Things, combined with low power networks like Sigfox, has enabled this development. We could finally get to a price point that makes a device like PoolSense affordable to everyone who owns a pool. In the future, it will not be a 'nice to have' device for techies, but we believe every pool owner will have one. It pays for itself through the cost saving on chemicals, and takes away the hassle of manual measurements and the guesswork associated with the quantity of each chemical that must be added to maintain a perfect pool all year round."
Pro Automation technical lead Heinrich Heesen adds: "The IoT and cloud computing allowed us to tackle the problem on a large scale and develop a better understanding of the chemistry and performance required for a cost-effective solution. A system like this requires a multi-disciplinary approach and the efficiency of the Sigfox network allowed us to add a global communication capability and still meet the design criteria for a 2-year (minimum) operating life for this innovative new instrument."
The product has won accolades from the Innovation Hub and also made the finals of the 2018 MTN IoT Awards, which take place in September. For further reading please go to: https://www.dataweek.co.za/62170n
For more information contact Kevin Herbert, Pro Automation, +27 82 605 8260, kevin@proautomation.co, www.poolsense.net
Further reading:
From the editor's desk: Automation professionals need communication strategy too
September 2019, Technews Publishing (SA Instrumentation & Control) , News
Catching the eye of a potential customer has become more difficult than ever thanks to the ethos of information promiscuity that defines the 21st century. It's never been easy to stand out in a crowded 
...
Read more...
---
South Africa sets plans in motion with new LNG import terminal
September 2019 , News
State-owned freight logistics firm, Transnet, said on Tuesday that it had signed a cost-sharing agreement with the World Bank's International Finance Corporation (IFC) to conclude a feasibility study 
...
Read more...
---
Emerson completes acquisition of Zedi's software and automation businesses
September 2019, Emerson Automation Solutions , News
Emerson has announced the purchase of Zedi's software and automation businesses. The addition of Zedi's cloud supervisory control and data acquisition (scada) platform will further enable Emerson to help 
...
Read more...
---
ETG conducts first Safety over EtherCAT Plug Fest
September 2019 , News
The EtherCAT Technology Group (ETG) recently held its first Safety over EtherCAT (FSoE) Plug Fest with great success. Numerous manufacturers of EtherCAT safety master and slave devices came to Verl, Germany, 
...
Read more...
---
Endress+Hauser strengthens ­expertise for advanced analysis
September 2019, Endress+Hauser , News
Endress+Hauser has expanded its centre of competence for advanced analysis in Lyon, France. The Group invested €2 million in a new production facility and office space to meet growing demand in the area 
...
Read more...
---
Festo inspires with smart digital solutions at the Automation Expo
September 2019, Festo , News
Festo hosted the first leg of the Automation Expo in Johannesburg at the Sandton Convention Centre, while the second took place in Port Elizabeth at the Boardwalk Convention Centre. Both ended on a high 
...
Read more...
---
AVK Academy gains traction in Africa
September 2019 , News
The Academy, the training arm of AVK Southern Africa, has taken the Group's training into Africa. With training on basic and advanced valve fundamentals recently concluded at Mulonga Water and Sewerage 
...
Read more...
---
WearCheck acquires reliability testing company, boosts services
September 2019 , News
Durban-based condition monitoring specialists, WearCheck, has bought Anglo Field Services (AFS), which adds three new established divisions to the company's comprehensive reliability solutions portfolio, 
...
Read more...
---
Siemens South Africa puts Smart City vision into action
September 2019, Siemens Digital Industries , News
Fourteen months ago, Siemens installed a microgrid at its headquarters in Midrand and data shows it is using 50% less supplied energy, drawing it from solar resources instead. By extracting energy off 
...
Read more...
---
Implementing Industry 4.0 technologies in Africa's manufacturing environment
September 2019 , News
African manufacturers are aspiring to raise their standards and increase the efficiency of their enterprise operations. To discuss the rising prevalence of technology within the industrial realm, the 
...
Read more...
---