printer friendly version
PoolSense: set to change the face of pool maintenance forever
Technews Industry Guide: Industrial Internet of Things & Industry 4.0
News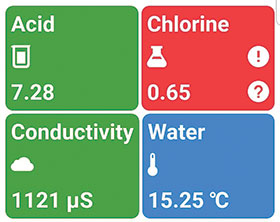 The automatic pool cleaner changed the face of pool cleaning forever, but maintaining the quality of the water has remained a difficult and expensive task. PoolSense is about to change this. An unobtrusive device that floats in the pool and regularly samples and transmits the quality of the water now delivers simple dosing instructions to an app running on the user's smartphone. It is a simple and effective solution to an age-old problem, designed to save pool owners both time and money.
The technology
The PoolSense device continuously measures temperature, pH and oxidation reduction potential (ORP), and regularly transmits this data to the cloud. From there, the data is continuously run through a self-learning algorithm that effectively understands how each pool responds to the addition of chemicals as requested by the app. This allows continuous refinement of the decisions around just how much acid and chlorine must be added to keep water condition optimal at all times.
Dave Wibberley, managing director of Adroit Technologies and a founding member of PoolSesnse designer Pro Automation, explains: "The Internet of Things, combined with low power networks like Sigfox, has enabled this development. We could finally get to a price point that makes a device like PoolSense affordable to everyone who owns a pool. In the future, it will not be a 'nice to have' device for techies, but we believe every pool owner will have one. It pays for itself through the cost saving on chemicals, and takes away the hassle of manual measurements and the guesswork associated with the quantity of each chemical that must be added to maintain a perfect pool all year round."
Pro Automation technical lead Heinrich Heesen adds: "The IoT and cloud computing allowed us to tackle the problem on a large scale and develop a better understanding of the chemistry and performance required for a cost-effective solution. A system like this requires a multi-disciplinary approach and the efficiency of the Sigfox network allowed us to add a global communication capability and still meet the design criteria for a 2-year (minimum) operating life for this innovative new instrument."
The product has won accolades from the Innovation Hub and also made the finals of the 2018 MTN IoT Awards, which take place in September. For further reading please go to: https://www.dataweek.co.za/62170n
For more information contact Kevin Herbert, Pro Automation, +27 82 605 8260, kevin@proautomation.co, www.poolsense.net
Further reading:
HMA Geotechnical solution for greenfield ammonia plant in Indonesia
June 2020 , News
HMA Geotechnical has supplied its Wisenmeshnet wireless infrastructure monitoring system for one of the largest industrial projects in Indonesia. This is the first time that this system, intended mainly 
...
Read more...
---
Africa Medical Supplies Platform launched
June 2020, Bearing Man Group t/a BMG , News
The Africa Medical Supplies Platform (AMSP), of which local company, Invicta Holdings, is a key supplier, is now officially live as part of a continent-wide effort to contain the Covid-19 pandemic. In 
...
Read more...
---
Africa Automation Technology Fair announces launch of virtual event series
June 2020, Reed Exhibitions , News
The Africa Automation Technology Fair (AATF) organiser, Reed Exhibitions, announced the launch of a series of virtual events to take place from July 2020 on the AATF digital platforms. The event series 
...
Read more...
---
Tektronix and Coherent Solutions partner for integrated optical communications
June 2020, Comtest , News
Comtest has announced that technology companies Tektronix and Coherent Solutions have an exclusive partnership agreement to provide fully integrated optical communications platforms to new and existing 
...
Read more...
---
Artificial Intelligence and Dawn of Disruption
June 2020 , News
Since the phrase Artificial Intelligence (AI) was coined in the 1950s, technology has advanced significantly and transformed our social and work worlds. Some industry luminaries are bullish about the 
...
Read more...
---
Limestone calciner takes command of operations with new control room
June 2020, Rockwell Automation , News
There are few qualities so desirable for a business to have than an ability to adapt to change. Industries evolve, circumstances shift, but what remains over time are those businesses with the foresight 
...
Read more...
---
Africa Automation Technology Fair 2021
May 2020, Reed Exhibitions , News
It's one year until the doors open to Africa's leading industrial automation technology event. Set to take place at the Ticketpro Dome from 18-20 May 2021, the event will be attended by South African, 
...
Read more...
---
Endress+Hauser sees itself as well positioned
May 2020, Endress+Hauser South Africa , News
Endress+Hauser performed well across all fields of activity, industries and regions in 2019. The Group created hundreds of new jobs, invested record amounts and improved in the area of sustainability. 
...
Read more...
---
Comtest trading for 15 years
May 2020, Comtest , News
Comtest, one of South Africa's leading providers of test, measurement and communications equipment, is proud to mark its 15-year trading milestone in 2020. CEO Barend Niemand says, "Comtest has representation 
...
Read more...
---
Hytec Pretoria exhibits at Mining & Technical Expo
May 2020 , News
Hytec Pretoria exhibited at the Mining and Technical Exhibition (MTE) at the Cullinan Sports Ground in Tshwane, the first MTE for the year held in February. The company showcased a wide range of products 
...
Read more...
---