printer friendly version
IO-Link sensors enable the principles of Industry 4.0
Technews Industry Guide: Industrial Internet of Things & Industry 4.0
Sensors & Transducers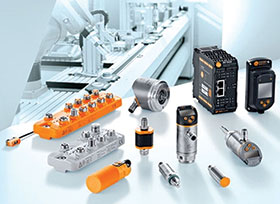 The implementation of Industry 4.0 is, among other things, about creating a digital silhouette of a plant, thus allowing for process optimisation. The essential information is provided by many sensors that are often already installed for machine control. Thanks to IO-Link, these sensors provide much more data than mere switching signals or analog values. Starrag Technology (Starrag) in Bielefeld is a company that produces machine tools and extensively equips them with IO-Link sensors from ifm electronic.
The FOGS-series portal machining centre from Starrag is a machine that has these features. It is used in mechanical engineering and in the aviation and automotive industries, for example, to manufacture body shell parts. These complex machine tools require sensors to monitor e.g. coolants and lubricants, hydraulics, and for machine temperature control. Tight tolerances are required for medium temperatures, pressure values and volumetric flow quantities to ensure that tools are used with optimum efficiency in fully automated production processes.
Sensors with a digital interface
IO-Link is a robust digital interface based on 24 V signal levels which, in addition to mere switching signals, enables bidirectional communication with the controller via the regular sensor cable. The sensors transmit digital measured values and diagnostic information via IO-Link to the IO-Link master, such as an IO module, gateway or a PLC equipped with IO-Link ports. Starrag Technology opts for fluid sensors from ifm electronic because of the extensive range of process sensors featuring IO-Link.
One of the greatest advantages of IO-Link is the possibility to transfer all necessary parameter data via the connection cable to the sensor. The parameter data (e.g. switch points, switching hysteresis and display colour) can be transferred from the controller either when the sensors are set up or later during operation, or to adjust them to a specific situation. If necessary, for example in case of small lot sizes, IO-Link makes it possible to store different parameter sets for different products separately, on the same sensor. All in all, one can say that IO-Link is a key technology for Industry 4.0 applications.
Error-free digital transmission of measured values
Up until now, analog sensor signals were digitised via A/D converters and scaled in the PLC, adding to inaccuracies of the actual measured value. IO-Link, however, provides the measured values from the sensor digitally to the controller. Transmission errors and conversion of analog signals are thus ruled out. The digitally transmitted measured values can be directly displayed in the control room. The transferred value is always identical with the measured value. There are no longer any deviations between the local display and the value that the PLC derives from the analog signal. Thanks to IO-Link, even interference with the analog signal, for example caused by electromagnetic fields, is a thing of the past.
Two measured values – one sensor
Modern process sensors from ifm often provide more than just one measured value. Dietmar Wallenstein, e-construction and commissioning department manager at Starrag explains: "Often, a sensor processes more than just one physical value. In addition to volumetric flow quantity or pressure, for example, it is also possible to read the medium temperature via the IO-Link interface. This saves money on hardware, wiring and mounting since, instead of two sensors you now only need one."
Diagnostic data
Apart from the process data, the IO-Link sensor can also provide diagnostic data about the status of the device. For example: the level sensor detects critical deposits and signals them to the controller. Photoelectric sensors detect if a lens is soiled and signal it automatically. Pressure sensors store minimum pressure losses and maximum pressure peaks from the process and totalise the number of times those limit values are exceeded or not reached. This additional functionality supports the user decisively when it comes to condition-based maintenance as this extended information about condition minimises expensive downtime, while increasing process reliability.
Conclusion
Sensors offer a considerable additional value if they are equipped with IO-Link. Wallenstein summarises the advantages for Starrag: "Everyone is talking about Industry 4.0 and we at Starrag are not ignorant of this megatrend. When it comes to mechanical engineering, we think in particular about digital machine upgrading, which is why we opt for IO-Link. Thanks to low-cost robust interfaces, the sensors provide us with more information about the process that can then be more efficiently evaluated and optimised. This is one of the great advantages of IO-Link; it is a sensor feature contributing to the easy adoption of the principles of Industry 4.0."
For more information contact ifm - South Africa, 086 143 6772, info.za@ifm.com, www.ifm.com
Credit(s)
Further reading:
Fork sensor in hygienic design
July 2020, ASSTech Process Electronics + Instrumentation , Sensors & Transducers
Production sequences in the pharmaceutical and food industries are subject to extremely demanding hygiene standards. With corrosion-free stainless steel, FDA conformity and Ecolab certification, Wenglor's 
...
Read more...
---
Accurate detection of tiny objects
July 2020, ifm - South Africa , Sensors & Transducers
The new photoelectric units from ifm electronic are designed for part monitoring of precision engineering, medical or other tiny components. Thanks to the precise laser, the photoelectric fork sensor 
...
Read more...
---
Everything in view
July 2020, Pepperl+Fuchs , Sensors & Transducers
Instrumentation from Pepperl+Fuchs enables a creative solution for the chemical industry.
Read more...
---
Multicolour indicator with IO-Link
July 2020, Turck Banner , Sensors & Transducers
The K50 Pro series multicolour indicator combines existing IO-Link features with Pick-IQ technology. It allows users to configure colour, flashing, dimming, and advanced animations like rotation, strobing, 
...
Read more...
---
Optical sensor for dissolved oxygen
June 2020, ASSTech Process Electronics + Instrumentation , Sensors & Transducers
With its state-of-the art optical fluorescence quenching technology and digital signal processing functionality, the Jumo digiLine 0-DO S10 ensures long-term stability when measuring oxygen and temperature. 
...
Read more...
---
Process instrumentation for hygienic applications
July 2020 , Sensors & Transducers
Innovations and fast development characterise the production processes in the beverage and food industries, as well as in biotechnology and pharmaceutical applications. Processes in these industries are 
...
Read more...
---
Keep distance easily
July 2020, SICK Automation Southern Africa , Sensors & Transducers
SICK Automation has reacted to slow the spread of the Covid-19 virus with its new PeopleCounter and DistanceGuard SensorApps. Combined with 2D and 3D LiDAR sensors, people can easily maintain the recommended 
...
Read more...
---
Safety light grid with muting
July 2020, ifm - South Africa , IS & Ex
The new generation of safety light grids from ifm electronic allows for the muting mode without an external junction box or a muting relay being required, as they are already integrated into the receiving 
...
Read more...
---
Industry 4.0 ToolKit from ifm
July 2020, ifm - South Africa , IT in Manufacturing
Never before has it been so important to facilitate the collection and use of relevant and important data. Optimum insight into systems and processes makes it possible for users to take the optimal decisions 
...
Read more...
---
Making a 'smart' move for projects and operations in distress
June 2020, Engenamic , Sensors & Transducers
"The world has certainly been turned on its collective head in these first few months of 2020 with the Covid-19 pandemic and the challenges it presents," says Ian McKechnie, CEO and principal advisor 
...
Read more...
---