printer friendly version
Handheld control valve tester
June 2019
Sensors & Transducers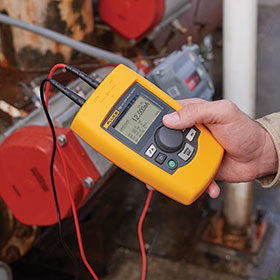 In the past, control valve testing meant using complicated testers that required extensive training, the removal of the valve, and often one-to-two hours of test time on the bench. Comtest is therefore pleased to announce the arrival of Fluke's new 710 mA Loop Valve Tester. The device allows technicians to source the 4-20 mA signal while it interrogates HART data to collect critical information about the valve's position and status, providing quick checks of control valves while they are in place. With built-in test procedures and an intuitive interface, the Fluke 710 allows technicians to perform valve tests, while the quick-check results provide at-a-glance diagnostics to make faster maintenance decisions.
The 710 features pre-configured valve tests for reliable and repeatable testing. The built-in routines include:
• Manually changing the mA signal and viewing the HART position and pressure variable information.
• Full range ramping of the mA signal from 4 to 20 to 4 mA while recording the 0-100-0 percent position, or the pressures applied that move the valve from 0-100-0 percent.
• Stepping the mA signal on the input to the valve in steps and evaluating the valve's response to the mA input changes.
• Speed tests to determine how fast the valve can open or close.
• Bump and partial stroke tests that help test valves over a portion of their range so they can be tested in a live process.
Test results are stored in the memory of the tester from where they can be uploaded to the included ValveTrack analysis software. ValveTrack allows users to:
• Upload and plot logged valve tests taken in the field.
• Compare previously uploaded to recent tests.
• View valve test history by HART Tag ID.
• Export valve test data for additional analysis.
For more information contact Comtest, +27 10 595 1821, sales@comtest.co.za, www.comtest.co.za
Credit(s)
Further reading:
Sensors for predictive maintenance solutions
December 2019, Turck Banner , Sensors & Transducers
Banner Engineering's QM30VT series sensors build on the capabilities offered by the QM42VT Series sensors they replace. They maintain all the same functionality, registers, and scaling, however, their 
...
Read more...
---
On safe paths with Leuze
December 2019, Countapulse Controls , Sensors & Transducers
When using the principle of triangulation for navigating automated guided vehicles (AGVs), vehicles are often equipped with two different scanners – one for safety and one for navigation. Now there is 
...
Read more...
---
Electronic position indicator with Ethernet interface
December 2019, Instrotech , Sensors & Transducers
Instrotech now offers the Siko AP20 position indicator, equipped to detect the position of spindle adjustments in machines. It displays the corresponding positional data to the operator and passes it 
...
Read more...
---
Rugged IR thermometer
December 2019, Comtest , Temperature Measurement
Read more...
---
Inline measurement in chemical process monitoring and control
December 2019 , Sensors & Transducers
For reasons of quality and safety, the control of processes in the chemical industry is essential. The monitoring should be done directly in the process, continuously, and on a real-time basis. Modern 
...
Read more...
---
Setting the future standard for 3D image processing
November 2019, SICK Automation Southern Africa , Sensors & Transducers
SICK Automation has set the future standard for 3D image processing with regard to technology, speed, resolution and ease of integration. The company's Ranger3 3D vision camera is capable of taking high 
...
Read more...
---
Millimetre perfect from ifm electronic
November 2019, ifm - South Africa , Sensors & Transducers
Precise ToF distance sensor for demanding applications
Thanks to the innovative on-chip time-of-flight principle with PMD technology (photonic mixer device), the new OGD precision sensor from ifm electronic, 
...
Read more...
---
Bright, versatile illumination
November 2019, Turck Banner , Sensors & Transducers
The bright, uniform output of the WLB72 reduces shadows, improves visibility and gives workers the light they need to work efficiently and without making mistakes. A diffuse window minimises eye strain 
...
Read more...
---
Time synchronise your key remote sites
November 2019, Omniflex Remote Monitoring Specialists , Sensors & Transducers
Managing processes where root cause identification is rapidly identified can generate substantial savings though improved productivity and implementation of planned preventive maintenance schedules. Knowing 
...
Read more...
---
Infrared sensors for stock control
October 2019, Gail Norton Instrumentation , Sensors & Transducers
Telco's high performance, self-contained infrared sensor series provides a total solution for pulp and paper applications. This industry poses serious problems for photoelectric sensors as the highly 
...
Read more...
---