printer friendly version
Static and rotational torque sensors
June 2019
Sensors & Transducers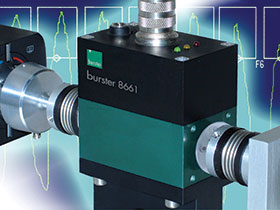 With the new compact 8661 series of torque sensors, Burster has extended its portfolio to include static and rotating torques over the range from 0,05 to 200 Nm. In addition to the highly accurate measurements, the sensors offer excellent reliability and security. This also applies to the version with optional measurement of angular position and rotation speed where the torque sensor offers a resolution as fine as 0,09°. An optional USB interface provides easy mobile display and documentation of the measured values.
This sensor comes into its own in fields such as precision and micro-mechanics, test bed equipment for electric motors, or in the automobile industry where torque and associated angular position and rotation speed are important process magnitudes.
The signal from the full bridge strain gauge signal is digitised at the shaft itself and is converted into a 0 to ±10 VDC signal by a 16 bit D/A converter located on the stator. In light of the need to minimise the necessary servicing cycles, the power is supplied inductively while the measured signal is transmitted optically. As a result, the measurement is obtained without any wearing parts and a high immunity to interference is ensured. The maintenance-free operation and the increased capacity to handle high rotational speeds make this series in sensors ideally suited to efficient application in industrial manufacturing and assembly equipment where activation, adhesion, breakaway and tightening torques must be measured.
Continuous operation and a high dynamic range of up to 25 000 RPM are supported effortlessly by the optimised mechanical design. A high resolution output signal for the optional angular displacement and rotational speed measurement facilities is achieved through optical sensing of an incremental encoder disk that incorporates two offset tracks and four-edge sampling. An operating status display (green/yellow/red LED) gives the user a range of status information, which simplifies commissioning.
The USB interface and the PC-based software permit convenient operation away from mains power, as well as mobile application for field measurements. A driver package for linking into custom user's own programmes is included free of charge.
For more information contact Anastas Schnippenkotter, ASSTech Process Electronics & Instrumentation, +27 11 708 9200, info@asstech.co.za, www.asstech.co.za
Credit(s)
Further reading:
Conductivity measurement in CIP processes
January 2020, Morton Controls , Sensors & Transducers
CIP cleaning facilities are primarily used in those installations where hygiene and product safety are paramount, for instance breweries and food production. Throughout the process the complete production 
...
Read more...
---
Sensors for predictive maintenance solutions
December 2019, Turck Banner , Sensors & Transducers
Banner Engineering's QM30VT series sensors build on the capabilities offered by the QM42VT Series sensors they replace. They maintain all the same functionality, registers, and scaling, however, their 
...
Read more...
---
On safe paths with Leuze
December 2019, Countapulse Controls , Sensors & Transducers
When using the principle of triangulation for navigating automated guided vehicles (AGVs), vehicles are often equipped with two different scanners – one for safety and one for navigation. Now there is 
...
Read more...
---
Electronic position indicator with Ethernet interface
December 2019, Instrotech , Sensors & Transducers
Instrotech now offers the Siko AP20 position indicator, equipped to detect the position of spindle adjustments in machines. It displays the corresponding positional data to the operator and passes it 
...
Read more...
---
Inline measurement in chemical process monitoring and control
December 2019 , Sensors & Transducers
For reasons of quality and safety, the control of processes in the chemical industry is essential. The monitoring should be done directly in the process, continuously, and on a real-time basis. Modern 
...
Read more...
---
Setting the future standard for 3D image processing
November 2019, SICK Automation Southern Africa , Sensors & Transducers
SICK Automation has set the future standard for 3D image processing with regard to technology, speed, resolution and ease of integration. The company's Ranger3 3D vision camera is capable of taking high 
...
Read more...
---
Millimetre perfect from ifm electronic
November 2019, ifm - South Africa , Sensors & Transducers
Precise ToF distance sensor for demanding applications
Thanks to the innovative on-chip time-of-flight principle with PMD technology (photonic mixer device), the new OGD precision sensor from ifm electronic, 
...
Read more...
---
Bright, versatile illumination
November 2019, Turck Banner , Sensors & Transducers
The bright, uniform output of the WLB72 reduces shadows, improves visibility and gives workers the light they need to work efficiently and without making mistakes. A diffuse window minimises eye strain 
...
Read more...
---
Time synchronise your key remote sites
November 2019, Omniflex Remote Monitoring Specialists , Sensors & Transducers
Managing processes where root cause identification is rapidly identified can generate substantial savings though improved productivity and implementation of planned preventive maintenance schedules. Knowing 
...
Read more...
---
Infrared sensors for stock control
October 2019, Gail Norton Instrumentation , Sensors & Transducers
Telco's high performance, self-contained infrared sensor series provides a total solution for pulp and paper applications. This industry poses serious problems for photoelectric sensors as the highly 
...
Read more...
---