printer friendly version
Effective day-to-day monitoring of essential assets
June 2019
Maintenance, Test & Measurement, Calibration
Efficient operation of essential assets is key in achieving productivity and operational targets. Facilities, manufacturers, operators, and producers can move forward in planning for their output by having smoothly functioning assets.
Every industrial facility (either discreet or process) comprises of around 5% critical assets such as generators, turbines, compressors etc. These critical assets are nearly always installed with online protection systems, and in most cases, with online prediction systems as well. This equips operators and maintenance personnel with tools that inform them of their asset status round the clock, throughout the year.
Around 25-30% of the assets such as pumps, heat exchangers, non-critical compressors, and more are classified as essential assets. Failure of these assets can impact significantly on plant throughput. Such assets are usually not instrumented for real-time monitoring. Current industry practices in maintaining such assets are based on weekly, monthly or quarterly preventive maintenance rounds, as well as predictive maintenance processes done through portable handheld vibration analysers based on asset classifications. Without online monitoring, these assets are often subjected to reactive maintenance activities and consequently unexpected downtime and higher maintenance costs.
Costly repairs without prior notice of failure
According to the US National Response Centre, it costs approximately 50% more to repair a failed asset than if the problem had been addressed prior to failure. Studies from InTech 2012 show that 70% of most maintenance budgets are reserved for essential assets, while 3,5% of unplanned shutdowns or slowdowns are caused by the breakdown of essential assets.
Take for example the role of an operator tasked to monitor and prevent the breakdown of a pump. Once the pump he is operating starts to show signs of degradation, the operator has the skills and the experience to determine that there is a problem with the pump, which needs to be fixed. The next logical step for the operator is to contact the maintenance team. Now, time becomes a critical component to the maintenance process as the teams try to identify what needs to be fixed and execute the repair.
Improving reliability with essential asset monitoring
Considering these factors and risks with essential assets, Emerson has been providing solutions to aid organisations maintain their assets. Through the methodologies of Operational Certainty and Project Certainty, Emerson equips industrial organisations with proven approaches of top quartile performers.
Project Certainty is a proven approach to achieving performance goals to move strategic engineering decisions into the earliest project stages. Operational Certainty, on the other hand, is a methodology that helps organisations to pinpoint the cause of poor performance, enabling them to prioritise actions that can yield the greatest improvement and establish a scalable work plan.
With the advent of IIoT solutions, Emerson provides practical technologies that also deliver visibility to operations, maintenance, and reliability teams for essential assets. These innovations provide data coverage through instrumentation and also through the broad range of analytics software and platforms included in Emerson's Plantweb portfolio. Through this digital ecosystem, organisations can transform operations with measurable improvements in reliability, safety, energy management, and overall operations.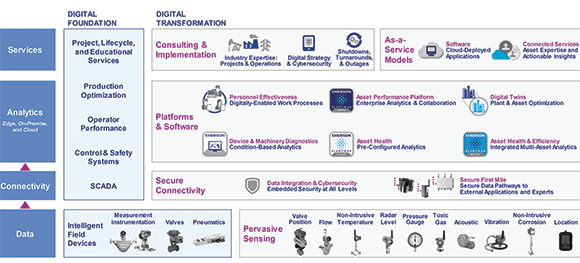 The next step of Emerson's IIoT solutions involves relaying the health analytics of essential assets to the relevant person in the time required through the Plantweb Optics platform. Relevant operators can access the critical data through desktop tablets and smartphones, with a connection to the CMMS system for work order generation.
These IIoT applications provide support for essential assets and effective monitoring for plant teams through the optimisation of work routines, and prioritisation of activities that are no longer time-based, but now condition-based. Operators can therefore be informed in advance when an issue with an essential asset is discovered. With reduced reactive maintenance, plant operations can now enjoy machinery uptime, enhanced production, reduction in unnecessary inventory and better safety implementation.
For more information contact Devesh Roopnarain, Emerson Automation Solutions, +27 11 451 3700, devesh.roopnarain@emerson.com, www.emerson.com
Credit(s)
Further reading:
Emerson helps complete first Caspian subsea project
October 2019, Emerson Automation Solutions , News
Emerson has completed its $48 million contract for automation systems and cloud engineering software-as-a-service for the Shah Deniz 2 project in Azerbaijan and is fulfilling an ongoing five-year services 
...
Read more...
---
Emerson's Flow Lifecycle Services Centre earns certification
October 2019, Emerson Automation Solutions , News
Emerson's Flow Lifecycle Service Centre, based in Dubai and serving customers in the Middle East and Africa region, has received accreditation for ISO/IEC 17025:2017 from the International Accreditation 
...
Read more...
---
Do more with less and generate ROI with an Integrated Calibration Solution
October 2019, QTEK Instrumentation & Calibration Solutions , Maintenance, Test & Measurement, Calibration
Instrument calibration is just one of the many maintenance-related activities in a process plant, but the last thing anyone needs is to have precious resources wasting time performing unnecessary calibrations 
...
Read more...
---
RS adds food grade maintenance line
October 2019, RS Components SA , Maintenance, Test & Measurement, Calibration
RS Components has launched a new range of food grade maintenance products for use in the food processing and catering sector. All RS Pro food grade products are registered with the NSF (National Sanitisation 
...
Read more...
---
Improved design tips balance toward HV motor replacement
October 2019, Zest WEG Group , Maintenance, Test & Measurement, Calibration
The applications knowledge of Zest WEG Group, coupled with the design capability of parent company WEG, now make it easier than ever for old high voltage (HV) motors to be replaced with new improved machines, 
...
Read more...
---
Vibration tester diagnoses machine problems
October 2019, Comtest , Maintenance, Test & Measurement, Calibration
Comtest now offers the Fluke 810 vibration tester, an advanced troubleshooting instrument that enables maintenance teams to collect data, diagnose and solve mechanical problems. The handheld instrument 
...
Read more...
---
Emerson expands asset management coverage
October 2019, Emerson Automation Solutions , System Integration & Control Systems Design
Emerson has expanded AMS Device Manager with HART-IP support, making it easier to connect with devices and control systems and potentially eliminate hundreds of thousands of dollars in project hardware 
...
Read more...
---
SKF solution improves service quality at Barcelona Metro
October 2019, SKF South Africa , Maintenance, Test & Measurement, Calibration
For over a century, the citizens of Barcelona have relied on the metro to travel into and around the city. At peak times, 150 trains shuttle passengers between 158 stations on the eight-line network, 
...
Read more...
---
Rosemount food and beverage leak detection system
October 2019, Emerson Automation Solutions , Sensors & Transducers
In response to industry demand for increased quality in food and beverages at every level, Emerson has introduced the Rosemount CT4215 food and beverage leak detection system. The CT4215 is a quantum 
...
Read more...
---
Vibration measurement in machine maintenance
October 2019, R&C Instrumentation , Maintenance, Test & Measurement, Calibration
Vibration and temperature are the most common parameters measured on process plants for machine maintenance. Temperature measurement has been around for longer, probably because it was available first 
...
Read more...
---