printer friendly version
SEW-Eurodrive gives a foretaste of the future of automation
June 2019
Motion Control & Drives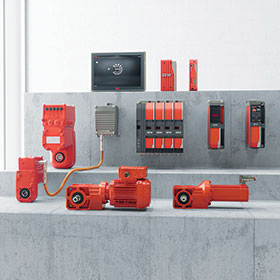 SEW-Eurodrive gave visitors to Africa Automation Fair 2019 a foretaste of its Movi-C modular automation system, ready-made for the requirements of Industry 4.0. This represents the next-generation of automation technology from Germany, and will be phased in gradually in South Africa, according to national sales and marketing manager, Norman Maleka. The system consists of a Maxo-RPS, CMP motors, Movi-C Modular, Movi-C Controller, HMI, and Movikit Robotics software.
The system provides an end-to-end automation solution, from planning to commissioning, operation and diagnostics software, electronic control and monitoring devices, mechanical drives, and gearmotors. What's more, it features open communications topology from Profibus and industrial Ethernet to Modbus.
While the Movidrive B drive inverter and Moviaxis servo inverter have been available for some time, the Movi-C modular automation system sets SEW-Eurodrive on a path to embrace Industry 4.0. "This requires products that are both open and flexible," stressed Maleka. "Our focus is to provide customers with a fully modular and customisable solution."
The unit on display was a high-speed pick-and-place solution, including a tracking function, applicable to a range of industries. It was showcased as a 'teaser' of what customers can expect in the near future from SEW-Eurodrive, which is already developing new technologies in response to both industry trends and customer requirements.
"Our main focus at the exhibition was energy efficiency," noted Maleka. Three segment conveyors featured IE2, IE3 and IE4 motors, with the different energy consumptions displayed on a screen. Apart from the motor range, the Movigear mechatronic drive system was also showcased. This technology is making inroads into the food and beverage industry due to its ease of use and quick installation, and the fact that it is easy to clean and meets strict hygiene standards, for which an optional smooth surface is available.
Other products on display included VSDs and the LTP-B Eco HVAC drive, which is ideal for applications in large buildings, hospitals and even mills. Features include an advanced 'sleep' and 'wake' function that maximises energy efficiency by only switching on a pump, for example, when it is required.
For more information contact Jana Klut, SEW-Eurodrive, +27 11 248 7000, jklut@sew.co.za, www.sew-eurodrive.co.za
Credit(s)
Further reading:
Case History 167: Test your analytical capabilities
July 2019, Michael Brown Control Engineering , Editor's Choice, Motion Control & Drives
Answer to the question at the end of Case History 166 (
www.instrumentation.co.za/8690r
) In the last Case History article, I suggested you try and see what was not so good about a level control, which 
...
Read more...
---
BMG drives sewage and effluent management
July 2019, Bearing Man Group t/a BMG , Motion Control & Drives
BMG supplies a range of drives designed specially for optimum efficiency in sewage treatment applications. "Nord drives, which consist of Unicase helical shaft mount geared motors, have special features 
...
Read more...
---
Bauer motors for water treatment plants
July 2019 , Motion Control & Drives
According to Bearings International (BI) electric motors product manager Lewis Hiepner, the arduous operating conditions at water-treatment plants mean that the motors specified not only have to be high-efficiency, 
...
Read more...
---
Motors, drives, alternators and ATEX induction motors
July 2019 , Motion Control & Drives
Vert Energy is the sole distributor for Leroy-Somer in southern Africa and supplies and supports the entire LS range, which includes standard and adapted AC and DC motors, geared and brake motors, variable 
...
Read more...
---
Future-proof chair lift system
July 2019, Siemens Digital Industries , Motion Control & Drives
At Snow Space, a winter sports resort near Salzburg, Bergbahnen Wagrain, operates the Sonntagskogelbahn 2, a chair lift for taking skiing enthusiasts to the piste. To provide the most comfortable ride 
...
Read more...
---
Planetary gearboxes for railway maintenance
July 2019, Bearing Man Group t/a BMG , Motion Control & Drives
BMG supplies the local railways sector with custom-designed planetary gearboxes for use in railway maintenance programmes. "Dinamic Oil gearboxes, which are supplied with 22 kW brake motors, are used 
...
Read more...
---
Flying motion
July 2019, Beckhoff Automation , Motion Control & Drives
A planar motor system of free-floating movers with six degrees of freedom.
Read more...
---
When zero is hero: Class 0 oil-free vs technically oil-free air
July 2019 , Motion Control & Drives
Oil-free compressed air is used throughout industry, where the purest compressed air quality is critical to the end product and to the processes involved, such as in the pharmaceutical or food and beverage 
...
Read more...
---
What is going on in the Milky Way?
July 2019, Horne Technologies , Motion Control & Drives
One of the regions we know very little about is the dense part in the centre of the galaxy, where countless stars and gas clouds cluster around a presumed black hole. But a major astronomy project is 
...
Read more...
---
New sonic industrial imager
July 2019, Comtest , Motion Control & Drives
Fluke's new ii900 is a handheld sonic industrial imager that enables maintenance teams to quickly and accurately locate air, steam, gas and vacuum leaks in compressed air systems. The straightforward, 
...
Read more...
---