printer friendly version
SEW-Eurodrive gives a foretaste of the future of automation
June 2019
Motion Control & Drives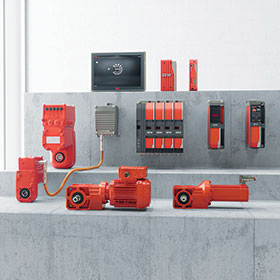 SEW-Eurodrive gave visitors to Africa Automation Fair 2019 a foretaste of its Movi-C modular automation system, ready-made for the requirements of Industry 4.0. This represents the next-generation of automation technology from Germany, and will be phased in gradually in South Africa, according to national sales and marketing manager, Norman Maleka. The system consists of a Maxo-RPS, CMP motors, Movi-C Modular, Movi-C Controller, HMI, and Movikit Robotics software.
The system provides an end-to-end automation solution, from planning to commissioning, operation and diagnostics software, electronic control and monitoring devices, mechanical drives, and gearmotors. What's more, it features open communications topology from Profibus and industrial Ethernet to Modbus.
While the Movidrive B drive inverter and Moviaxis servo inverter have been available for some time, the Movi-C modular automation system sets SEW-Eurodrive on a path to embrace Industry 4.0. "This requires products that are both open and flexible," stressed Maleka. "Our focus is to provide customers with a fully modular and customisable solution."
The unit on display was a high-speed pick-and-place solution, including a tracking function, applicable to a range of industries. It was showcased as a 'teaser' of what customers can expect in the near future from SEW-Eurodrive, which is already developing new technologies in response to both industry trends and customer requirements.
"Our main focus at the exhibition was energy efficiency," noted Maleka. Three segment conveyors featured IE2, IE3 and IE4 motors, with the different energy consumptions displayed on a screen. Apart from the motor range, the Movigear mechatronic drive system was also showcased. This technology is making inroads into the food and beverage industry due to its ease of use and quick installation, and the fact that it is easy to clean and meets strict hygiene standards, for which an optional smooth surface is available.
Other products on display included VSDs and the LTP-B Eco HVAC drive, which is ideal for applications in large buildings, hospitals and even mills. Features include an advanced 'sleep' and 'wake' function that maximises energy efficiency by only switching on a pump, for example, when it is required.
For more information contact Jana Klut, SEW-Eurodrive, +27 11 248 7000, jklut@sew.co.za, www.sew-eurodrive.co.za
Credit(s)
Further reading:
Space chair automation
December 2019, Siemens Digital Industries , Motion Control & Drives
The Euro Space Centre adventure park in Transinne in Belgium is home to a number of different simulators, including the original NASA multi-axis chair dating back to the 1960s which was used to familiarise 
...
Read more...
---
Superior Filtration relies on Movidrive
December 2019, SEW-Eurodrive , Motion Control & Drives
An industrial water filtration specialist that has used gearmotors from SEW-Eurodrive for many years has adopted its Movidrive inverters with CMP servo motors and customisable iPOS software for its latest 
...
Read more...
---
African mines gear up with SEW-Eurodrive's new service
December 2019, SEW-Eurodrive , News
A convenient and cost-effective option for ageing African mines, some of them 50 to 60 years' old, is to have their geared units professionally refurbished by SEW-Eurodrive. Supplementing its refurbishment 
...
Read more...
---
New XTS functionality enables novel solutions in machine building
November 2019, Beckhoff Automation , Motion Control & Drives
XTS is a smart transport system of magnetically driven movers that travel along tracks consisting of motor modules and guide rails. A Beckhoff Industrial PC is able to control the movers independently 
...
Read more...
---
SEW-Eurodrive passes international audit with flying colours
November 2019, SEW-Eurodrive , News
The Durban branch of SEW-Eurodrive has passed an internal audit by its German parent with flying colours. This means that not only does it comply with the latest standards such as ISO 9001:2015, but it 
...
Read more...
---
Couplings for high torque applications
November 2019, SKF South Africa , Motion Control & Drives
Available in a variety of configurations, SKF's range of Disc Couplings provide affordable, lubrication-free service in medium to high torque applications that require torsional rigidity. These innovative 
...
Read more...
---
Belting for food applications
November 2019, Bearing Man Group t/a BMG , Motion Control & Drives
BMG's Light Materials Handling division supplies and supports a comprehensive range of belting products suitable for the food processing, bottling and packaging sectors. "New to BMG's range of belting 
...
Read more...
---
SEW-Eurodrive launches Generation X.e
October 2019, SEW-Eurodrive , News
Generation X.e represents the latest iteration of the highly-successful X series of industrial gear units, which has gained significant traction globally in industries as diverse as mining, cement and 
...
Read more...
---
Sawmills and sugar mills underpin growth for SEW-Eurodrive
October 2019, SEW-Eurodrive , Motion Control & Drives
Ageing sawmills and sugar mills in KwaZulu-Natal represent a significant growth opportunity for SEW-Eurodrive to introduce its latest energy-efficient technology. This is an increasing trend as both the 
...
Read more...
---
Smart devices for Ex areas: Unbelievably simple mistakes that prevent control.
September 2019, Michael Brown Control Engineering , Editor's Choice, Motion Control & Drives
I am often astounded by finding really basic problems with controls in plants, which have operated that way for years. These problems are so basic that one can only wonder at how these controls could 
...
Read more...
---