printer friendly version
Schneider Electric announces a new era of control
June 2019
PLCs, DCSs & Controllers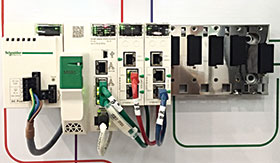 Schneider Electric's new high-end Modicon M580 Ethernet programmable automation controller (ePAC) features redundant processors, native Ethernet, and cybersecurity embedded into its core. It combines native Ethernet capabilities, high performance, high availability for processors and networks, improved industrial cybersecurity, greater flexibility in design and improved agility for operations. Fitted with sensors and Internet connectivity, these devices can communicate and interact with each other over the Web, and can be remotely controlled and monitored.
The IIoT refers to the billions of industrial devices connected to wireless networks gathering and sharing data. The introduction of inexpensive sensors and high-bandwidth wireless networks means that even the tiniest devices can now be connected and provided the intelligence that enables them to be monitored and tracked, sharing data and communicating with other devices. This mountain of data can then be analysed and acted on in real-time to make better informed process decisions. As advances in technology make it more cost-effective to deploy the IIoT, industries will need to acquire a strategic approach to integrating new sensor data with pre-existing data environments. The competitive advantage this data can bring means industrial organisations are looking for ways to integrate controls, automation and data analytics visualisation software, to gain competitive operational benefits.
EcoStruxure for converged solutions
With this in mind, Schneider Electric has spent decades developing solutions to help manufacturing organisations reap the benefits from their systems and harness the power of the Internet. Firstly, the company's EcoStruxure empowers customers to implement scalable and converged IT/OT solutions to deliver innovation at every level. This interoperable technology platform unites energy, automation and software, ensuring that end-users enjoy enhanced value around safety, reliability, efficiency, sustainability and connectivity.
"The company's commitment to innovation around digitisation over the last twenty years, has also inspired the development of IIoT solutions for edge control such as the Modicon M580, its flagship controller with Ethernet at its core," comments Marc Ramsay, VP Industry Business at Schneider Electric.
A platform that optimises open networks, the M580 ePAC provides industrial plant operators with the power to design, implement and run a process that actively employs the benefits of open networking, helping customers to access consistent and accurate data for timely decisions, and reduce downtime with detailed insight into alarms and events. In addition, it enables customers to diagnose and identify the root causes of problems, as well as make informed decisions about plant operations and energy management.
Secure and versatile
With the Achilles Level 2 certification, this controller was built with security, performance, and sustainable evolution in mind. It is the most advanced PAC ever designed by Schneider Electric in terms of industrial cybersecurity and is tested according to Ethernet services and protocols, such as ARP, ICMP, TCP, IP and others. Firmware integrity is checked at every start-up and is compiled and stored in memory, preventing its recompilation by an outsider.
Mark Williams, director of the Plant Solutions Competency Centre at Schneider Electric says: "The M580 ePAC is leading the next generation of PACs that leverage open and fast Ethernet communications. Powerful performance is a core feature of the ePAC. It delivers high levels of computing power through a multicore processor, allowing high speed connectivity to network devices while enhancing resistance to cybersecurity threats. In addition, upgrading to the M580 ePAC requires no additional investment in wiring, software development or training."
The M580 is also compatible with the xBus communications of the Modicon M340 and Premium PLC. Users can easily switch between the different controller sizes in the Modicon range without changing their I/O racks and cabling. It has been built for PlantStruxure, a collaborative and integrated automation architecture that brings together the telemetry, PLC/scada, and DCS offerings, with complete lifecycle services to help make operations more efficient and seamless. From initial design to modernisation, PlantStruxure transparently connects the control, operation and enterprise levels of the business.
For more information contact Silindelokuhle Dumakude, Schneider Electric SA, +27 11 254 6400, sli.dumakude@se.com, www.se.com/za
Credit(s)
Further reading:
New Modicon IIoT-ready controller
September 2020, Schneider Electric South Africa , PLCs, DCSs & Controllers
The Modicon M262 is IIoT-ready, designed and delivered with intuitive direct cloud connectivity and no gateways are required for OEMs to design solutions for performance demanding applications.
Read more...
---
Modular mid-range PLC series
June 2020, ElectroMechanica , PLCs, DCSs & Controllers
The Delta compact modular mid-range AS series PLCs, available locally from ElectroMechanica (EM), is a high-performance, multi-purpose controller designed for all kinds of automated equipment. The series 
...
Read more...
---
Utility made easy
April 2020, Schneider Electric South Africa , Electrical Power & Protection
In recognition of the growing demand for reliable power provision, Schneider Electric strives to assist network operators to deliver electricity safely and efficiently. The company's Advanced Distribution 
...
Read more...
---
Game-changing electrical accessories
April 2020, Schneider Electric South Africa , Electrical Power & Protection
In a world where products are moving from standardised to customised, today's consumers want high quality products that meet their specific requirements. Electrical accessories are no exception and Schneider 
...
Read more...
---
Schneider Electric introduces Asset Advisor for critical assets
Technews Industry Guide: Maintenance, Reliability & Asset Optimisation 2020, Schneider Electric South Africa , IT in Manufacturing
Schneider Electric has announced the availability of EcoStruxure Asset Advisor for electrical distribution and critical data centre assets, as part of the company's EcoStruxure IoT-enabled system architecture 
...
Read more...
---
Bringing critical power distribution infrastructure out of the dark
March 2020, Schneider Electric South Africa , Electrical Power & Protection
As the trend towards digitisation becomes pervasive across many industries and operations, the benefits offered to power distribution systems should not be overlooked. However, due to the ageing infrastructure 
...
Read more...
---
Smart cities embrace 4IR
January 2020, Schneider Electric South Africa , News
Smart cities rely on smart grid technology that includes traditional and renewable energy sources in its mix of power supply. Driven by the advanced technology of the fourth industrial revolution (4IR), 
...
Read more...
---
Schneider Electric announces local manufacturing and reduced lead times
January 2020, Schneider Electric South Africa , News
Schneider Electric South Africa has announced that its PIX Easy Air Insulated Switchgear, previously 100% internationally manufactured, will now have a 68% local finishing process, reducing the customer 
...
Read more...
---
F'SASEC launches second training centre at Sedibeng TVET College
January 2020, Schneider Electric South Africa , News
Representing an important milestone in its access to education journey, the French South African Schneider Electric Education Centre (F'SASEC) network has launched a second practical training laboratory 
...
Read more...
---
Schneider Electric brings digital competence to mining applications
January 2020, Schneider Electric South Africa , IT in Manufacturing
Schneider Electric is dedicated to the deployment of digital technologies in mining to address the rising pressures on business sustainability and reduced energy consumption. "The organisation has invested 
...
Read more...
---