printer friendly version
Drive solutions for energy efficient power transmission
June 2019
Motion Control & Drives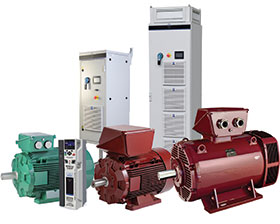 Vert Energy is committed to providing energy-saving solutions for its diverse customer base. "Critical challenges facing industry include finding the most efficient ways to minimise energy consumption and reduce CO2 emissions, with no compromise on productivity and safety," says managing director, Grant Robertson. "With the implementation of variable speed and the optimisation of mechanical speed reduction efficiencies, the maximum saving of electricity consumption is obtained in any power transmission system.
"Feedback from our customers indicates that by combining Leroy Somer Dyneo permanent magnet motors with variable speed technologies, they have not only significantly reduced energy consumption, but also enjoy a good return on investment and lower overall cost of ownership.
"Through Dyneo permanent magnet solutions, with sensorless control and interchangeability with standard IEC mechanisms, we are able to offer our customers the benefits of high-performance permanent magnet motors, with the simplicity of mounting and installation equivalent to traditional asynchronous motors."
The Dyneo range includes the option of an aluminium frame in sizes up to 500 kW. Benefits include European quality standards with certified efficiency ratings from approved regulatory bodies, an improved aesthetic finish as opposed to a rugged cast-iron body, removable feet for multi-mounted applications in certain frame sizes, better heat dissipation than with traditional cast-iron frames, and fewer losses due to improved thermal characteristics.
Leroy Somer's Dyneo permanent magnet solutions enable the construction of lighter units with a reduced footprint, which is particularly beneficial to OEMs. The compact design and fewer mechanical components mean reduced size of the chassis. This design also facilitates easy installation of the motor, simplification of lifting and reduced transport costs.
Drive technology
The Dyneo drive units ensure high efficiency levels over the whole operating range, especially at speeds below the synchronous speed, where efficiency is higher than with asynchronous motors.
Dyneo technology, which also guarantees optimum torque over wide speed ranges without derating or forced ventilation, significantly improves the drive's efficiency and enhances specific output power, offering better performance than conventional technologies.
Other important features include adaptation of the motor speed to the speed of the driven machine, improved performance of the driven machine by increasing its speed, potential elimination of gearing, a low rotor temperature-rise and better bearing performance.
Permanent magnet motors
LSRPM (IP55)/PLSRPM (IP23) permanent magnet motors are built using the same high quality European mechanical components as Leroy Somer asynchronous motors, to offer reliability and flexibility. This interchangeable range, with standard dimensions in terms of frame size, flange and shaft extension, provides an immediate energy-efficient solution without the need for modification of the existing system.
Advantages of the design include less wiring and fewer connections for simplicity of installation. Encoders or long cable lengths are not required and there is no need for concern about environmental constraints, like vibration, temperature and abrasive dust, affecting the machine.
These high-performance variable speed solutions, designed for applications requiring high torque at high speed, enhance power transmission performance in pumping, ventilation, compression, conveying, extrusion, process control and generator applications.
In a recent project, a variable-speed screw compressor, equipped with a Dyneo permanent magnet solution, was added to the existing four fixed-speed screw compressors used in refrigeration during beer production. This upgrade has achieved energy savings of 600 000 kWh/yr, as well as an increase in the maximum speed and improved system performance.
Another successful installation formed part of a modernisation programme at a rubber extrusion facility, where Vert Energy's Dyneo solution has eliminated the machine's off-centre pulley and belt system. The motor can withstand operation in 50°C above ambient temperature, and because of its compact design, it could be installed under the screw.
Vert Energy's service to the electro-mechanical power transmission sector encompasses the supply of dependable products that combine high performance, energy efficiency, reduced downtime and extended service life, to meet stringent quality, safety and environmental standards.
For more information contact Ryan Robertson, Vert Energy, 086 111 8378, ryan.robertson@vertgroup.co.za, www.vertgroup.co.za
Further reading:
Case History 167: Test your analytical capabilities
July 2019, Michael Brown Control Engineering , Editor's Choice, Motion Control & Drives
Answer to the question at the end of Case History 166 (
www.instrumentation.co.za/8690r
) In the last Case History article, I suggested you try and see what was not so good about a level control, which 
...
Read more...
---
BMG drives sewage and effluent management
July 2019, Bearing Man Group t/a BMG , Motion Control & Drives
BMG supplies a range of drives designed specially for optimum efficiency in sewage treatment applications. "Nord drives, which consist of Unicase helical shaft mount geared motors, have special features 
...
Read more...
---
Bauer motors for water treatment plants
July 2019 , Motion Control & Drives
According to Bearings International (BI) electric motors product manager Lewis Hiepner, the arduous operating conditions at water-treatment plants mean that the motors specified not only have to be high-efficiency, 
...
Read more...
---
Motors, drives, alternators and ATEX induction motors
July 2019 , Motion Control & Drives
Vert Energy is the sole distributor for Leroy-Somer in southern Africa and supplies and supports the entire LS range, which includes standard and adapted AC and DC motors, geared and brake motors, variable 
...
Read more...
---
Future-proof chair lift system
July 2019, Siemens Digital Industries , Motion Control & Drives
At Snow Space, a winter sports resort near Salzburg, Bergbahnen Wagrain, operates the Sonntagskogelbahn 2, a chair lift for taking skiing enthusiasts to the piste. To provide the most comfortable ride 
...
Read more...
---
Planetary gearboxes for railway maintenance
July 2019, Bearing Man Group t/a BMG , Motion Control & Drives
BMG supplies the local railways sector with custom-designed planetary gearboxes for use in railway maintenance programmes. "Dinamic Oil gearboxes, which are supplied with 22 kW brake motors, are used 
...
Read more...
---
Flying motion
July 2019, Beckhoff Automation , Motion Control & Drives
A planar motor system of free-floating movers with six degrees of freedom.
Read more...
---
When zero is hero: Class 0 oil-free vs technically oil-free air
July 2019 , Motion Control & Drives
Oil-free compressed air is used throughout industry, where the purest compressed air quality is critical to the end product and to the processes involved, such as in the pharmaceutical or food and beverage 
...
Read more...
---
What is going on in the Milky Way?
July 2019, Horne Technologies , Motion Control & Drives
One of the regions we know very little about is the dense part in the centre of the galaxy, where countless stars and gas clouds cluster around a presumed black hole. But a major astronomy project is 
...
Read more...
---
New sonic industrial imager
July 2019, Comtest , Motion Control & Drives
Fluke's new ii900 is a handheld sonic industrial imager that enables maintenance teams to quickly and accurately locate air, steam, gas and vacuum leaks in compressed air systems. The straightforward, 
...
Read more...
---