printer friendly version
Drive solutions for energy efficient power transmission
June 2019
Motion Control & Drives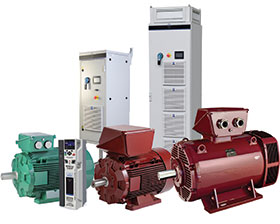 Vert Energy is committed to providing energy-saving solutions for its diverse customer base. "Critical challenges facing industry include finding the most efficient ways to minimise energy consumption and reduce CO2 emissions, with no compromise on productivity and safety," says managing director, Grant Robertson. "With the implementation of variable speed and the optimisation of mechanical speed reduction efficiencies, the maximum saving of electricity consumption is obtained in any power transmission system.
"Feedback from our customers indicates that by combining Leroy Somer Dyneo permanent magnet motors with variable speed technologies, they have not only significantly reduced energy consumption, but also enjoy a good return on investment and lower overall cost of ownership.
"Through Dyneo permanent magnet solutions, with sensorless control and interchangeability with standard IEC mechanisms, we are able to offer our customers the benefits of high-performance permanent magnet motors, with the simplicity of mounting and installation equivalent to traditional asynchronous motors."
The Dyneo range includes the option of an aluminium frame in sizes up to 500 kW. Benefits include European quality standards with certified efficiency ratings from approved regulatory bodies, an improved aesthetic finish as opposed to a rugged cast-iron body, removable feet for multi-mounted applications in certain frame sizes, better heat dissipation than with traditional cast-iron frames, and fewer losses due to improved thermal characteristics.
Leroy Somer's Dyneo permanent magnet solutions enable the construction of lighter units with a reduced footprint, which is particularly beneficial to OEMs. The compact design and fewer mechanical components mean reduced size of the chassis. This design also facilitates easy installation of the motor, simplification of lifting and reduced transport costs.
Drive technology
The Dyneo drive units ensure high efficiency levels over the whole operating range, especially at speeds below the synchronous speed, where efficiency is higher than with asynchronous motors.
Dyneo technology, which also guarantees optimum torque over wide speed ranges without derating or forced ventilation, significantly improves the drive's efficiency and enhances specific output power, offering better performance than conventional technologies.
Other important features include adaptation of the motor speed to the speed of the driven machine, improved performance of the driven machine by increasing its speed, potential elimination of gearing, a low rotor temperature-rise and better bearing performance.
Permanent magnet motors
LSRPM (IP55)/PLSRPM (IP23) permanent magnet motors are built using the same high quality European mechanical components as Leroy Somer asynchronous motors, to offer reliability and flexibility. This interchangeable range, with standard dimensions in terms of frame size, flange and shaft extension, provides an immediate energy-efficient solution without the need for modification of the existing system.
Advantages of the design include less wiring and fewer connections for simplicity of installation. Encoders or long cable lengths are not required and there is no need for concern about environmental constraints, like vibration, temperature and abrasive dust, affecting the machine.
These high-performance variable speed solutions, designed for applications requiring high torque at high speed, enhance power transmission performance in pumping, ventilation, compression, conveying, extrusion, process control and generator applications.
In a recent project, a variable-speed screw compressor, equipped with a Dyneo permanent magnet solution, was added to the existing four fixed-speed screw compressors used in refrigeration during beer production. This upgrade has achieved energy savings of 600 000 kWh/yr, as well as an increase in the maximum speed and improved system performance.
Another successful installation formed part of a modernisation programme at a rubber extrusion facility, where Vert Energy's Dyneo solution has eliminated the machine's off-centre pulley and belt system. The motor can withstand operation in 50°C above ambient temperature, and because of its compact design, it could be installed under the screw.
Vert Energy's service to the electro-mechanical power transmission sector encompasses the supply of dependable products that combine high performance, energy efficiency, reduced downtime and extended service life, to meet stringent quality, safety and environmental standards.
For more information contact Ryan Robertson, Vert Energy, 086 111 8378, ryan.robertson@vertgroup.co.za, www.vertgroup.co.za
Further reading:
Space chair automation
December 2019, Siemens Digital Industries , Motion Control & Drives
The Euro Space Centre adventure park in Transinne in Belgium is home to a number of different simulators, including the original NASA multi-axis chair dating back to the 1960s which was used to familiarise 
...
Read more...
---
Superior Filtration relies on Movidrive
December 2019, SEW-Eurodrive , Motion Control & Drives
An industrial water filtration specialist that has used gearmotors from SEW-Eurodrive for many years has adopted its Movidrive inverters with CMP servo motors and customisable iPOS software for its latest 
...
Read more...
---
New XTS functionality enables novel solutions in machine building
November 2019, Beckhoff Automation , Motion Control & Drives
XTS is a smart transport system of magnetically driven movers that travel along tracks consisting of motor modules and guide rails. A Beckhoff Industrial PC is able to control the movers independently 
...
Read more...
---
Couplings for high torque applications
November 2019, SKF South Africa , Motion Control & Drives
Available in a variety of configurations, SKF's range of Disc Couplings provide affordable, lubrication-free service in medium to high torque applications that require torsional rigidity. These innovative 
...
Read more...
---
Belting for food applications
November 2019, Bearing Man Group t/a BMG , Motion Control & Drives
BMG's Light Materials Handling division supplies and supports a comprehensive range of belting products suitable for the food processing, bottling and packaging sectors. "New to BMG's range of belting 
...
Read more...
---
Sawmills and sugar mills underpin growth for SEW-Eurodrive
October 2019, SEW-Eurodrive , Motion Control & Drives
Ageing sawmills and sugar mills in KwaZulu-Natal represent a significant growth opportunity for SEW-Eurodrive to introduce its latest energy-efficient technology. This is an increasing trend as both the 
...
Read more...
---
Smart devices for Ex areas: Unbelievably simple mistakes that prevent control.
September 2019, Michael Brown Control Engineering , Editor's Choice, Motion Control & Drives
I am often astounded by finding really basic problems with controls in plants, which have operated that way for years. These problems are so basic that one can only wonder at how these controls could 
...
Read more...
---
DLM V-Drives
September 2019, Dupleix Liquid Meters (DLM) , Motion Control & Drives
DLM V-Drives control the latest generation of permanent magnet and standard induction motors. DLM offers the AMC (advanced motor control) and EPC (efficient pump control) V-Drives, which are available 
...
Read more...
---
Complete drive solutions to boost efficiency and cut costs
September 2019, SEW-Eurodrive , Motion Control & Drives
The importance of the sugar industry in KwaZulu-Natal to SEW-Eurodrive as a key growth area for its complete drive solutions was underscored when it exhibited at the Congress of the South African Sugar 
...
Read more...
---
RS announces drive controller kit
September 2019, RS Components SA , Motion Control & Drives
RS Components has announced the launch of the K4 Drive System Development Kit (K4DSDK) from ebm-papst, one of the world's leading manufacturers of high-efficiency fan and motor drive products. Targeting 
...
Read more...
---