printer friendly version
Powder coating cure performance
June 2019
Temperature Measurement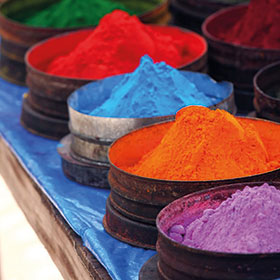 In any industrial paint or powder coating operation, getting the paint cure correct is critical to both the physical and cosmetic performance of the product. To get the best out of the coating, it is essential that the cure schedule achieved in the oven matches that recommended by the coating supplier. Getting the bake wrong can be catastrophic, leading to the risk of rejects or costly rework. Not getting the cure schedule correct can increase costs significantly, affecting the entire operation including labour, energy consumption and the risk of lost business.
It is quite common for companies to over cure their products to avoid premature coating failure. However, this may create discolouration, adhesion and chip resistance problems. Another issue that is often overlooked is that the oven is adding to operating costs. In the worst case, many coaters still have no means of accurately determining what their product temperature is in-process, relying on oven set-point monitoring using the ovens thermocouples for process control. As many have learnt to their cost, one oven program (bake time and temperature) does not satisfy all. To be able to control the oven, an oven profiling system is essential for maximising process efficiency and getting the most out of the cure oven.
The DataPaq EasyTrack3 is an excellent example of one of the many DataPaq oven temperature profiling systems that can be used for such purposes. Designed for ease of use, rugged, reliable and affordable the system is ideal for even the smallest of coating operations.
The DataPaq EasyTrack3 system is the third generation of the EasyTrack brand, first introduced in 2000. The system provides the coater with more choice and improved operating capability. A variety of systems have been developed around the new core ET3 logger, working with EasyTrack software to match the exact operational needs of the user.
The system is offered with a range of thermal barriers designed to match different application coating requirements. Proven to keep the logger safe through the process and maintain temperatures at guaranteed accuracy levels, a low height barrier is available designed to allow profiling of typical mesh belt cure lines where oven clearance is significantly restricted.
Collecting temperature profile data is one thing, using it to make intelligent process decisions is quite another. For this reason, the EasyTrack software allows users to make informed decisions to either validate the performance and product quality or show what actions are required to rectify problems.
Credit(s)
Further reading:
Temperature measurement in the steel industry
November 2020, R&C Instrumentation , Temperature Measurement
Having recently joined forces, Raytek and Ircon are able to offer non-contact infrared thermometers and scanners to cover every aspect of temperature monitoring in steel manufacturing processes.
Read more...
---
Preventive maintenance in pulp and paper mills
October 2020, R&C Instrumentation , Maintenance, Test & Measurement, Calibration
The thinking around machine condition monitoring has changed over the years and it is now stated that vibration is the better measurement over temperature, since it gives earlier warning.
Read more...
---
New RTD transmitter
September 2020, Mecosa , Temperature Measurement
What characterises the APAQ 130 is simplicity. Users can easily configure the transmitters wirelessly with a smartphone or tablet.
Read more...
---
Temperature profiling in automobile manufacture
September 2020, R&C Instrumentation , Temperature Measurement
The automotive industry uses many materials to build cars. These have evolved over time, becoming more sophisticated and often requiring heat treatment at some stage of component manufacture.
Read more...
---
New iTEMP transmitter with Bluetooth
September 2020, Endress+Hauser South Africa , Temperature Measurement
Endress+Hauser's new iTEMP TMT142B temperature transmitters deliver highly accurate and reliable measurements, wireless communication via Bluetooth and user-friendly operation packaged in a robust single-chamber field housing.
Read more...
---
Temperature control in the glass industry
August 2020, R&C Instrumentation , Temperature Measurement
New products like the Endurance and Thermalert series ensure that whatever the temperature measurement and monitoring requirements, a solution can be found.
Read more...
---
Closed panel electrical inspection
July 2020, R&C Instrumentation , Maintenance, Test & Measurement, Calibration
When electrical distribution equipment fails, the results can be catastrophic to a company as workplace injuries and fatalities could occur. A company's profit margin can be negatively impacted by unscheduled 
...
Read more...
---
Ratio pyrometer: theory and applications
June 2020, R&C Instrumentation , Temperature Measurement
There are many applications where a standard one-colour thermometer reads the temperature incorrectly. These include:   
• Small objects (too small to fill the cone-of-vision). • Dust, smoke or steam, 
...
Read more...
---
Thermal camera for automotive diagnosis
May 2020, RS Components SA , Temperature Measurement
RS Components has announced the availability of a new thermal camera from FLIR, a specialist in intelligent sensing products for industrial markets. The TG275 thermal camera is ideal for automotive maintenance 
...
Read more...
---
Emerson's new thermowell design tool
June 2020, Emerson Automation Solutions , Temperature Measurement
Emerson has introduced the Rosemount Thermowell Design Accelerator, a free online thermowell design tool that eliminates manual thermowell iterations facing process design engineers when sizing thermowells. 
...
Read more...
---