printer friendly version
Powder coating cure performance
June 2019
Temperature Measurement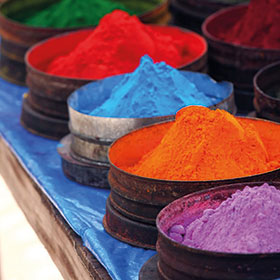 In any industrial paint or powder coating operation, getting the paint cure correct is critical to both the physical and cosmetic performance of the product. To get the best out of the coating, it is essential that the cure schedule achieved in the oven matches that recommended by the coating supplier. Getting the bake wrong can be catastrophic, leading to the risk of rejects or costly rework. Not getting the cure schedule correct can increase costs significantly, affecting the entire operation including labour, energy consumption and the risk of lost business.
It is quite common for companies to over cure their products to avoid premature coating failure. However, this may create discolouration, adhesion and chip resistance problems. Another issue that is often overlooked is that the oven is adding to operating costs. In the worst case, many coaters still have no means of accurately determining what their product temperature is in-process, relying on oven set-point monitoring using the ovens thermocouples for process control. As many have learnt to their cost, one oven program (bake time and temperature) does not satisfy all. To be able to control the oven, an oven profiling system is essential for maximising process efficiency and getting the most out of the cure oven.
The DataPaq EasyTrack3 is an excellent example of one of the many DataPaq oven temperature profiling systems that can be used for such purposes. Designed for ease of use, rugged, reliable and affordable the system is ideal for even the smallest of coating operations.
The DataPaq EasyTrack3 system is the third generation of the EasyTrack brand, first introduced in 2000. The system provides the coater with more choice and improved operating capability. A variety of systems have been developed around the new core ET3 logger, working with EasyTrack software to match the exact operational needs of the user.
The system is offered with a range of thermal barriers designed to match different application coating requirements. Proven to keep the logger safe through the process and maintain temperatures at guaranteed accuracy levels, a low height barrier is available designed to allow profiling of typical mesh belt cure lines where oven clearance is significantly restricted.
Collecting temperature profile data is one thing, using it to make intelligent process decisions is quite another. For this reason, the EasyTrack software allows users to make informed decisions to either validate the performance and product quality or show what actions are required to rectify problems.
Credit(s)
Further reading:
R&C Instrumentation receives accreditation from Fluke
July 2019, R&C Instrumentation , News
R&C Instrumentation is pleased to announce that the company has received accreditation from Fluke Process Instruments for its Infrared Temperature Calibration facility. This facility is housed in a climate-controlled 
...
Read more...
---
Temperature profiling in aluminium heat treatment
July 2019, R&C Instrumentation , Temperature Measurement
Many high volume production foundries use continuous furnaces for the heat treatment of castings. Cylinder heads, wheels, suspension components and many other aluminium alloy products are placed in wire 
...
Read more...
---
Speeding up the inkjet drying process
July 2019, Temperature Controls , Temperature Measurement
For high speed printing processes, the limiting factor for the productivity of the equipment is usually ink drying time. To maximise printing speed without quality loss, it is important to be able to 
...
Read more...
---
Temperature transmitter family for all industries
June 2019, Endress+Hauser , Temperature Measurement
Endress+Hauser has introduced its first temperature transmitter with Bluetooth (BT) connectivity. This feature is unique because it does not require a BT modem to be able to communicate with the device 
...
Read more...
---
Miniature float switch design
June 2019, WIKA Instruments , Temperature Measurement
WIKA now offers OEM manufacturers the miniature float switch model RLS-7000/8000, particularly suitable for level monitoring in small tanks. The performance and design meet the requirements of original 
...
Read more...
---
Infrared inspection windows on ships
June 2019, R&C Instrumentation , Maintenance, Test & Measurement, Calibration
Infrared thermography is a widely-accepted preventive maintenance technology, both for land-based and maritime applications. Electromechanical assets like motors, especially on ships where both vibration 
...
Read more...
---
Safety temperature ­measurement device for boilers
Africa Automation Fair 2019 Preview, GHM Messtechnik SA , Temperature Measurement
GHM Messtechnik's Safety-TL4896 is a SIL2-rated temperature measuring device from Martens, that conforms to international boiler regulations and offers a unique front panel installation. Certified to 
...
Read more...
---
Wireless vibration and ­temperature monitoring
Africa Automation Fair 2019 Preview, Turck Banner , Temperature Measurement
Banner Engineering's wireless vibration solutions kit and temperature sensor provides superior machine monitoring. Designed to effectively monitor machines for increases in vibration and temperature, 
...
Read more...
---
Smart pyrometers
Africa Automation Fair 2019 Preview, R&C Instrumentation , Temperature Measurement
R&C Instrumentation is showcasing the Thermalert 4.0 pyrometer from Fluke Process Instruments at Stand F04. The series comprises 13 models with varied spectral responses, including dedicated sensors for 
...
Read more...
---
High definition thermal images
Africa Automation Fair 2019 Preview, Protea Automation Solutions , Temperature Measurement
Designed for measuring temperature profiles inside furnaces, the NIR-Borescope uses AMETEK Land's cutting edge, near infrared imaging to create continuous, high definition thermal images. This allows 
...
Read more...
---