printer friendly version
Accurate bulk flow measurement in the cement industry
June 2019
Flow Measurement & Control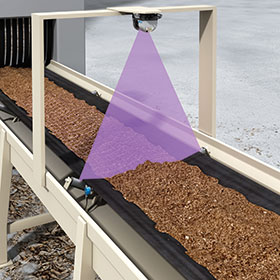 The rapid development of sensor technology provides cement producers with a toolbox of solutions to optimise performance and strengthen market presence. Non-contact volume flow measurement of conveyed materials streamlines the handling process from quarry to final product.
SICK Automation's bulkscan flow measurement technology had its portfolio broadened recently with the introduction of the low cost Bulkscan LMS111. All versions provide non-contact measurement of volume flow more accurately than mechanical belt scales, while minimising errors in mass and volume flow calculations.
Background
Felix Bartknecht and Michele Savino of SICK, Germany, explain that the movement and handling of bulk materials and packaged cement are tasks mainly carried out by conveyors. In many established cement plants this movement happens unsupervised. Add to this the need for lower production costs and enhanced tracking accuracy, and the need for cement plants to keep up with modern sensor technology becomes obvious. Bulkscan provides automated monitoring and process control all the way from the quarry to the end product.
The cement industry can learn from Industry 4.0 experience in other sectors. One of the key aspects is the ability to take data from process sensors to a centre that can evaluate it and recommend closed-loop process changes. Data can be stored and evaluated over time to spot patterns and determine trends. Attaining this level of accessibility to information increases the potential for process improvements, as well as opening up opportunities to assess and respond to consumer trends and environmental requirements.
Monitoring flow in cement plants
Knowing how much raw material is in the yard is a challenge. It is essential that conveyors provide a nonstop flow of raw materials, additives, fuel, clinker and cement upstream and downstream of the pyroprocess. Mechanical scales measure mass and the volume of material transported is calculated using an average material density.
This process is hindered when material density changes or when a conveyor belt is not properly maintained. Material density is used to convert mass from the weigh scales into volume and vice versa. "When the density is incorrect, the volume and mass calculations are also incorrect," explains Savino.
The solution
Bulkscan flow measurement technology enables the yard manager to measure the contour, volume, height and material distribution through the use of LiDAR (light detection and ranging) technology. The sensors can be mounted over conveyor belts or onto cranes and reclaimers.
Inside the Bulkscan sensor, high-pulse laser beams create a profile of the material on the conveyor which, in combination with belt speed, represents volume flow and calculated mass flow. This measurement principle is based on a laser beam that is deflected internally across a rotating mirror. The sequential order of the laser pulses is synchronised with the rotation frequency of the motor and the desired angular resolution. Generally, the motor rotation speed is determined by the maximum emitted pulse frequency of the laser source and the desired angular resolution. The laser beams scan the surface area of the material on the conveyor and send this information to the measurement device, which compares the data with an empty reference belt.
Bulkscan allows plant operators to measure volume flow on conveyor belts, bucket elevators or drag chain conveyors, outdoors in harsh conditions, as well as inside the cement plant. The scanner can be mounted above the conveyor, measuring volume flow without any material contact, making it virtually maintenance free. The collected data can either inform manual processes, or act as an input to fully-automated systems to drive changes in material flow and composition. When large objects are detected, the plant operator is alerted and an automated stop process is triggered.
Process optimisation
Bulkscan helps plant operators to optimise conveyor operation and reduce unplanned downtime. The same laser beams used to measure the bulk flow rate also provide information about the exact height and distribution of the bulk material on the conveyor. In addition, the centre of gravity of the load and the distance between the bulk material and the conveyor edge is measured and provided to a closed-loop system to adjust material distribution on the belt. This process automation helps increase belt life and decrease one-sided roller wear and downtime.
Bulkscan can also be used in conjunction with a weigh scale. The actual bulk density can be determined in real time as the device measures the volume while the weigh scale measures mass. When these values are known, density can be calculated.
For more information contact Robert de Scánde, SICK Automation Southern Africa, +27 10 060 0550, robert.descande@sickautomation.co.za, www.sickautomation.co.za
Credit(s)
Further reading:
Kobold's electromagnetic flowmeter
September 2019, Instrotech , Flow Measurement & Control
Instrotech now offers Kobold's new electromagnetic flowmeter model EPS with a standard accuracy of 0,3% of reading. The newly developed, microprocessor-controlled converter guarantees the high accuracy 
...
Read more...
---
Taking safety to the next level
September 2019, SICK Automation Southern Africa , IS & Ex
SICK Automation is a world leading manufacturer of sensors, safety systems and automatic identification products. The next step for safety – this core idea therefore underpins the entire design of the 
...
Read more...
---
Robotic platform relies on LiDAR
September 2019, SICK Automation Southern Africa , Sensors & Transducers
A SICK Automation LiDAR sensor was used to build a winning robotic platform in the prestigious Drexel University's annual College of Engineering senior project design competition. For the Swerve team, 
...
Read more...
---
Carbon tax in South Africa
August 2019, SICK Automation Southern Africa , Analytical Instrumentation & Environmental Monitoring
As of 1 June 2019, the Carbon Tax Act, 2018, is in operation. South Africa is one of the worst polluters on the continent and the carbon tax is a milestone in government's efforts to tackle climate change. 
...
Read more...
---
Systematic flow metering
July 2019, Siemens Digital Industries , Flow Measurement & Control
Aguas de Saltillo, the water utility company which serves the Mexican city of Saltillo, is responsible for supplying drinking water to a population of around 850 000. To ensure a reliable supply to this 
...
Read more...
---
Water regulation made easy
July 2019, Instrotech , Flow Measurement & Control
Kobold's REG mechanical flow restrictors and rate regulators, with their simple yet effective functionality, are ideally suited to consumer applications and uniform supply to multiple consumers. Once 
...
Read more...
---
Accurate flow and mass measurement
July 2019, Actum Industrial , Flow Measurement & Control
Measurement of flowing media containing solids and particles poses a great challenge in the mining industry, due to the damage caused to inline flowmeters. The installation of inline flowmeters can be 
...
Read more...
---
Safety laser scanner for outdoor ­applications
July 2019, SICK Automation Southern Africa , IS & Ex
SICK Automation has launched another global innovation: the first safety laser scanner certified to IEC 62998 for use in outdoor applications. The outdoorScan3 allows automated guided vehicle systems 
...
Read more...
---
Flow sensor for liquid media
June 2019, Festo , Flow Measurement & Control
The new flow sensor SFAW from Festo is ideal for monitoring cooling circuits, for example in welding guns in the automotive industry as well as in front-end applications in the semiconductor and electronics 
...
Read more...
---
Part localiser from SICK Automation
June 2019, SICK Automation Southern Africa , System Integration & Control Systems Design
Testing and assembly specialist, Kubik Automation from Baienfurt, Germany, is putting SICK Automation's PLOC2D robot guidance system to use in its new sCube assembly cell. The team of experienced industry 
...
Read more...
---