printer friendly version
Rockwell Automation executes AC drive migration at Mozal ­Aluminium
June 2019
Motion Control & Drives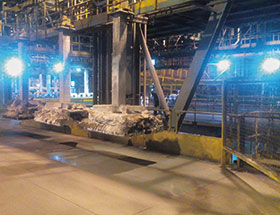 For over 20 years, Rockwell Automation 1336 drives have delivered the drive control required across Mozal, an aluminium smelter near Maputo, Mozambique. Now the industrial automation leader is in the final phase of upgrading this plant-wide drive layer with its Allen-Bradley PowerFlex 755 AC drives, bringing the feature-rich functionality of its flagship drive technology into Mozal's production architecture.
In addition to lowering the risk of system downtime in the future and improving the plant's long-term reliability, far greater process intelligence leading to massive gains in diagnostic capabilities, greater energy efficiency, and enhanced hardware and software support are among the benefits gained with this technology upgrade.
With the PowerFlex 755's intuitive HMI providing on-demand error reporting and diagnostic information, plant maintenance teams will have greater intelligence allowing them to fault-find faster and more efficiently and therefore reduce maintenance downtime.
"The PowerFlex 755 delivers a high level of actionable intelligence at the fingertips of maintenance teams, allowing them to diagnose and correct process issues without having to search and consult technical literature to understand the meaning of errors, where they occur, and how they should be addressed," explains Teboho Matlolane, project engineer, Rockwell Automation Sub-Saharan Africa.
Other integrated functions, such as the drive's TorqProve feature, enhance site safety on the many different crane and hoist applications across the smelter. Used to optimise control of load handling and lifting, this feature includes a continuous brake slip monitor that detects load slippages and will automatically hold and safely lower the load.
"With many previously separate control functions, such as brake choppers, now integrated into the PowerFlex 755 drives, the amount of hardware required by the overall drive system has been reduced," explains Phineas Ratshosa, project engineer, Rockwell Automation Sub-Saharan Africa. "A streamlined, more direct and integrated drive architecture doesn't just lower the physical and energy footprint required by the hardware, it further optimises maintenance and diagnostic efficiency for the plant."
Production-sensitive migration
Beginning in 2014, with the scope of the migration numbering over 350 new drives, combined with the requirement of minimising any impact on operations, the migration has been done in four phases, each targeting one or more of the following plant areas: the Castline Tending Assemblies (CTAs); Trailer Loaders; Casthouse; Furnace Tending Assemblies (FTAs); Pot Line Tending Assemblies; Stacking and Transfer Cranes; and the Rodding Shop. There are many diverse positioning and hoisting machines in these plant areas, each requiring a unique solution. The migration continues to date and is scheduled to be completed in November 2020.
Rockwell Automation implemented a planned migration within the plant's maintenance schedule to keep plant shutdown to a minimum. This required precise communication, planning, preparation and execution between Mozal Aluminium, South 32, Rockwell Automation and other third-party service suppliers.
In a streamlined and efficient installation and commissioning routine, Rockwell Automation, together with its local panel manufacturer Temoc, assembled the new MCC buckets of the drives and ancillary hardware, testing each component individually, prior to integrating the new buckets into the existing panels.
For Rockwell Automation, it is another demonstration of the company's intelligent, Industry 4.0 hardware, optimising production and operations efficiency in Africa's mining and metals industries.
For more information contact Michelle Junius, Rockwell Automation, +27 11 654 9700, mjunius@ra.rockwell.com, www.rockwellautomation.co.za
Credit(s)
Further reading:
Drive configuration made easy
November 2020, Nidec Control Techniques , Motion Control & Drives
Nidec Control Techniques prides itself on offering free software for commissioning, optimising and monitoring drive/system performance.
Read more...
---
Rockwell Automation and Microsoft expand partnership
November 2020, Rockwell Automation , News
Partnership aims to empower manufacturers with agility, intelligence, and scale to deliver digital transformation initiatives, from the cloud to the edge.
Read more...
---
Sinumerik One Dynamics for motion control
November 2020, Siemens Digital Industries , Motion Control & Drives
Siemens has launched three powerful technology packages exclusively for the CNC Sinumerik One.
Read more...
---
Heavy-duty wedge belts
November 2020, Bearing Man Group t/a BMG , Motion Control & Drives
Fenner Quattro Plus Twin Wrap wedge belts transmit 30% more power than conventional belts.
Read more...
---
30 years of linear motion technology
November 2020 , Motion Control & Drives
This year, factory automation specialist Bosch Rexroth celebrates 30 years of linear motion technology and innovation.
Read more...
---
Cooling VSDs with inertial spin filters
November 2020, RTS Africa Technologies , Motion Control & Drives
RTS inertial spin filter units are compact and easy to install and RTS Africa offers full service from conceptual design to ongoing support as required.
Read more...
---
Omron launches HD-1500 mobile robot
November 2020, Omron Electronics , Motion Control & Drives
Industry-leading HD-1500 expands the possibilities for autonomous material transport.
Read more...
---
BMG installs Danfoss VSDs to improve energy efficiency on farms
November 2020, Danfoss , Motion Control & Drives
BMG's Boer Slim/Smart Farming agricultural team works closely with farmers, assisting them with the selection and operation of new electromechanical systems.
Read more...
---
What is adaptive acceleration control?
November 2020 , Motion Control & Drives
Adaptive acceleration control (AAC) is a new soft start control type that allows the selection of different acceleration and deceleration profiles according to application needs.
Read more...
---
Danfoss efficiencies help South African farmers to free up energy and achieve production goals
October 2020, Danfoss , Motion Control & Drives
Danfoss, together with engineering components provider BMG, supplied a commercial maize farmer with the technology to combat challenges around irrigation sufficiency.
Read more...
---