printer friendly version
Powerful electronic deadweight testers
May 2019
Maintenance, Test & Measurement, Calibration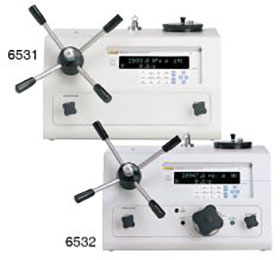 Comtest now offers the latest Fluke E-DWT-H electronic deadweight tester, an electronic calibrator designed to deliver traditional hydraulic deadweight tester performance with digital measurement features and convenience. Improvements include:
• No weights to load and unload, transport, or send for calibration.
• Provides real-time pressure indication with no need to know and correct for local gravity or ambient temperature.
• No piston-cylinder changes.
• No significant sensitivity to level or vibration.
• Able to set and read any pressure value exactly, no minimum increment limited by smallest available masses; perfect for applications that require setting a nominal pressure precisely on the device under test and measuring it, such as analog gauge calibration.
• Operates in any unit of measure, switching easily from one unit to the next.
The E-DWT-H is at home in metrology and calibration labs, on the production floor or in the field. It can operate with a wide selection of test mediums, including Sebacate calibration fluid, mineral oil, water and other liquids. The 0,02% of reading total one-year measurement uncertainty rivals the best laboratory deadweight testers. High quality hardware allows easy system fill and prime, pressure generation and precise control up to 200 Mpa. The kits are compact, lightweight and transportable, with an optional battery/charger pack which supports up to eight hours of operation away from line power, while an optional shipping and carrying case with handles and wheels allows for easy transport in the field.
The Fluke Deadweight Tester model 6531 offers E-DWT-H configurations with a single quartz reference pressure transducer (Q-RPT) to offer percent of reading performance from 10 to 100% of device full scale.
Model 6532 offers an additional Q-RPT to maximise workload coverage, with percent of reading performance from 1 to 100% of device full scale. The vacuum fill kit included allows the E-DWT to be filled with the user's choice of compatible fluid, while eliminating problematic air pockets from the test circuit. Also included is a test station adaptor to mount virtually any pressure device to be tested without using PTFE tape or wrenches.
For more information contact Comtest, +27 10 595 1821, sales@comtest.co.za, www.comtest.co.za
Credit(s)
Further reading:
Oil and gas producer reduces downtime by 20%
September 2019, Rockwell Automation , Maintenance, Test & Measurement, Calibration
In India, the swelling middle class has created a growing market demand for petroleum products. An oil and gas producer, one of India's largest petroleum product manufacturers and distributors, with a 
...
Read more...
---
Easy way to detect compressed air, steam and gas leaks
September 2019, Comtest , Maintenance, Test & Measurement, Calibration
Comtest has announced Fluke's new ii900, a handheld sonic industrial imager that enables maintenance teams to locate air, steam, gas and vacuum leaks. The intuitive interface allows technicians to isolate 
...
Read more...
---
Portable calibrator approved for hazardous areas
September 2019, WIKA Instruments , Maintenance, Test & Measurement, Calibration
WIKA's CPH7000 portable process calibrator has received ATEX approval. It is therefore now also suitable for use in hazardous areas. The calibrator provides highly flexible on-site calibration for process 
...
Read more...
---
How to eliminate blocked chute woes
September 2019 , Maintenance, Test & Measurement, Calibration
The original electromechanical point level switch, Bin-Dicator diaphragm-type level controls were the first to enjoy general usage in the industry. Bin-Dicator eliminates bin overflow, empty bins, clogged 
...
Read more...
---
Adding days of production to manufacturing operations
September 2019, Test Dynamics , Maintenance, Test & Measurement, Calibration
Condition monitoring systems track equipment degradation. Typically, an equipment criticality and reliability assessment is performed to identify common failure modes. With the selected equipment and 
...
Read more...
---
Ten facts about infrared windows
September 2019, R&C Instrumentation , Maintenance, Test & Measurement, Calibration
Infrared (IR) inspection is widely used and quickly becoming indispensable in electrical maintenance programmes. With the advent of IR windows, this procedure is now both safe and cost-effective. However, 
...
Read more...
---
Smart sensing reduces motor downtime
September 2019, ABB South Africa , Maintenance, Test & Measurement, Calibration
Until now, the monitoring and preventive maintenance of low-voltage motors has been time-consuming and expensive. New technology from ABB transforms simple motors into intelligent machines that warn when 
...
Read more...
---
Compact IR camera with industrial accessories
September 2019, Comtest , Temperature Measurement
Comtest has announced an addition to the Optris Compact line of IR cameras – Xi 80 and Xi 400 – with new industrial accessories for use in harsh conditions. The range has a modular design and as a result, 
...
Read more...
---
RS introduces red and green laser level tools from Fluke
September 2019, RS Components SA , Maintenance, Test & Measurement, Calibration
RS Components has announced availability of a new series of PLS brand laser levels from Fluke. PLS (Pacific Laser Systems) became a Fluke company in 2015 and is well known for providing high-quality tools 
...
Read more...
---
Oil dielectric RF termination loads
September 2019, Comtest , Electrical Power & Protection
For maximum process repeatability and consistency, modern plasma applications require precise RF power regulation and control. A key component in ensuring accurate and repeatable RF power delivery to 
...
Read more...
---