printer friendly version
Load sensing by light
May 2019
Sensors & Transducers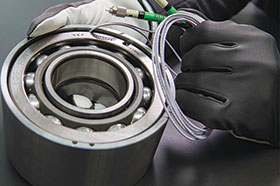 SKF's new optical sensing technology takes monitoring to the next level, providing engineers with new insights into machine performance. SKF Fibre Optic Sensing uses optical fibres to measure forces, in real time, in difficult environments and without electronics.
The technology provides an instant overview of equipment performance, measuring parameters including load, speed and temperature. This opens up new opportunities for closed-loop control of processes. It also allows engineers to proactively prevent problems early, before they lead to costly shutdowns. These could be unfavourable running conditions, misalignment or wear.
The new SKF system offers many advantages that make it right for real industrial conditions. The technology uses light rather than electricity, which enables safe measurements in hazardous environments. The absence of electronics also means the sensors are safe from electromagnetic fields. The fibres transmit light without disturbances at long distance (kilometres), which enables remote monitoring where wireless technology cannot be used.
Victoria van Camp, SKF chief technical officer comments: "We combined our specialist industrial knowledge with digital expertise from leading partners and customers. The result is a solution that reveals parts of a machine's performance that were previously in the shadows, using the power of light alone."
For more information contact Samantha Joubert, SKF South Africa, +27 11 821 3500, samantha.joubert@skf.com, www.skf.com
Credit(s)
Further reading:
Automotive products for race winning performance
April 2020, SKF South Africa , News
SKF is a passionate sponsor of global motorsport. Through its Racing Division, the company is involved in all aspects of technical assistance, design and manufacture for motorsport applications. In the 
...
Read more...
---
SKF technology for tidal turbine
April 2020, SKF South Africa , News
SKF has developed a power-train for the world's most powerful tidal turbine, capable of generating 2 MW. SKF has been supplying bearings and components to Scotland-based Orbital Marine Power since 2011 
...
Read more...
---
Suspended solids sensor
April 2020, Morton Controls , Sensors & Transducers
Morton Controls, in partnership with Quadbeam, has introduced the Stormwater and Wastewater sensor, the SWW, the newest suspended solids sensor/turbidity meter available. Quadbeam has created an incredibly 
...
Read more...
---
Modular image processing solution
April 2020, ASSTech Process Electronics + Instrumentation , Sensors & Transducers
ASSTech offers the latest VisionSystem2D from Wenglor. This is a modular image processing system developed for all vision applications. The system consists of up to 16 digital cameras, lenses with various 
...
Read more...
---
3D sensors for automation of robot grippers
April 2020, ifm - South Africa , Sensors & Transducers
Gripper navigation
The 3D sensor detects the object position, even when objects are moving and transmits it to the robot control. The system can detect rectangular, round and irregular shapes and transmit 
...
Read more...
---
4-wire performance in a compact housing
April 2020, ASSTech Process Electronics + Instrumentation , Sensors & Transducers
Randburg instrumentation specialist, ASSTech, now includes in its product range the new Jumo dTrans T06 Junior multifunction 4-wire transmitter that offers great performance for a wide range of applications. The 
...
Read more...
---
Modular LED signal towers
April 2020, RS Components SA , Sensors & Transducers
RS Components has launched the RS PRO range of preassembled, prewired and modular LED signal towers, providing OEM automation engineers and maintenance buyers with a cost effective means of visually signalling 
...
Read more...
---
SKF bares the truth about bearings
Technews Industry Guide: Maintenance, Reliability & Asset Optimisation 2020, SKF South Africa , Motion Control & Drives
Correct equipment care is crucial to ensure optimal performance and reliability.
Read more...
---
SKF launches Green Finance Framework
March 2020, SKF South Africa , News
By engaging in green financing, SKF's funding strategy will become more aligned with the Group's climate objectives, to reduce carbon emissions from its own manufacturing and supply chain operations, 
...
Read more...
---
Collaboration between SKF and Namibian Lubrication Systems
March 2020, SKF South Africa , News
"SKF South Africa is committed to growing its extensive distributor network in order to deliver innovative bearing and rotation technology solutions to customers across the sub-continent," says Christian 
...
Read more...
---