printer friendly version
Safety technology to improve ­flexibility
May 2019
IS & Ex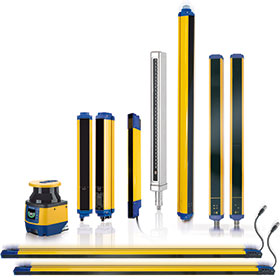 The new Datalogic concept for robot evolution expects to overtake the competition. Following demanding safety regulations, outdated isolated robotic cells are now replaced with robot-like parts of industrial automation architecture. Datalogic's safety product range has expanded towards safer more sophisticated devices. The new Laser Sentinel has been introduced, as a complete solution for safe area monitoring. The range includes industrial safety solutions based on light curtains, safety control units and photocells.
Increased safety with fewer components
The introduction of smart sensors, apart from providing additional information, also allows for cost reduction in terms of components and installation time. Datalogic has developed a new safety barrier SG4 fieldbus, using an open safety protocol for connection to the Powerlink network, which also includes a smart version of the muting function. This helps to block the safety barrier while the product is going through, allowing access by an operator. It is also possible to control the direction, speed and height of the products handled. These new barriers are therefore smart sensors which, apart from their basic accident prevention function, allow for connection within an industrial Ethernet network to send data about the product and process, eliminating components which are not integrated within the network and their associated cabling.
AGV contour navigation in shipping/receiving
In loading and unloading areas, Safety Laser Sentinels are used to ensure safe movement of goods. The sentinels are used for collision prevention at the front and back of the AGV. Thanks to the resident position and distance information, SLSs can also be used for vehicle guidance.
Robot cell access protection
Both access points of the robot cell can be protected by the SLS. Each access point controlled by a Laser Sentinel can be programmed with two different zone sets. Each zone can be separately activated by selection of inputs according to working station position or can be left entirely active. The possibility to have two safety areas active at the same time, or even separately, allows users to protect two independent areas with just one device.
Credit(s)
Further reading:
How integrated visual management and remote monitoring demystify machine safety
September 2019, Turck Banner , IS & Ex
This article shares common challenges for machine safety, and shows how combining easy-to-use safety devices with visual indication and remote monitoring capabilities can help make safety simpler and more effective.
Read more...
---
Security concerns for safety systems
September 2019, Phoenix Contact , IS & Ex
A common strategy required for the future.
Read more...
---
Taking safety to the next level
September 2019, SICK Automation Southern Africa , IS & Ex
SICK Automation is a world leading manufacturer of sensors, safety systems and automatic identification products. The next step for safety – this core idea therefore underpins the entire design of the 
...
Read more...
---
Alarm system upgrade from Omniflex
September 2019, Omniflex Remote Monitoring Specialists , IS & Ex
Fiddler's Ferry Power Station was constructed by the CEGB (Central Electricity Generating Board) in the UK and came into full operation in 1973. It has four 500 MW sets, giving a total generating capacity 
...
Read more...
---
Intrinsic safety barcode scanning from Extech Safety Systems
September 2019, Extech Safety Systems , IS & Ex
Extech Safety Systems has worked with UK-based Mobexx to develop the MobXscan mobile application for barcode scanning with mobile devices. The app has been released for Windows 10 and Android, offering 
...
Read more...
---
Smart devices for Ex areas
September 2019, Pepperl+Fuchs , IS & Ex
The Pepperl+Fuchs brand ecom has launched its next generation ATEX Zone 1/21 and Div. 1 certified, intrinsically safe 4G/LTE-Android smartphone – Smart-Ex. The Smart-Ex 02 is a complete new development 
...
Read more...
---
RS introduces safety eyewear selector tool
September 2019, RS Components SA , IS & Ex
RS Components has announced availability of a new online tool that makes it easier for customers in their selection of protective and safety eyewear for a wide range of industrial applications. Targeting 
...
Read more...
---
Safety laser scanner for outdoor ­applications
July 2019, SICK Automation Southern Africa , IS & Ex
SICK Automation has launched another global innovation: the first safety laser scanner certified to IEC 62998 for use in outdoor applications. The outdoorScan3 allows automated guided vehicle systems 
...
Read more...
---
Control and report in hazardous areas
July 2019, Pepperl+Fuchs , IS & Ex
Installers expect quick and on-demand delivery from their electrical equipment suppliers, even for apparatus for hazardous areas. The carefully considered ability to configure many housing and control 
...
Read more...
---
Selecting the right PLC
June 2019, AC/DC Dynamics , PLCs, DCSs & Controllers
Automation projects, big or small, start with a specification. Here are five factors to consider when choosing a PLC vendor.      
Broad range of devices
The selected brand must have a complete product 
...
Read more...
---