printer friendly version
Safety technology to improve ­flexibility
May 2019
IS & Ex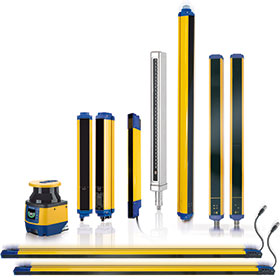 The new Datalogic concept for robot evolution expects to overtake the competition. Following demanding safety regulations, outdated isolated robotic cells are now replaced with robot-like parts of industrial automation architecture. Datalogic's safety product range has expanded towards safer more sophisticated devices. The new Laser Sentinel has been introduced, as a complete solution for safe area monitoring. The range includes industrial safety solutions based on light curtains, safety control units and photocells.
Increased safety with fewer components
The introduction of smart sensors, apart from providing additional information, also allows for cost reduction in terms of components and installation time. Datalogic has developed a new safety barrier SG4 fieldbus, using an open safety protocol for connection to the Powerlink network, which also includes a smart version of the muting function. This helps to block the safety barrier while the product is going through, allowing access by an operator. It is also possible to control the direction, speed and height of the products handled. These new barriers are therefore smart sensors which, apart from their basic accident prevention function, allow for connection within an industrial Ethernet network to send data about the product and process, eliminating components which are not integrated within the network and their associated cabling.
AGV contour navigation in shipping/receiving
In loading and unloading areas, Safety Laser Sentinels are used to ensure safe movement of goods. The sentinels are used for collision prevention at the front and back of the AGV. Thanks to the resident position and distance information, SLSs can also be used for vehicle guidance.
Robot cell access protection
Both access points of the robot cell can be protected by the SLS. Each access point controlled by a Laser Sentinel can be programmed with two different zone sets. Each zone can be separately activated by selection of inputs according to working station position or can be left entirely active. The possibility to have two safety areas active at the same time, or even separately, allows users to protect two independent areas with just one device.
Credit(s)
Further reading:
Safety laser scanner for outdoor ­applications
July 2019, SICK Automation Southern Africa , IS & Ex
SICK Automation has launched another global innovation: the first safety laser scanner certified to IEC 62998 for use in outdoor applications. The outdoorScan3 allows automated guided vehicle systems 
...
Read more...
---
Control and report in hazardous areas
July 2019, Pepperl+Fuchs , IS & Ex
Installers expect quick and on-demand delivery from their electrical equipment suppliers, even for apparatus for hazardous areas. The carefully considered ability to configure many housing and control 
...
Read more...
---
Selecting the right PLC
June 2019, AC/DC Dynamics , PLCs, DCSs & Controllers
Automation projects, big or small, start with a specification. Here are five factors to consider when choosing a PLC vendor.      
Broad range of devices
The selected brand must have a complete product 
...
Read more...
---
Mobile application for barcode scanning
Africa Automation Fair 2019 Preview, Extech Safety Systems , IS & Ex
Extech is exhibiting the mobXscan app for use in hazardous areas, which adds the capability of barcode scanning to any Windows 10 tablet or Android device. It can be seen at Stand E03. It uses the built-in 
...
Read more...
---
Safety on the pistes
May 2019, Siemens Digital Industries , IS & Ex
Inauen Schätti, a construction company whose areas of specialism include ropeways, is working to improve piste safety for skiers. As part of a pilot test project on the Parpaner Rothorn mountain, the 
...
Read more...
---
Drone-based gas leak detection
May 2019, ABB South Africa , IS & Ex
Leaks in gas distribution and transmission pipelines present serious safety risks and result in lost revenue and profits to producers. The ABB Ability mobile gas leak detection system is a digital solution, 
...
Read more...
---
Conveyor system fire prevention
May 2019, R&C Instrumentation , IS & Ex
The transport of materials is a key activity for most industries. For many of these tasks, conveyor belt systems offer a cost effective and efficient solution. However, with such a system comes a high 
...
Read more...
---
LSIS achieves Ex rating for HMI range
Africa Automation Fair 2019 Preview, Ana-Digi Systems , IS & Ex
LSIS is rolling out Ex certification for its entire range of HMIs. These products now carry a rating which allows for a maximum pollution degree 2 level. Mounting the HMIs into an IP54 enclosure ensures 
...
Read more...
---
Equipment for hazardous areas
Africa Automation Fair 2019 Preview, Extech Safety Systems , IS & Ex
Extech Safety Systems is showcasing Sensear digital communication and active listening headsets and earplugs at Stand E03. These are for use in high noise and hazardous environments. Sensear's patented 
...
Read more...
---
Solutions for the Ex automation industry
Africa Automation Fair 2019 Preview, Stahl Esaco , IS & Ex
Stahl Esaco is presenting leading R. Stahl solutions and products for the Ex automation industry. These include remote I/O systems, HMIs and cameras, which can be viewed at Stand F12. The I/O systems 
...
Read more...
---