printer friendly version
SEW-Eurodrive helps French Spiderman
May 2019
Motion Control & Drives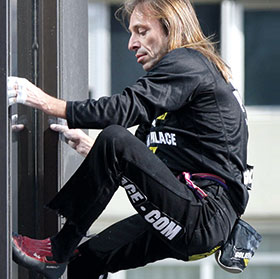 Specialist rigging company, Film Riggers, was recently called upon to ensure the safety of Alain Robert, aka the French Spiderman, while he scaled a skyscraper in central Johannesburg to create an advertisement for an international tyre manufacturer.
Film Riggers, a long-time user of automation and mechatronics technology from SEW-Eurodrive, was approached by a production company to execute logistics and safety during filming for the advertisement. The idea was to have Robert climb the building while it was raining, as a metaphor for the extra grip provided by the tyres on display.
Partner Graham Terrell, who established Film Riggers with Alard Hüfner in 2012, explains that Robert had two ropes attached to a harness, controlled by SEW-Eurodrive drives using a custom program based on torque control to belay the climber.
The winches devised by Film Riggers use the Movidrive inverter, including the IPOSplus integrated positioning and sequence control system. The drive inverters have a wide power range, large overload capacity, and a modular design. In addition, they facilitate unrestricted application of AC drives, featuring the most modern digital inverter technology, according to Maxolution Engineer. Dylan Enslin.
For this particular project, Film Riggers used CM112 synchronous servomotors. Two 11 kW drives were used to secure the climber, and a 30 kW drive for the accompanying camera system.
Terrell was given access to the OEM's electronics workshop to configure a miniature setup of the system, based on a 0,55 kW Movidrive drive inverter. This allowed for more controlled and refined testing, allowing Terrell to ultimately scale up the solution to the specific requirements of the project.
Commenting on the challenges, Hüfner says that Film Riggers had the dual responsibility of winching the camera platform up and down, in addition to securing Robert and ensuring his safety during filming.
"The idea was for the camera to be seen to be almost in pursuit of him, then tilting as it went past and tracking him," elaborates Terrell. "Due to changes made at the last minute, we had to adjust the programming in order to cater for the new reference points needed for the rigging."
"While this is a unique application of the Movidrive inverter technology, it is an excellent example of the flexibility and innovation of SEW-Eurodrive in responding to specific customer requirements and offering tailor-made solutions capable of adapting to the latest developments," concludes Enslin.
For more information contact Jana Klut, SEW-Eurodrive, +27 11 248 7000, jklut@sew.co.za, www.sew-eurodrive.co.za
Credit(s)
Further reading:
Cost-efficient production with 18 synchronous NC axes
June 2019, Beckhoff Automation , Motion Control & Drives
TwinCAT 3 controls highly efficient machine for processing of die-cast automotive parts.
Read more...
---
Rockwell Automation executes AC drive migration at Mozal ­Aluminium
June 2019, Rockwell Automation , Motion Control & Drives
For over 20 years, Rockwell Automation 1336 drives have delivered the drive control required across Mozal, an aluminium smelter near Maputo, Mozambique. Now the industrial automation leader is in the 
...
Read more...
---
Drive solutions for energy efficient power transmission
June 2019 , Motion Control & Drives
Vert Energy is committed to providing energy-saving solutions for its diverse customer base. "Critical challenges facing industry include finding the most efficient ways to minimise energy consumption 
...
Read more...
---
SEW-Eurodrive gives a foretaste of the future of automation
June 2019, SEW-Eurodrive , Motion Control & Drives
SEW-Eurodrive gave visitors to Africa Automation Fair 2019 a foretaste of its Movi-C modular automation system, ready-made for the requirements of Industry 4.0. This represents the next-generation of 
...
Read more...
---
Servo motor equipped with SIL3 encoder
June 2019, Tectra Automation , Motion Control & Drives
The new MS2N synchronous servo motor is Tectra Automations' latest product offering to the electric drives and controls industry. The range combines high dynamics, compact dimensions and excellent energy 
...
Read more...
---
Case History 166: Feel and understanding, or lack thereof
May 2019, Michael Brown Control Engineering , Motion Control & Drives
I was present at a very interesting discussion the other day with people who are leaders in the automation and control industry. The subject was how jobs would disappear over the next decade or two as 
...
Read more...
---
Smart solution for incorporating machine-integrated robots
Africa Automation Fair 2019 Preview, SEW-Eurodrive , Motion Control & Drives
SEW-Eurodrive is showcasing the D5 delta robot, a smart solution for incorporating machine-integrated robots. The high-speed pick-and-place system includes tracking and Movikit robotics software. It 
...
Read more...
---
Optimising energy requirements
Africa Automation Fair 2019 Preview, SEW-Eurodrive , Motion Control & Drives
A new development from SEW-Eurodrive is the Movigear mechatronic drive system, which combines an energy-efficient gear unit, motor and frequency inverter, and has received the TÜV SÜD Energy-Efficient 
...
Read more...
---
Compact, cost-effective servo solution
Africa Automation Fair 2019 Preview, Elonics , Motion Control & Drives
elonics is introducing the latest addition from the LSIS servo family, the Xmotion L7C servo drives and motors. The L7C Series offers a cost-effective, high precision solution that is both compact in 
...
Read more...
---
SEW-Eurodrive's mechatronic drive system for the bakery industry
May 2019, SEW-Eurodrive , Motion Control & Drives
SEW-Eurodrive is assisting the bakery industry to improve efficiency and reduce energy consumption by means of its Movigear mechatronic drive system. The company has enjoyed a longstanding relationship 
...
Read more...
---