printer friendly version
New flowmeter for biogas
May 2019
Flow Measurement & Control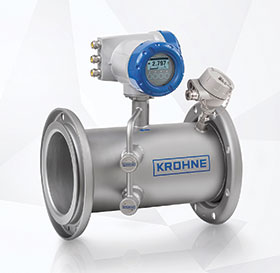 The new Optisonic 7300 Biogas ultrasonic flowmeter from Krohne has been specially designed to measure dry and wet biogas with variable composition. The meter provides additional functions, like calculation of standard volume, methane content measurement, and diagnostics features. It also features no moving parts and no pressure loss.
The new instrument overcomes the limitations of the ultrasonic principle in biogas applications due to high damping of the acoustic signals by carbon dioxide and high water content in the biogas. Its signal transducers provide a stronger ultrasonic signal into the gas, and specialised signal processing enables better detection of small, strongly dampened acoustic signals. These features, along with the mechanical design of transducers and transducer pockets, make the measurement insensitive to liquid and biological scaling.
It features a maintenance-free full bore flow sensor without any moving parts. Because the hydrogen sulphide (H2S) in biogas is corrosive when dissolved in water, the measuring tube is made of stainless steel 1.4404/316L and the transducers are made of Nace-approved grade 29 titanium for maximum corrosion resistance. Equipped with lap joint flanges to lower its overall weight, the measurement accuracy is specified at 1 percent of actual measured flow rate, when calibrated with air. When 2 percent accuracy is sufficient, users can select a dry calibration alternative at a significantly lower price.
Optisonic 7300 Biogas features a built-in temperature sensor that facilitates direct measurement of methane content using calculation of the molar mass, in combination with the measured velocity of sound. This enables end-users to determine the exact methane content of the biogas, necessary when it is used as fuel for gas engines in a combined heat and power (CHP) unit. It can also provide calculation of gas flow volume to standard conditions by using an additional pressure sensor. The electronics include diagnostics to validate the flowmeter functions and the process. For output of the measured values, 4-20 mA and pulse outputs are available, while HART and Modbus (optional) are included for field communication.
The instrument is certified for use in explosive areas (Zone 1). Since no pressure drop is generally allowed in biogas pipelines, the device is available in common line sizes of 2, 3, 4, 6 and 8 inches.
For more information contact Deon Rampathi, Krohne SA, +27 11 314 1391, d.rampathi@krohne.com, www.za.krohne.com
Credit(s)
Further reading:
Kobold's electromagnetic flowmeter
September 2019, Instrotech , Flow Measurement & Control
Instrotech now offers Kobold's new electromagnetic flowmeter model EPS with a standard accuracy of 0,3% of reading. The newly developed, microprocessor-controlled converter guarantees the high accuracy 
...
Read more...
---
Systematic flow metering
July 2019, Siemens Digital Industries , Flow Measurement & Control
Aguas de Saltillo, the water utility company which serves the Mexican city of Saltillo, is responsible for supplying drinking water to a population of around 850 000. To ensure a reliable supply to this 
...
Read more...
---
Water regulation made easy
July 2019, Instrotech , Flow Measurement & Control
Kobold's REG mechanical flow restrictors and rate regulators, with their simple yet effective functionality, are ideally suited to consumer applications and uniform supply to multiple consumers. Once 
...
Read more...
---
Accurate flow and mass measurement
July 2019, Actum Industrial , Flow Measurement & Control
Measurement of flowing media containing solids and particles poses a great challenge in the mining industry, due to the damage caused to inline flowmeters. The installation of inline flowmeters can be 
...
Read more...
---
What is the next big thing in Coriolis mass flowmeters?
June 2019, KROHNE , Mass Measurement
With such fast moving technology it can be difficult to forecast the 'next big thing', but it is possible to focus on two recent developments that look set to influence the market in the near future: high capacity flowmeters; and the ability of Coriolis meters to measure liquids with entrained gas.
Read more...
---
Accurate bulk flow measurement in the cement industry
June 2019, SICK Automation Southern Africa , Flow Measurement & Control
The rapid development of sensor technology provides cement producers with a toolbox of solutions to optimise performance and strengthen market presence. Non-contact volume flow measurement of conveyed 
...
Read more...
---
Flow sensor for liquid media
June 2019, Festo , Flow Measurement & Control
The new flow sensor SFAW from Festo is ideal for monitoring cooling circuits, for example in welding guns in the automotive industry as well as in front-end applications in the semiconductor and electronics 
...
Read more...
---
Electromagnetic flowmeters
Africa Automation Fair 2019 Preview, Dupleix Liquid Meters (DLM) , Flow Measurement & Control
Badger Meter's electromagnetic flowmeters are ideally suited for flow measurement of all liquids with a minimum conductivity of 5 μS cm. The flow measurement is independent of density, temperature and 
...
Read more...
---
Flowmeters for clean liquids and gases
Africa Automation Fair 2019 Preview, WIKA Instruments , Flow Measurement & Control
Venturi tubes such as WIKA's model FLC-VT are reliable, easy to use and low maintenance.    They are particularly suitable for the measurement of clean liquids and gases. The main advantages of a Venturi 
...
Read more...
---
Industrial gas flowmeters
Africa Automation Fair 2019 Preview, Mecosa , Flow Measurement & Control
The IN-FLOW mass flowmeters and controllers by Bronkhorst High-Tech are of rugged design according to IP65. Showcased at Stand D08, the instruments are available for flow ranges from 0,05 to 1 mln/min 
...
Read more...
---