printer friendly version
Schubert & Salzer in control at PVS
May 2019
Valves, Actuators & Pump Control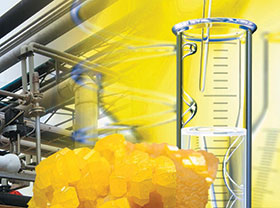 Belgium-based PVS Chemicals produces extremely pure chemicals for use in the semiconductor industry. One of the company's outstanding innovations is the production of ultra-pure sulphuric acid. As the only worldwide producer, PVS is able to supply diluted acid at a consistently high level of purity in which any impurities are measured down in the ppt (parts per trillion) range. The purity of acid enables semiconductors to be manufactured in a way that allows the individual circuit paths to be placed even closer together, allowing electronic devices to be made smaller and lighter. Schubert & Salzer Control Systems' sliding gate valves have proved to be outstandingly successful in the processing plant producing the sulphuric acid. The valves' excellent control precision over a very wide control range and their extremely high corrosion resistance are the key to the manufacture of these ultra-pure acids.
The demands on highly pure acids increase continually: nowadays, the end-product has to be produced consistently for many applications in a precisely defined concentration with a tolerance band of less than ±0,05%. The dilution presents a special challenge in this process. One of PVS's activities centres on the production of highly pure diluted sulphuric acid in which the addition of the sulphuric acid in the dilution process can vary between 0 and 100%.
"Producing such a high-quality product with minimal deviations in a continuous process presents a special challenge," comments Kristof Spreutels, plant manager at PVS. "Across the world, we are the only one to have found the solution at such a high quality level. However, it has needed a control valve with exceptional characteristics to be able to compensate for the variation range of 100% in the basic medium with absolute accuracy. It is extremely important for us that the control valve can deal with any variations in concentration at the inlet with the minimal delay and the maximum precision for the end-product. Process parameters exist such that the control valve must compensate for variations on the intake side between 0 and 100%, followed by 0 to 80%."
Outstanding rangeability and excellent control quality
The sliding gate valve handles this challenge with ease. At the heart of this valve are two slotted discs sliding against each other and forming a seal. One of the discs, a seal plate permanently secured in the body at right angles to the direction of flow, has a specific number of transverse slots of the same height. A second non-rotating disc with a similar slotted arrangement is moved vertically against the first, thus changing the flow cross-section. The pressure differential forces the moving disc against the fixed one. Thus the sliding disc valve seals itself without the need for a separate seat.
The sliding gate valves' very fast response time to signal changes is a key factor in their accurate control quality. Short stroke, low moving masses and low actuation forces are the key parameters that enable fast response and a high resolution of the stroke position. The sliding gate valve offers all of these features in one package. The typical stroke between open and closed is only 6-9 mm.
Positioning of the pneumatically-controlled sliding gate valve is provided by the digital Schubert & Salzer 8049 positioner – twin-lead version with IP65 protection. Since the positioner rests centrally on the valve actuator, it takes up no additional lateral space, as well as saving weight. As a result of this integrated design system, no moving parts can be accessed thus maximising operational safety and security.
Surrounded by gold and PTFE
The sliding gate valve's resistance to corrosion is another aspect in which PVS refuses to compromise. "In our process, we provide resistance to corrosion by making exclusive use of high alloyed or even exotic materials like PTFE, glass, platinum or gold," says Spreutels. "That is why the control valve has to be made from Hastelloy C. Valves made from stainless steel or plastic would corrode away or dissolve in less than a week due to the wide variations in concentrations at the inlet in our process. As a result, the combination of control precision and high resistance to corrosive media is an absolute must for our process. Since we have been using Schubert & Salzers' valves for over 10 years in steam generation and distribution, for example, it goes without saying that we should also use the same expertise for this special application."
Since sliding gate valves in the twin flange version are very compact and light, they present no installation problems, even in PTFE pipelines. At the same time, the stress on the pipes is so small that additional valve supports are unnecessary.
"We use sliding gate valves wherever we want high availability, good control properties and low maintenance costs," concludes Spreutels. "Even in the most challenging acid dilution, the sliding gate valves have required no maintenance or repairs whatsoever up to now. Also, despite the extraordinary stress placed on them by the media, they are showing no signs of degradation. So, thanks to the Schubert & Salzer sliding gate valves, we are the only company in the world able to produce these products to such a high quality and we've even been able to reduce the variation range in the concentration of the end product to ±0,02%."
For more information contact Kamil Maharaj, Macsteel Fluid Control, +27 31 581 7800, kamil.maharaj@macfluid.co.za, www.macsteel.co.za
Credit(s)
Further reading:
Schubert & Salzer and Macsteel
September 2021, Macsteel Fluid Control , Valves, Actuators & Pump Control
The demand on valves, particularly in tyre production plants, is extreme with tyre curing presses working constantly at high temperatures and pressures.
Read more...
---
Chinese LNG tanker fitted with ARCA anti-surge valves
September 2021, Valve & Automation , Valves, Actuators & Pump Control
ARCA anti-surge valves avoid surging by accurately adjusting the gas circulation or blow-off flow, effectively protecting the safety of the compressor unit.
Read more...
---
Electrified subsea actuator for offshore production
September 2021 , Valves, Actuators & Pump Control
Bosch Rexroth has engineered the SVA R2 Subsea Valve Actuator as a disruptive innovation for electrically actuating valves in the subsea process industry. It can replace conventional hydraulic cylinders 
...
Read more...
---
Eliminate bearing failures in TOVs
August 2021, Valve & Automation , Valves, Actuators & Pump Control
Bearing failures are among the highest root causes of failure in triple offset valves (TOV) for tight shutoff applications. This issue is directly attributed to the need to have metal bearings with very 
...
Read more...
---
Locally manufactured knife gate valves
August 2021, Bearing Man Group t/a BMG , Valves, Actuators & Pump Control
BMG and Abrasive Flow Solutions (AFS) play a major role in the local valves sector, through the design, distribution, supply and support of a broad range of slurry related valves.
Read more...
---
Protect your pump and keep it longer
July 2021, Elemental Analytics , Valves, Actuators & Pump Control
Unexpectedly losing a pump is often an expensive or even a dangerous problem in a chemical plant.
Read more...
---
Locally valves manufactured for tailings pipeline
June 2021 , Valves, Actuators & Pump Control
The AFS manufacturing plant in Benoni is equipped with advanced equipment and is supported by specialists who offer dependable technical support to ensure the optimum safety, efficiency and extended service life of every system.
Read more...
---
New flange monoblock with shut-off valve
March 2021, WIKA Instruments , Valves, Actuators & Pump Control
WIKA's new monoblock with flange design integrates a shut-off valve to separate the process from the instrument side.
Read more...
---
The Stafsjö HX story – greater demand calls for action
February 2021, Valve & Automation , Valves, Actuators & Pump Control
As a knife gate valve supplier, Stafsjö supplies product solutions to realise efficiency and production goals in pulp and paper applications.
Read more...
---
Drives for solar-powered pump systems
February 2021, Bearing Man Group t/a BMG , Valves, Actuators & Pump Control
BMG advises on how to optimise efficiency and extend the service life of solar-powered pumping systems by selecting the correct drives.
Read more...
---