printer friendly version
Optimum hydraulic performance through cost effective filtration solutions
Technews Industry Guide: Maintenance, Reliability & Asset Optimisation 2019
Pneumatics & Hydraulics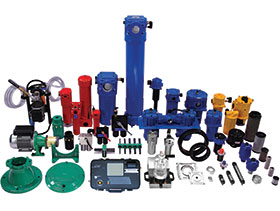 Maintenance personnel have to facilitate optimum hydraulic system performance through their programmes, hence the incorporation of oil cleanliness checks, or oil contamination monitoring should not be neglected. System efficiency can be achieved with proper contamination control, but the consequences of system or component failure can be ghastly. Hydrasales can help with low cost and effective filtration solutions.
The MP Filtri range of hydraulic filtration and contamination monitoring products are designed to keep systems operating well. Custom manufacturing of filtration ranges for hydraulic systems are designed for equipment, including mobile. These ranges cover wide operating pressures, flow rates oil viscosities and meet the requirements of various international standard specifications.
Tested at MP Filtri's excellent research and development under extreme conditions, the company's products are at the forefront of development and technology for the future. MP Filtri believes in acting as a partner for its customers and this facility is designed to assure reliability through planning, analysis and testing of the final product. This guarantees quality and reliability for existing filtration ranges and allows for new project planning and development tailored to customer needs.
For over 40 years, Hydrasales' excellent relationship with MP Filtri has given it access to proven expertise and solutions in the field of hydraulic filtration.
Credit(s)
Further reading:
Robotics meets artificial intelligence
June 2019, Festo , Pneumatics & Hydraulics
Whether its grabbing, holding or turning, touching, typing or pressing – in everyday life, we use our hands as a matter of course for the most diverse tasks. In that regard, the human hand, with its unique 
...
Read more...
---
Parker Hannifin introduces couplings for quick and easy installation
May 2019, Parker Hannifin Sales Company South , Pneumatics & Hydraulics
Parker Hannifin now offers quick connection couplings for its NSA series, notable for features including their low weight. NSA couplings are available in nickel-plated brass or stainless steel, while 
...
Read more...
---
VUVS-LT Poppet Valve
Technews Industry Guide: Maintenance, Reliability & Asset Optimisation 2019, Festo , Pneumatics & Hydraulics
Frequently used in different locations and exposed places, the VUVS-LT Poppet Valve can take a lot – all without losing its good looks. Simple on the outside, sturdy on the inside, it is the ideal combination 
...
Read more...
---
The advantages of rolled vs. cut threads for fluid system instrumentation fittings
March 2019, Fluid Systems Africa , Pneumatics & Hydraulics
A new level in leak tightness from Fluid Systems Africa.
Read more...
---
Ready for smart manufacturing
March 2019, Metal Work Pneumatic South Africa , Pneumatics & Hydraulics
Metal Work's new EB80 is an electro-pneumatic system consisting of a solenoid valve assembly with fieldbus or multi-pin control, and modules to manage analog or digital input/output signals. It can accommodate 
...
Read more...
---
Ham-Let moves into the future with smart valves
December 2018, Fluid Systems Africa , Pneumatics & Hydraulics
The Ham-Let Group has manufactured high-quality instrumentation valves, fittings and auxiliary products for fluid systems in a variety of markets since 1950, and has now launched its first smart valve 
...
Read more...
---
Intelligent valve sensor for pneumatic applications
December 2018, ifm - South Africa , Pneumatics & Hydraulics
The intelligent valve sensor for pneumatic quarter-turn actuators from ifm electronic features 360° position monitoring to allow precise and continuous scrutiny of the valve condition. Problems such as 
...
Read more...
---
BMG fluid technology services
November 2018, Bearing Man Group t/a BMG , Pneumatics & Hydraulics
BMG's fluid technology services include solutions for hydraulics and pneumatics, lubrication, fuel and industrial filtration systems, hydraulic hose and fittings, as well as instrumentation, pumps and 
...
Read more...
---
Vacuum generator operates without compressed air
October 2018, Tectra Automation , Pneumatics & Hydraulics
The electrical vacuum generator ECBP from J. Schmalz is ideal for handling airtight and slightly porous workpieces. It features an integrated speed control, which regulates the power of the pump to suit 
...
Read more...
---
Connected hydraulics: ready for Industry 4.0
Technews Industry Guide: Industrial Internet of Things & Industry 4.0, Hytec South Africa , Pneumatics & Hydraulics
Prejudices last for a long time, even when reality has long since disproved them. One of these prejudices is that hydraulics have no place in Industry 4.0 because they are not intelligent – but they have 
...
Read more...
---