printer friendly version
Vibration-warning paste reduces downtime
Technews Industry Guide: Maintenance, Reliability & Asset Optimisation 2019
Maintenance, Test & Measurement, Calibration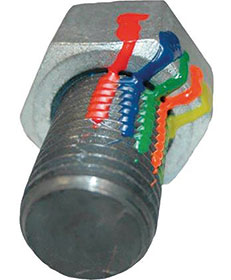 A tamper-proof vibration indicator paste that can improve safety and reduce inspection time across a number of industries is now available locally from Bearings International (BI). Applications for DYKEM Cross-Check Torque Seal range from haul trucks to head gaskets in vehicles, gearboxes, and even conveyor belts, BI product manager Richard Lundgren explains that when a piece of equipment vibrates, whether it be a car, aeroplane, crane, or water supply pump, there is always the chance that nuts and bolts may loosen. It is essential to be on the lookout for this when servicing equipment or carrying out routine maintenance, in order to prioritise safety and reduce downtime.
To use the product, the artisan simply draws a line of the paste from the bolt head and along the threads of the screw, once ideal torque has been achieved. At the next inspection, the artisan checks to see if the brightly-coloured mark is still in alignment. If not, action can be taken there and then on that specific bolt, instead of having to retighten all of the bolts, thereby speeding up the process and reducing the possibility of any loose bolts being missed.
With its excellent adhesion to all types of materials, including steel, the indicator paste comes in a range of eight colours for high visibility, and is also fluorescent under UV lighting. Lundgren stresses that the safety aspect of this product cannot be overstated, especially when one considers the potential danger of a bolt coming off a long conveyor belt in a factory where people are working in close proximity. Preventing potential dangers like this by using the vibration-warning indicator paste means safety checks can be carried out more easily, as they now take just a few minutes.
The indicator paste is supplied in a tube, and comprises a gel-like substance. This is dry to the touch in one to two hours, and fully cured in 24 hours. It also has a two-year shelf life, meaning clients can be sure of the quality of their stock. The product is GHS compliant and meets the Globally Harmonised System for classification and labelling of chemicals, the guideline for ensuring the safe production, transport, handling, use and disposal of hazardous materials. Typical applications are found in the manufacturing, agricultural, mining and power generation sectors.
For more information contact Bearings International, +27 11 899 0000, info@bearings.co.za, www.bearings.co.za
Further reading:
Oil and gas producer reduces downtime by 20%
September 2019, Rockwell Automation , Maintenance, Test & Measurement, Calibration
In India, the swelling middle class has created a growing market demand for petroleum products. An oil and gas producer, one of India's largest petroleum product manufacturers and distributors, with a 
...
Read more...
---
Easy way to detect compressed air, steam and gas leaks
September 2019, Comtest , Maintenance, Test & Measurement, Calibration
Comtest has announced Fluke's new ii900, a handheld sonic industrial imager that enables maintenance teams to locate air, steam, gas and vacuum leaks. The intuitive interface allows technicians to isolate 
...
Read more...
---
Portable calibrator approved for hazardous areas
September 2019, WIKA Instruments , Maintenance, Test & Measurement, Calibration
WIKA's CPH7000 portable process calibrator has received ATEX approval. It is therefore now also suitable for use in hazardous areas. The calibrator provides highly flexible on-site calibration for process 
...
Read more...
---
How to eliminate blocked chute woes
September 2019 , Maintenance, Test & Measurement, Calibration
The original electromechanical point level switch, Bin-Dicator diaphragm-type level controls were the first to enjoy general usage in the industry. Bin-Dicator eliminates bin overflow, empty bins, clogged 
...
Read more...
---
Adding days of production to manufacturing operations
September 2019, Test Dynamics , Maintenance, Test & Measurement, Calibration
Condition monitoring systems track equipment degradation. Typically, an equipment criticality and reliability assessment is performed to identify common failure modes. With the selected equipment and 
...
Read more...
---
Ten facts about infrared windows
September 2019, R&C Instrumentation , Maintenance, Test & Measurement, Calibration
Infrared (IR) inspection is widely used and quickly becoming indispensable in electrical maintenance programmes. With the advent of IR windows, this procedure is now both safe and cost-effective. However, 
...
Read more...
---
Smart sensing reduces motor downtime
September 2019, ABB South Africa , Maintenance, Test & Measurement, Calibration
Until now, the monitoring and preventive maintenance of low-voltage motors has been time-consuming and expensive. New technology from ABB transforms simple motors into intelligent machines that warn when 
...
Read more...
---
RS introduces red and green laser level tools from Fluke
September 2019, RS Components SA , Maintenance, Test & Measurement, Calibration
RS Components has announced availability of a new series of PLS brand laser levels from Fluke. PLS (Pacific Laser Systems) became a Fluke company in 2015 and is well known for providing high-quality tools 
...
Read more...
---
Rolling railway maintenance to a digital destination
August 2019, SKF South Africa , Maintenance, Test & Measurement, Calibration
In the rail industry, time is a valuable currency. SKF's latest digital innovation is proven to extend maintenance levels and keep rolling stock rolling as long as possible. Condition-based maintenance 
...
Read more...
---
Calibration in times of digitalisation
Technews Industry Guide: Industrial Internet of Things & Industry 4.0, QTEK Instrumentation & Calibration Solutions , Maintenance, Test & Measurement, Calibration
Factors that will play a role in the future, will be explained, step by step, in this paper.
Read more...
---