printer friendly version
Rugged panel computers and displays for tough environments
April 2019
Industrial Computer Hardware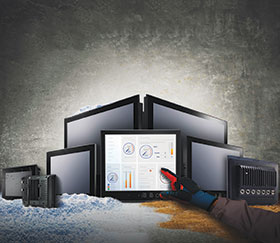 With the thousands of different monitors available on the market today, you might wonder why industrial users can't find a suitable monitor for their industrial applications. The reason is simple: The vast majority of these thousands of different monitors are designed for commercial uses, and consequently cannot stand up to the harsh environmental conditions characteristic of industrial applications. Harsh conditions could include vibrations caused by machinery, dust from manufacturing processes, as well as rain and strong sunlight for monitors located in outdoor environments. Under such harsh conditions, commercial monitors can only be expected to operate reliably for a relatively short period of time, whereas a properly designed industrial monitor should provide several years of reliable service.
Operating in harsh and hazardous environments poses many critical challenges that include blistering hot or freezing cold temperatures, high exposure to dust and water and exposure to explosive atmospheres. Moxa offers rugged panel computers and displays that are ideal for deployment in extreme operating environments for HMI applications such as:
• Rig-floor monitoring.
• Drilling control.
• Wellhead/pipeline monitoring.
• Solar inverter monitoring.
• Marine deck/bridge monitoring.
• Monitoring hazardous factory environments.
Control systems in the field can consist of various PLCs and scada systems. Moxa's extensive experience in providing HMI solutions enables it to offer panel computers that work smoothly with different scada software and HMI applications such as: FactoryTalk View SE/ME, SIMATIC WinCC, Wonderware InTouch, GP-Pro, Ignition, PcVue, TwinCAT and FreeSCADA.
Credit(s)
Further reading:
Edge device provides fanless control
June 2020, Beckhoff Automation , Industrial Computer Hardware
With its new C7015 ultra-compact industrial PC, Beckhoff has combined its extensive expertise with PC-based machine control and IP 65/67 components. The result is an industrial PC (IPC) designed with 
...
Read more...
---
Moxa's industrial cybersecurity solutions
May 2020, RJ Connect , IT in Manufacturing
Industrial networks today are no longer air-gapped and immune from cybersecurity threats. Although deploying a firewall and segmenting networks is a good first step, how are OT engineers, who primarily 
...
Read more...
---
Enabling an energy-efficient HVAC system for a hypermarket
March 2020, RJ Connect , System Integration & Control Systems Design
Heating, ventilation and air conditioning (HVAC) is the technology of indoor and vehicular environmental comfort. HVAC systems are mostly used in hypermarkets to provide shoppers comfort and acceptable 
...
Read more...
---
Take data to the cloud wirelessly
February 2020, RJ Connect , Industrial Wireless
The ultimate goal of most industrial automation applications is to obtain actionable insights from data sources for more precise decision-making. To achieve this, businesses need to make their field data 
...
Read more...
---
Solar plant monitoring and control
February 2020, RJ Connect , Electrical Power & Protection
The power industry is now ready for clean power such as solar energy. Utility-scale solar power stations with electric power capacity of more than 50 MW and the capability to feed excess power back to 
...
Read more...
---
Enabling IIoT connectivity for virtual power plants
December 2019, RJ Connect , Electrical Power & Protection
The power grid has seen many changes that have enabled the integration of power from distributed energy sources (DERs).
Read more...
---
Advanced controller for data acquisition
December 2019, RJ Connect , Data Acquisition & Telemetry
The ioThinx 4530 series is an advanced modular controller product with a unique hardware design, making it an ideal solution for a variety of industrial data acquisition applications. The controller has 
...
Read more...
---
Adding mobile network visibility
January 2020, RJ Connect , Fieldbus & Industrial Networking
A high-speed railway operator built a fibre Ethernet backbone for data transmission between its operational management centre and railway stations to ensure high network availability. The customer used 
...
Read more...
---
Four key factors to consider when choosing devices for the control cabinet
November 2019, RJ Connect , System Integration & Control Systems Design
Drawing from over 30 years of experience in providing reliable products for industrial control cabinets, Moxa has identified the following four key considerations for choosing the best control cabinet 
...
Read more...
---
AGV systems need wireless networks
November 2019, RJ Connect , Industrial Wireless
In order for factories to perform their tasks efficiently and optimise production, automated material handling (AMH) systems, such as AS/RS and AGVs, need the flexibility to move around on their designated 
...
Read more...
---