printer friendly version
Low volume rotating vane flowmeter
April 2019
Flow Measurement & Control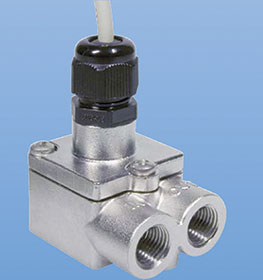 Instrotech is offering Kobold's DTK rotating vane flowmeter for small quantities, a versatile, efficient and very economic piece of equipment. This flowmeter was specially developed for use in low viscosity liquids. Its compact construction means it can be used in machines with restricted space as well as in industrial systems. A special advantage of this gauge is its long-term stability and robust construction.
In the DTK flow gauge, the medium flows through a specially formed flow casing, causing the impeller to rotate. Two magnets on the impeller generate electrical impulses in a Hall sensor. The frequency emitted by the electronics is then directly proportionate to the flow velocity. Down-line electronics can use these signals for measuring, monitoring and dosing.
With a measuring range of 0,05 – 0,6 litres per minute to 1.0 – 12 litres per minute and a measuring accuracy of 2% from measuring range full-scale value, the measuring device can be used universally.
The maximum medium temperature is 140°C and the maximum pressure 30 bar. This means it can also be used under harsh industrial conditions. In order to cover a wide range of applications the housing, nozzles and axle have been made of high quality steel and the impeller is made of PVDF. Mechanical connection is provided by means of either a G thread or an NPT thread.
Areas of application of the DTK rotating vane flowmeter include low viscosity and non-conductive liquids, volume dosing with external electronics, laundry machines and PCB manufacture machines, and agriculture.
For more information contact Instrotech, +27 10 595 1831, sales@instrotech.co.za, www.instrotech.co.za
Credit(s)
Further reading:
Wall-mount ultrasonic flow meters
Royce Water Systems Flow Measurement & Control
High measurement accuracy and minimal interference due to its advanced error correction technology are among the flow meter's benefits.
Read more...
---
Wire-actuated encoder for crane arms and lifting platforms
Instrotech Sensors & Transducers
Siko has solved the challenges presented by such applications with the SG 30 and its very compact, yet robust, design.
Read more...
---
Flow meters and switches for very slow flows
Instrotech Flow Measurement & Control
Kobold's KSV meters are shock resistant, small, lightweight and simple to install for measuring liquid or air flow with full-scale accuracy within +/-6%.
Read more...
---
Indian airport's fuel station retrofitted with Rotork actuators
Flow Measurement & Control
A reduction of downtime was of critical concern to the customer, which can be assisted by an holistic asset management programme such as Lifetime Management.
Read more...
---
Flow control for wastewater treatment
Flow Measurement & Control
Going beyond simple open/close functions, the Rotork actuators can move the valves and gates to exact positions to provide complete control of flow in the process.
Read more...
---
Flow measurement of abrasive slurries in hydrocyclone feedlines
KROHNE Flow Measurement & Control
Dedicated flowmeters for cyclone classification help miners improve throughput while keeping maintenance costs low.
Read more...
---
Load sensor for force measurement
Instrotech Level Measurement & Control Mass Measurement
The instrument provides a solution for non-intrusive level measurements of materials that are subject to uneven build-up, bridging or sidewall collection.
Read more...
---
Intelligent electric actuators control flow at chemical plant
Flow Measurement & Control
The actuators have been installed in the cracking units in the plant to control the flow of the oil that is the feedstock at the heart of the production process.
Read more...
---
Diesel level sensing for rail engines
Instrotech Level Measurement & Control
Diesel fuel levels are measured, recorded and displayed, and kilowatt-hours are measured, using the Senix ToughSonic CHEM 10 ultrasonic sensor.
Read more...
---
Digital manometer in standard and ATEX-approved models
Instrotech Pressure Measurement & Control
The instrument is available with two practice-based measuring ranges of -1 to 30 bar and 0 to 300 bar in the compensated temperature range from 0°C to 50°C.
Read more...
---