printer friendly version
Low volume rotating vane flowmeter
April 2019
Flow Measurement & Control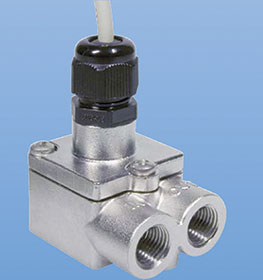 Instrotech is offering Kobold's DTK rotating vane flowmeter for small quantities, a versatile, efficient and very economic piece of equipment. This flowmeter was specially developed for use in low viscosity liquids. Its compact construction means it can be used in machines with restricted space as well as in industrial systems. A special advantage of this gauge is its long-term stability and robust construction.
In the DTK flow gauge, the medium flows through a specially formed flow casing, causing the impeller to rotate. Two magnets on the impeller generate electrical impulses in a Hall sensor. The frequency emitted by the electronics is then directly proportionate to the flow velocity. Down-line electronics can use these signals for measuring, monitoring and dosing.
With a measuring range of 0,05 – 0,6 litres per minute to 1.0 – 12 litres per minute and a measuring accuracy of 2% from measuring range full-scale value, the measuring device can be used universally.
The maximum medium temperature is 140°C and the maximum pressure 30 bar. This means it can also be used under harsh industrial conditions. In order to cover a wide range of applications the housing, nozzles and axle have been made of high quality steel and the impeller is made of PVDF. Mechanical connection is provided by means of either a G thread or an NPT thread.
Areas of application of the DTK rotating vane flowmeter include low viscosity and non-conductive liquids, volume dosing with external electronics, laundry machines and PCB manufacture machines, and agriculture.
For more information contact Instrotech, +27 10 595 1831, sales@instrotech.co.za, www.instrotech.co.za
Credit(s)
Further reading:
Optimising CIP processes with precision instrumentation
Endress+Hauser South Africa Flow Measurement & Control
Many food and beverage manufacturers encounter challenges with CIP processes that take too long. Have you considered exploring potential solutions to address these issues?
Read more...
---
Pressure monitoring for tempering machines
Instrotech Pressure Measurement & Control
Temperature plays a significant role in many manufacturing processes. In such cases, a tempering machine is used to maintain the manufacturing process at the desired temperature. Keller supplied PR-21Y piezoresistive pressure transmitters to a client specialising in developing and producing oil and water tempering machines.
Read more...
---
How predictive maintenance will help tackle water scarcity
ABB South Africa Flow Measurement & Control
The water industry is facing increasing pressure to optimise treatment processes and address the impending global water crisis. ABB's global product line manager, Krishna Prashanth suggests how the integration of smart instrumentation and predictive maintenance can ensure the highest quality treatment of water.
Read more...
---
Flowmeters with faster and more reliable data transmission
ABB South Africa Flow Measurement & Control
ABB has launched the CoriolisMaster and ProcessMaster flowmeters, which can be powered over the same Ethernet cable used for data transmission, eliminating the need for separate cabling.
Read more...
---
Ice cold optimisation
Turck Banner Southern Africa Flow Measurement & Control
A well-known industrial company in China specialises in the research, development and production of high-tech materials and special industrial furnaces for various fields and applications. To ensure the safe and efficient operation of the furnaces, the flow and temperature of the cooling water and the energy consumption must be constantly monitored and controlled. Turck's FS+ flow sensors are ideal for this application as they can monitor the temperature of the cooling medium in addition to the flow.
Read more...
---
Temperature monitoring in the metal casting process
Instrotech Temperature Measurement
During metal casting, the liquid material is poured into a mould, and after solidification becomes a solid body. Both too-high and too-low casting temperatures can lead to quality defects. The compact Optris PI 05M infrared thermal imaging camera from Instrotech can monitor the casting process.
Read more...
---
Interference-resistant pressure transmitters
Instrotech Pressure Measurement & Control
Instrotech offers a pressure transmitter from Keller for temperature compensation and protection from electromagnetic fields (EMC) in the recently approved 21Y Series.
Read more...
---
How wet steam undermines boiler efficiency
Endress+Hauser South Africa Flow Measurement & Control
The Endress+Hauser team understands the daily challenges and demands placed upon energy and utility managers across the spectrum of steam generation, distribution and consumption activities. Its global team is committed to working with its partners to overcome these complexities and particularly those that challenge a safe, economic and sustainable source of steam energy production and delivery.
Read more...
---
Fast response, precise flow sensor
ifm - South Africa Flow Measurement & Control
The SBT type flow sensors from ifm ensure quality and efficiency in your production processes, for example in injection moulding plants, tyre production, or meat substitute production.
Read more...
---
Cone penetration testing
Instrotech Pressure Measurement & Control
Everyone has walked along a wet beach at some time and noticed how the damp sand wobbles like jelly when stepped on several times. This may be fun on a beach, but it's no joke at a construction site or in an earthquake. Houses and streets built on drained swampland or unconsolidated soil or sediment can sink in certain situations, after which they must be condemned for use.
Read more...
---