printer friendly version
Low volume rotating vane flowmeter
April 2019
Flow Measurement & Control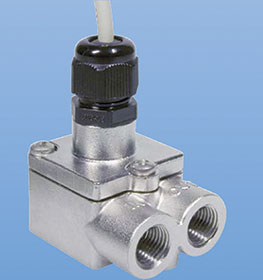 Instrotech is offering Kobold's DTK rotating vane flowmeter for small quantities, a versatile, efficient and very economic piece of equipment. This flowmeter was specially developed for use in low viscosity liquids. Its compact construction means it can be used in machines with restricted space as well as in industrial systems. A special advantage of this gauge is its long-term stability and robust construction.
In the DTK flow gauge, the medium flows through a specially formed flow casing, causing the impeller to rotate. Two magnets on the impeller generate electrical impulses in a Hall sensor. The frequency emitted by the electronics is then directly proportionate to the flow velocity. Down-line electronics can use these signals for measuring, monitoring and dosing.
With a measuring range of 0,05 – 0,6 litres per minute to 1.0 – 12 litres per minute and a measuring accuracy of 2% from measuring range full-scale value, the measuring device can be used universally.
The maximum medium temperature is 140°C and the maximum pressure 30 bar. This means it can also be used under harsh industrial conditions. In order to cover a wide range of applications the housing, nozzles and axle have been made of high quality steel and the impeller is made of PVDF. Mechanical connection is provided by means of either a G thread or an NPT thread.
Areas of application of the DTK rotating vane flowmeter include low viscosity and non-conductive liquids, volume dosing with external electronics, laundry machines and PCB manufacture machines, and agriculture.
For more information contact Instrotech, +27 10 595 1831, sales@instrotech.co.za, www.instrotech.co.za
Credit(s)
Further reading:
Compact design electromagnetic flow measurement
December 2019, Endress+Hauser , Flow Measurement & Control
Whether in the life sciences or in biotechnology, whether in the food or chemical industries – global competition is steadily increasing. Ever more companies are implementing their process facilities 
...
Read more...
---
Pressure measurement converter for harsh conditions
December 2019, Instrotech , Pressure Measurement & Control
Kobold's PNK pressure measurement converter is used for the remote electrical transmission of pressure signals. For use in heavy machinery, engines, shipbuilding and automotive engineering, this robustly 
...
Read more...
---
Electronic position indicator with Ethernet interface
December 2019, Instrotech , Sensors & Transducers
Instrotech now offers the Siko AP20 position indicator, equipped to detect the position of spindle adjustments in machines. It displays the corresponding positional data to the operator and passes it 
...
Read more...
---
Self-cleaning flow indicator for liquids
November 2019, Instrotech , Flow Measurement & Control
To check the flow processes in pipeline systems and for insight into the interior of process pipes, many flow indicators are used in which the flowing medium sets a rotor turning and thus to a large extent 
...
Read more...
---
Eliminate power outages caused by steam leaks
November 2019, Instrotech , Maintenance, Test & Measurement, Calibration
The current system Inspecta FFT, first released some 20 years ago, is reaching its end-of-life, and Instrotech's design engineers felt the time was right to upgrade to newer technology, by combining their 
...
Read more...
---
Ultrasonic sensor for remote water level measurement
October 2019, Instrotech , Level Measurement & Control
Instrotech has available the Senix ToughSonic CHEM range of ultrasonic sensors, in service around the world in some of the most demanding and corrosive industrial environments. They measure a wide variety 
...
Read more...
---
Clamp-on ultrasonic flow measurement
October 2019, Instrotech , Flow Measurement & Control
Kobold's portable DUC-MP and the stationary DUC-MF are designed for continuous flow measurement. They are highly accurate and drift-free operating flowmeters for liquids in filled pipes. The devices are 
...
Read more...
---
Accelerometer for vibration monitoring
October 2019, Instrotech , Maintenance, Test & Measurement, Calibration
Monitran has introduced the General Purpose Monitoring Sensor range, for use with PLCs and other industrial controllers, which provide users with a continuous output of vibration, usually as a 4-20 mA 
...
Read more...
---
Compact IR camera with industrial accessories
October 2019, Instrotech , Sensors & Transducers
Optris has announced additions to the Compact Line, the Xi 80 and Xi 400, now with new industrial accessories for use in rough conditions. The system has a modular design and as a result, the water cooled 
...
Read more...
---
Kobold's electromagnetic flowmeter
September 2019, Instrotech , Flow Measurement & Control
Instrotech now offers Kobold's new electromagnetic flowmeter model EPS with a standard accuracy of 0,3% of reading. The newly developed, microprocessor-controlled converter guarantees the high accuracy 
...
Read more...
---