printer friendly version
80 GHz for liquids
April 2019
Level Measurement & Control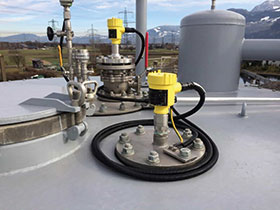 Setting the target of sealing every major highway in New South Wales by 2023, as outlined in this 2018-19 state budget, the New South Wales Government has set the bar high. The onus is not just on government, industry and the companies set to deliver on this goal, but also on the various material producers that will supply these projects. For asphalt plants and quarries to meet such demand, material supply firms are seeking the best equipment to ensure constant resources and high quality. At the forefront are service providers like Fleming Electrical, a Queensland-based firm specialising in a range of industrial electronics solutions and maintenance services, particularly in the asphalt production sector.
New developments in level material measurement technology is an area which could potentially achieve productivity gains on material supply operations, and help contribute to the major national road infrastructure task at hand. Kyle Flynn-O'Brien, an electrician with Fleming Electrical, says the VEGA brand of level measurement instrument products is at the cutting edge: "We've used their equipment for level indication and production on a range of asphalt operations, especially bitumen tanks. VEGA is our go-to name and we use their instruments for most of our customers."
Since 1991, the family-run German business has provided radar level measuring sensors for material production, such as those used in road construction, In 2014 the business introduced its first radar level instrument with a transmission frequency of 80 GHz to the Australian market. In 2016 it followed that up with an 80 GHz version for liquids – the Vegapuls 64. When VEGA Australia released the new instrument, it increased the demand for this kind of measurement tool for bituminous materials, which have traditionally proved a challenge given the high temperature and viscosity of the material.
Flynn-O'Brien says VEGA's transition towards non-contact liquid radar measurement technology has been a major point of difference for him in regards to maintenance and operation of such instruments: "Most older model instruments use level guided radar, which is similar technology, but the difference is that the old models have a rod or cable to guide the waves that measure the material.
On the Vegapuls 64, the sensor emits a continuous radar signal through the antenna, which is reflected by the material and received as an echo back at the antenna. The phase difference between the emitted and received signal is proportional to the distance, which depends on the filling height. The instrument then converts the height into a respective output signal. The new software also presents advantages. For instance we no longer have to jot down all the dimension of the tank. It does all the calculations for you."
Since the instrument operates with a transmission frequency of 80 GHz, this ensures the sensor receives only distinct reflections from the product surface. The focused 80 GHz beam also avoids internal installations and build-up on vessel walls. The sensor operates with an antenna aperture of 75 mm and a beam angle of just four degrees – ensuring reliable and certain measurements.
"With guided radar instruments in bitumen applications, what would happen is you'd get material build up on the rods, which resulted in false signal and readings," elaborates Flynn-O'Brien.
One of the key features of the Vegapuls 64 is the ability to adjust the transmitter wirelessly, using Bluetooth technology. This enables a smartphone or tablet to access the setup and adjustment functions of the sensor, which are all integrated in the VEGA Tools app. The sensor can be adjusted from a distance of 25 metres and the app gives the user access to all the operation data, including measured value, event memory, sensor status displays, echo curve and Bluetooth range information. If VEGA has been granted access to a particular sensor, it can also access the tool remotely to assist with any technical issues or questions.
For Flynn-O'Brien, the simplicity of the design also contributes to its ease of use from an installation and maintenance perspective: "You don't have lots of parts to deal with as it's just a probe and the radar, and the only thing you have to clean is the antenna. It is easy to install and extremely reliable, so it ticks the boxes for me. I'd say our clients are happier because we're no longer getting the false readings."
For more information contact Leandi Hendrikse, VEGA Controls SA, +27 11 795 3249, leandi.hendrikse@vega.com, www.vega.com
Credit(s)
Further reading:
Hygienic food production
June 2020, VEGA Controls SA , Pressure Measurement & Control
Food production is a matter of trust, and hygiene is the number one priority in the manufacturing process. Success is determined by both the reliability and the efficiency that make flawless production 
...
Read more...
---
New additions to Optiflex level transmitter series
May 2020 , Level Measurement & Control
Krohne has introduced four new additions to the Optiflex series of guided radar (TDR) level transmitters. Each device is designed for specific areas of application in the chemical, oil and gas, power, 
...
Read more...
---
Capacitive level switch for fluid, pasty and powdery media
May 2020, GHM Messtechnik SA , Level Measurement & Control
Martens, part of the GHM group of companies, has introduced its MLC 437 capacitive level switches for use principally for the registration of limit levels, full/empty signals in pipes and tanks in fluid, 
...
Read more...
---
Top-mounted level indicator
May 2020, WIKA Instruments , Level Measurement & Control
WIKA's model UTN top-mounted level indicator consists of a measuring chamber, a float with guide rod and a magnetic system. Mounting onto the vessel is made via appropriate process connections (flanged 
...
Read more...
---
New 80 GHz compact radar transmitters
May 2020, Siemens Digital Industries , Level Measurement & Control
Siemens has introduced the Sitrans LR100 series 8 GHz radar level transmitters, a compact instrument with a narrow beam for flexible installations in existing vessel openings or even non-intrusively through 
...
Read more...
---
Vega's solutions for pharmaceutical applications
May 2020, VEGA Controls SA , Pressure Measurement & Control
The special challenges faced by the pharmaceutical industry result from the wide diversity of its processes. Success depends on the consistency and continuity of the production processes, whether it be 
...
Read more...
---
New compact radar sensor
April 2020, VEGA Controls SA , Level Measurement & Control
A new era in radar level measurement began a few years ago when Vegapuls sensors based on 80 GHz technology were introduced. Thanks to the more precise focusing of the radar beam, the sensor virtually 
...
Read more...
---
VEGA extends portfolio for pharmaceuticals production
February 2020, VEGA Controls SA , Pressure Measurement & Control
The reliable and lasting performance of VEGA's proven instrument portfolio has enabled plant operators to monitor and control with great precision chemical, thermal or biological processes, often under high temperatures and pressures.
Read more...
---
Digital innovations using the vibronics measuring principle
February 2020, Endress+Hauser South Africa , Level Measurement & Control
Continuous optimisation and increasingly automated processes are shaping the history of process automation, as well as that of industrialisation.
Read more...
---
High-speed level measurement
February 2020, Morton Controls , Level Measurement & Control
Morton Controls in partnership with Anderson-Negele has introduced the innovative NSL-F level sensor based on a modular device platform. The new platform strategy used with this sensor is based on a building-block 
...
Read more...
---