printer friendly version
80 GHz for liquids
April 2019
Level Measurement & Control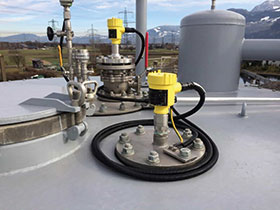 Setting the target of sealing every major highway in New South Wales by 2023, as outlined in this 2018-19 state budget, the New South Wales Government has set the bar high. The onus is not just on government, industry and the companies set to deliver on this goal, but also on the various material producers that will supply these projects. For asphalt plants and quarries to meet such demand, material supply firms are seeking the best equipment to ensure constant resources and high quality. At the forefront are service providers like Fleming Electrical, a Queensland-based firm specialising in a range of industrial electronics solutions and maintenance services, particularly in the asphalt production sector.
New developments in level material measurement technology is an area which could potentially achieve productivity gains on material supply operations, and help contribute to the major national road infrastructure task at hand. Kyle Flynn-O'Brien, an electrician with Fleming Electrical, says the VEGA brand of level measurement instrument products is at the cutting edge: "We've used their equipment for level indication and production on a range of asphalt operations, especially bitumen tanks. VEGA is our go-to name and we use their instruments for most of our customers."
Since 1991, the family-run German business has provided radar level measuring sensors for material production, such as those used in road construction, In 2014 the business introduced its first radar level instrument with a transmission frequency of 80 GHz to the Australian market. In 2016 it followed that up with an 80 GHz version for liquids – the Vegapuls 64. When VEGA Australia released the new instrument, it increased the demand for this kind of measurement tool for bituminous materials, which have traditionally proved a challenge given the high temperature and viscosity of the material.
Flynn-O'Brien says VEGA's transition towards non-contact liquid radar measurement technology has been a major point of difference for him in regards to maintenance and operation of such instruments: "Most older model instruments use level guided radar, which is similar technology, but the difference is that the old models have a rod or cable to guide the waves that measure the material.
On the Vegapuls 64, the sensor emits a continuous radar signal through the antenna, which is reflected by the material and received as an echo back at the antenna. The phase difference between the emitted and received signal is proportional to the distance, which depends on the filling height. The instrument then converts the height into a respective output signal. The new software also presents advantages. For instance we no longer have to jot down all the dimension of the tank. It does all the calculations for you."
Since the instrument operates with a transmission frequency of 80 GHz, this ensures the sensor receives only distinct reflections from the product surface. The focused 80 GHz beam also avoids internal installations and build-up on vessel walls. The sensor operates with an antenna aperture of 75 mm and a beam angle of just four degrees – ensuring reliable and certain measurements.
"With guided radar instruments in bitumen applications, what would happen is you'd get material build up on the rods, which resulted in false signal and readings," elaborates Flynn-O'Brien.
One of the key features of the Vegapuls 64 is the ability to adjust the transmitter wirelessly, using Bluetooth technology. This enables a smartphone or tablet to access the setup and adjustment functions of the sensor, which are all integrated in the VEGA Tools app. The sensor can be adjusted from a distance of 25 metres and the app gives the user access to all the operation data, including measured value, event memory, sensor status displays, echo curve and Bluetooth range information. If VEGA has been granted access to a particular sensor, it can also access the tool remotely to assist with any technical issues or questions.
For Flynn-O'Brien, the simplicity of the design also contributes to its ease of use from an installation and maintenance perspective: "You don't have lots of parts to deal with as it's just a probe and the radar, and the only thing you have to clean is the antenna. It is easy to install and extremely reliable, so it ticks the boxes for me. I'd say our clients are happier because we're no longer getting the false readings."
For more information contact Leandi Hendrikse, VEGA Controls SA, +27 11 795 3249, leandi.hendrikse@vega.com, www.vega.com
Credit(s)
Further reading:
Continuous level measurement
Africa Automation Fair 2019 Preview, Morton Controls , Level Measurement & Control
The Nivobob series from Morton Controls is used for continuous level measurement within bulk storage silos and for interface measurement of sludge beds. The system is immune to dust, dielectricity, conductivity, 
...
Read more...
---
A range of level sensors
Africa Automation Fair 2019 Preview, GHM Messtechnik SA , Level Measurement & Control
GHM Messtechnik has available the Val.co range of affordable and effective level sensors that have application across all sectors of industry, especially tank building. The range includes small float 
...
Read more...
---
Get your sensor data faster
Africa Automation Fair 2019 Preview, VEGA Controls SA , Sensors & Transducers
VEGA's Tools App enables sensor parameters and configuration settings to be read and adjusted via Bluetooth on any smartphone or tablet. They are easy to operate and all data is permanently available 
...
Read more...
---
Keller's water level monitoring systems
April 2019, Instrotech , Level Measurement & Control
The Grib Mine, located in Russia's Mezensky District in the Arkhangelsk Oblast, is one of the largest diamond deposits in the world. During winter, temperatures can drop to -25° and sometimes -37°. The 
...
Read more...
---
Level monitoring and visualisation
March 2019, Morton Controls , Level Measurement & Control
UWT's Nivotec series is designed to make data movement and communication between monitoring and control systems easy and flexible. The Nivotec 2000 and 3500 series are specifically adaptable to customer 
...
Read more...
---
Monitoring the level of molten polyethylene
March 2019, VEGA Controls SA , Level Measurement & Control
More than ever before, the number of car parts made from plastics and plastic composites is on the increase. According to the American Chemistry Council, plastics account for approximately 50% of the 
...
Read more...
---
VEGA Controls SA appoints new managing director
February 2019, VEGA Controls SA , News
VEGA Controls SA has announced the appointment of Fredrick Streicher as the company's new managing director, effective from 1 January.    He has been with the company for the last 13 years where he was 
...
Read more...
---
The next level in dairy applications
February 2019, Endress+Hauser , Level Measurement & Control
Reliable and repeatable tank level measurement proven with 80 GHz technology.
Read more...
---
Digital float switch
February 2019, WIKA Instruments , Level Measurement & Control
As its first instrument of this kind, WIKA has launched a float switch with a PNP/NPN output signal. The model GLS-1000 detects the level of liquids with an accuracy of 1 mm or less. The digitised float 
...
Read more...
---
Effective level sensors
February 2019, GHM Messtechnik SA , Level Measurement & Control
Val.co offers a range of affordable and effective level sensors that have applications across all sectors of industry, but that benefit, in particular, the tank building sector. The range includes small 
...
Read more...
---