printer friendly version
Paving the way to digitalisation in oil and gas
April 2019
IT in Manufacturing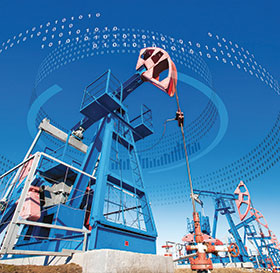 Oil and gas are still indispensable fuels for the global economy, and exploring for new sources of oil and gas remains a lucrative and attractive endeavour. New oil platforms, rigs and pipelines are constantly being constructed to meet the demand for oil, with a corresponding growth in the number of factories and control centres used to process and manage crude oil.
To maximise efficiency and safety, these systems are becoming more integrated, but unfortunately the traditional scada systems used by the oil and gas industry are difficult to integrate because they are highly independent and have limited connectivity to other systems. This limitation will need to be overcome as oil facilities grow more complex, and safety and reliability grow ever more important. Moxa's complete range of industrial networking, monitoring and computing products are engineered for harsh mission-critical environments and provide the reliability, flexibility, and safety needed to maintain and operate oil and gas facilities.
Industrial grade robustness
Moxa offers a complete range of automation and networking products specially developed for use in oil and gas facilities, each meeting global certifications such as UL/cUL C1D2, and ATEX Zone 2, IECEx or marine classifications like DNV GL, ABS, LR, and NK. Whether you require Ethernet switches, computers, gateways or I/O devices, Moxa has a product that best fits the hazards of the oil and gas industries.
Assured network reliability
Moxa's high reliability, high availability networking solutions are founded on three key pillars: advanced network redundancy, high bandwidth portfolio and enhanced network security. For wired LANs, the Turbo Chain and Turbo Ring features deliver millisecond order network recoveries, while for wireless LANs Moxa provides zero packet loss guarantees and network level wireless redundancy enabled by AeroLink Protection. The Ethernet switches provide up to 10 gigabits of bandwidth for future-proof scalability. Finally, all of Moxa's Ethernet products support strong security protocols that include 802.1X, HTTPS and SSL, alongside industrial secure routers that feature strong firewall, NAT and VPN functionality.
Efficient remote monitoring
Moxa's industrial networking, monitoring and computing products help network administrators to overcome the challenge of integrating a variety of IA protocols like PROFIBUS, EtherNET/IP, and Modbus TCP with central HMI/scada systems, and to combine them in ways that enable the receipt and response of field data with high efficiency.
Easy asset manageability
Moxa provides a number of easy to use software optimisations for remote administration. MXstudio is Moxa's integrated network management and diagnostics tool for Ethernet products. With MXstudio, users can speed up the process of field device configuration and troubleshooting. MGate Manager is a powerful automated utility that allows the control centre to take over gateway configuration from on-site personnel. With Moxa's software enhancements, controllers can better collect data, evaluate component and network health and monitor devices for unexpected events.
Credit(s)
Further reading:
Siemens launches report on Dawn of Digitalisation and its Impact on Africa
October 2019, Siemens Digital Industries , IT in Manufacturing
Africa needs a digitalisation strategy to compete in the global economy.
Read more...
---
Integrating IT with Operations Technology - a CIO perspective
October 2019, Absolute Perspectives , IT in Manufacturing
Digitisation projects, spurred on by Industry 4.0 and technological advances, have opened up many possibilities to create new value.
Read more...
---
The power of data
October 2019, Throughput Technologies , IT in Manufacturing
Gain access to important information with ProSoft's new OPC UA-based gateway and data logger.
Read more...
---
Securing and managing devices the modern way
October 2019 , IT in Manufacturing
Organisations of all types and sizes are bringing vast numbers of devices into their IT infrastructure and networks. Moreover, these devices are not only smartphones, wearables and tablets because the 
...
Read more...
---
Reliable gas production
September 2019, Siemens Digital Industries , IT in Manufacturing
Energy supplier uses Siemens technology for optimum information exchange.
Read more...
---
Automotive supplier relies on Siemens PLM solution
September 2019, Siemens Digital Industries , IT in Manufacturing
Küster Automotive is an internationally active family-run company and a part of Küster Holding. A full-service supplier, Küster manufactures components for the automotive industry. For its production 
...
Read more...
---
Top tips to help you implement 4IR projects that deliver value
September 2019 , Editor's Choice, IT in Manufacturing
In the just over 10 years I have spent working on IT projects in the manufacturing space, the amount of new fads and IT jargon that has to be adopted has reached the heavens, and ascended into other realms. 
...
Read more...
---
Digitisation requires new skills
September 2019, Schneider Electric South Africa , IT in Manufacturing
Smart grid investments by municipal and public power utilities typically focus on electric distribution and customer systems. The expected benefits include lower costs, better customer service and more 
...
Read more...
---
Industry 4.0: Manufacturing Executing Systems
September 2019, S4 Integration , IT in Manufacturing
Industry 4.0 is set to lead the way for digitisation of manufacturing processes. Manufacturing Executing Systems (MES) are a critical component of Industry 4.0 as they act as an enabler for end-to-end 
...
Read more...
---
Intelligent wireless connectivity
September 2019, RJ Connect , Industrial Wireless
The ultimate goal of most industrial automation applications is to obtain actionable insights from data sources for more precise decision-making. To achieve this, businesses need to make their field data 
...
Read more...
---