printer friendly version
Paving the way to digitalisation in oil and gas
April 2019
IT in Manufacturing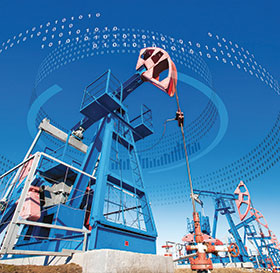 Oil and gas are still indispensable fuels for the global economy, and exploring for new sources of oil and gas remains a lucrative and attractive endeavour. New oil platforms, rigs and pipelines are constantly being constructed to meet the demand for oil, with a corresponding growth in the number of factories and control centres used to process and manage crude oil.
To maximise efficiency and safety, these systems are becoming more integrated, but unfortunately the traditional scada systems used by the oil and gas industry are difficult to integrate because they are highly independent and have limited connectivity to other systems. This limitation will need to be overcome as oil facilities grow more complex, and safety and reliability grow ever more important. Moxa's complete range of industrial networking, monitoring and computing products are engineered for harsh mission-critical environments and provide the reliability, flexibility, and safety needed to maintain and operate oil and gas facilities.
Industrial grade robustness
Moxa offers a complete range of automation and networking products specially developed for use in oil and gas facilities, each meeting global certifications such as UL/cUL C1D2, and ATEX Zone 2, IECEx or marine classifications like DNV GL, ABS, LR, and NK. Whether you require Ethernet switches, computers, gateways or I/O devices, Moxa has a product that best fits the hazards of the oil and gas industries.
Assured network reliability
Moxa's high reliability, high availability networking solutions are founded on three key pillars: advanced network redundancy, high bandwidth portfolio and enhanced network security. For wired LANs, the Turbo Chain and Turbo Ring features deliver millisecond order network recoveries, while for wireless LANs Moxa provides zero packet loss guarantees and network level wireless redundancy enabled by AeroLink Protection. The Ethernet switches provide up to 10 gigabits of bandwidth for future-proof scalability. Finally, all of Moxa's Ethernet products support strong security protocols that include 802.1X, HTTPS and SSL, alongside industrial secure routers that feature strong firewall, NAT and VPN functionality.
Efficient remote monitoring
Moxa's industrial networking, monitoring and computing products help network administrators to overcome the challenge of integrating a variety of IA protocols like PROFIBUS, EtherNET/IP, and Modbus TCP with central HMI/scada systems, and to combine them in ways that enable the receipt and response of field data with high efficiency.
Easy asset manageability
Moxa provides a number of easy to use software optimisations for remote administration. MXstudio is Moxa's integrated network management and diagnostics tool for Ethernet products. With MXstudio, users can speed up the process of field device configuration and troubleshooting. MGate Manager is a powerful automated utility that allows the control centre to take over gateway configuration from on-site personnel. With Moxa's software enhancements, controllers can better collect data, evaluate component and network health and monitor devices for unexpected events.
Credit(s)
Further reading:
Yokogawa's Smart Terminal Automation Solution
April 2019, Yokogawa South Africa , IT in Manufacturing
Yokogawa has accumulated more than two decades of experience in the automation of such terminals and supplied its Terminal Automation Solution to suit varying customer needs.
Read more...
---
Listening to the Voice of the Machine
April 2019, Parker Hannifin Sales Company South , IT in Manufacturing
The value of discrete IoT.
Read more...
---
Measurement data on the lookout for artificial intelligence
April 2019, Phoenix Contact , IT in Manufacturing
In the global race for competitive prices, it is the most efficient processes that win the race.
Read more...
---
IoT-enabled field services improve industrial asset availability
Technews Industry Guide: Maintenance, Reliability & Asset Optimisation 2019 , IT in Manufacturing
Today, many equipment manufacturers are reclaiming the service relationship from the distribution channels with a modern field service management system and remote monitoring.
Read more...
---
Understanding how predictive analytics tools benefit power utility management
Technews Industry Guide: Maintenance, Reliability & Asset Optimisation 2019, IS³ - Industry Software, Solutions & Support , IT in Manufacturing
This paper reviews how predictive analytics tools can be applied to both utility operations and maintenance.
Read more...
---
Seamless acquisition and analysis of plant data
Technews Industry Guide: Maintenance, Reliability & Asset Optimisation 2019, Beckhoff Automation , IT in Manufacturing
TwinCAT Analytics supports the ability to investigate machine optimisation and facilitate predictive maintenance.
Read more...
---
Faster results with a digital twin
April 2019, Siemens Digital Industries , IT in Manufacturing
High tech company Grenzebach's portfolio includes the simulation of material flow in complex plants in the glass industry. To achieve this, Grenzebach uses Siemens' simulation solutions. Together, the 
...
Read more...
---
Mining in the Industry 4.0 era
April 2019 , IT in Manufacturing
Pitram from Micromine can assist mining operations to automate and boost efficiency.
Read more...
---
Stepping carefully into the Fourth Industrial Revolution
April 2019 , IT in Manufacturing
Rapid advances in technology and artificial intelligence in the mining industry raise issues like data protection, intellectual property ownership and legal liability. In the current absence of specific 
...
Read more...
---
Rugged panel computers and displays for tough environments
April 2019, RJ Connect , Industrial Computer Hardware
With the thousands of different monitors available on the market today, you might wonder why industrial users can't find a suitable monitor for their industrial applications. The reason is simple: The 
...
Read more...
---