printer friendly version
2D barcode reader increases traceability
April 2019
Sensors & Transducers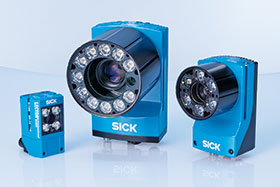 SICK Automation South Africa, one of the country's leading sensor solution suppliers for industrial applications, recently installed 120 image-based 2D barcode readers across multiple scanning stations in a South African-based tobacco manufacturing plant. The cigarette manufacturer was looking for a solution to move from its manually intensive marking and tracing system, which facilitated human error and lacked a satisfactory verification process, to a modern technological one.
The client's objective was to ensure the plant retained its ability to produce world class products. This would be achieved through increased product traceability and improved quality control. SICK recommended its Lector 620 Professional image-based barcode readers, part of its Lector 62x product family, and specifically designed for improved product and process traceability.
The installation of these barcode readers has ensured that the plant has up to date unit level traceability on all product elements. This incorporates the container stored tobacco blends through the entire production process, ending with cartonised cigarette boxes contained in palletised containers for distribution. The Lector 620 range includes a failsafe microSD card in case of device failure, which automatically loads all required device settings when inserted into a new device.
"Product traceability allows for safe products to be manufactured while protecting the production process," says marketing manager, Mark Madeley. He adds that among the benefits of the Lector 620 Professional is its automatic parameter switching ability. This allows the barcode reader to change its settings between four different modes, thereby accommodating variances in lighting conditions. The software used can also artificially enhance the barcode to ensure the highest possible read rates, while its image capturing ability conducted simultaneously to scanning is another advantage. "No-read images are saved, providing our client with the ability to ascertain the cause of the fault diagnostically and implement timeous remedial action," he continues.
All devices were pre-programmed according to the manufacturer's standards with the plant's maintenance engineers receiving device competence training. Used in the packaging and pharmaceutical, automotive, electronics and solar industries, as well as the document handling industry, the Lector 62x family decodes all common 1D, 2D and stacked codes and has optical character recognition. The readers come standard with industrial, compact housing with swivel connector, flexible interfaces and microSD memory card, while the function buttons include aiming laser, focus adjustment, auto-setup and green feedback LEDs.
For more information contact Mark Madeley, SICK Automation Southern Africa, +27 10 060 0550, mark.madeley@sickautomation.co.za, www.sick.com
Credit(s)
Further reading:
Shock-proof linear position sensors
April 2019, Turck Banner , Sensors & Transducers
Turck's enhanced Li linear position sensors measure position values at a frequency of 5 kHz at measuring lengths of up to 2 metres. Turck has updated its contactless Li Q25 positioning systems and has 
...
Read more...
---
Inductive sensors with Teflon coating
April 2019, ASSTech Process Electronics + Instrumentation , Sensors & Transducers
With switching distances of up to 50 mm and magnetic field resistance of 200 mT, Wenglor's inductive sensors with correction factor 1 come in a total of eight new welding-field resistant models, with 
...
Read more...
---
Setting standards for monitoring and safety in the radiation detection industry
Technews Industry Guide: Maintenance, Reliability & Asset Optimisation 2019, OEN Enterprises , Sensors & Transducers
Exposure to harmful levels of radiation can easily be prevented with a new generation of ultra-small, wearable dosimeters. Less expensive, simpler to use, and portable, Thermo Scientific's EPDs (electronic 
...
Read more...
---
Advanced monitoring for process variables
Technews Industry Guide: Maintenance, Reliability & Asset Optimisation 2019, Loadtech Loadcells , Sensors & Transducers
The LT1200 panel mount process indicator is a precision digital indicator for interfacing to and measuring most process variables. The instrument is capable of measuring and processing variables such 
...
Read more...
---
Manoeuvring agricultural robots with 2D laser scanners
March 2019, SICK Automation Southern Africa , Sensors & Transducers
The problem: how do you navigate agricultural robots through a field? The challenge of this application can be found not only in the wide variety of crops out there, but also in the fact that crop rows 
...
Read more...
---
Sensors for motion control
March 2019, ifm - South Africa , Sensors & Transducers
The range of stainless steel housed incremental encoders from ifm electronic is ideal for applications such as conveyor belt synchronisation because of the long maintenance intervals, even when deployed 
...
Read more...
---
Background suppression laser sensor
March 2019, Turck Banner , Sensors & Transducers
Turck's Q5X laser sensor solves the most difficult distance-based applications, even at acute angles. The high-power laser sensor features excess gain, which enables the sensor to detect dark objects 
...
Read more...
---
Leuze camera looks around the corner
March 2019, Countapulse Controls , Sensors & Transducers
Manufacturing plants, packaging facilities and warehouse operations often have areas where visibility is not what it should be, and not only can these prove hazardous to both vehicles and pedestrians 
...
Read more...
---
Relative humidity probe hands control to the user
March 2019, Instrotech , Sensors & Transducers
The Michell HygroSmart HS3 advanced interchangeable relative humidity and temperature probe is 100% configurable to give users maximum flexibility. It also allows for alterations to RH measurements, to 
...
Read more...
---
Factor 1 sensors in a plastic barrel
March 2019, Turck Banner , Sensors & Transducers
Inductive sensors in a plastic threaded barrel design and with an antivalent output have been added to Turck's uprox series of factor 1 sensors, which offer the same large switching distance to all metals. 
...
Read more...
---