printer friendly version
Surface collision avoidance system
March 2019
Industrial Wireless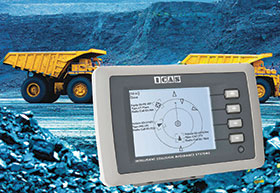 Becker Mining South Africa's advanced safety device, the intelligent collision avoidance system (ICAS), provides situational awareness to ensure optimum safety on construction sites, open-pit mines and surface operations. The system also enhances productivity and operational continuity and reduces operating costs through the elimination or reduction of damage to assets.
"ICAS is a critical safety system, which encompasses the latest industrial technology to provide real-time, 360° situation awareness for vehicle operators working in potentially dangerous and congested site applications, from coal pits to the ports," says Andrew Trentelman, senior general manager: electronics, Becker Mining South Africa. "Blind spots, poor visibility and driver distraction are common causes for unwanted vehicle interactions on mine and construction sites, processing plants, rail and road networks and ports. By creating awareness and eliminating blind spots, these hazards are reduced, which means fewer collisions and a lower risk of injury."
This robust IP67 marine grade device, which consists of three components – the display unit, GPS antenna and radio antenna – ensures equipped vehicles and fixed infrastructure are always visible and identifiable to operators, even in harsh, dusty environments. Applications for ICAS include heavy vehicle (HV) to heavy vehicle, heavy vehicle to light vehicle (LV), medium vehicle (MV) to LV and HV, vehicle to personnel, fixed and mobile plant, advanced train and rail track worker warning and rail level crossing activation.
Configurable guard zones
The flexibility of the system enables configurable guard zones to suit each vehicle and specific site regulations, and also facilitates accurate ranging with speed adaptive zoning. The 50 channel GPS receiver provides a high level of GPS coverage and reliable 3D positioning. If there is existing infrastructure, it can be incorporated into the ICAS system to increase system range, minimising the need for surface-based repeaters.
ICAS-equipped vehicles and machines within the configured guard and alert zones (up to 2 km), are represented via an intuitive graphical HMI display. Once detected, the system uses a secure radio wireless network to activate surrounding ICAS systems. The presence of vehicles and obstacles within critical guard zones is automatically advised to operators via visual and audible alerts.
The system can filter out non-priority targets and only displays the vehicles and infrastructure that may be on a collision course, thus removing the risk, uncertainty and stress related to working and interacting with vehicles in congested, low visibility and isolated environments.
A portable worker unit has been designed for use by short-term contractors or visitors to a plant. This system, with magnetic mounts, is quickly installed in a vehicle. The antenna can be positioned on the vehicle's roof and power is obtained from the cigarette lighter.
The remote worker unit is used to identify hazards or fixed plant issues, until a permanent solution is installed. This mobile unit, which is housed in a carry case, is usually battery powered, or supports 12/24 VDC input. This system contains all necessary components, including the display, GPS and radio antenna.
Although information is logged by each machine, it can also be retrieved remotely via the ICAS radio network. An optional centralised PC based vehicle tracking and event reporting system is available with data collection via the peer to peer in vehicle radio systems.
This fully scalable system, with plug-and-play connectivity, requires minimal installation time, no matter the vehicle type. Other design features include easy screen navigation, low power consumption, no licensing requirements and regular firmware upgrades. ICAS is also suitable for fixed plant, hazard awareness, data-logging or access control at boom gates.
Becker Mining South Africa's collision avoidance safety systems have all been designed to facilitate future upgrades. These modular systems, which range from a simple, low-cost single technology device, to an integrated multi-technology system, encompass many aspects of advanced communications technology.
For more information contact Andrew Trentelman, Becker Mining South Africa, +27 11 617 6300, info@za.becker-mining.com, www.za.becker-mining.com
Credit(s)
Further reading:
Wireless at the edge
November 2020, RJ Connect , Industrial Wireless
The ultimate goal of most industrial automation applications is to obtain actionable insights from data sources for more precise decision-making. To achieve this, businesses need to make their field data 
...
Read more...
---
RS Components introduces Linx Technologies
November 2020, RS Components SA , Industrial Wireless
RS Components now stocks a comprehensive range of antennas from wireless technology specialist Linx Technologies.
Read more...
---
Do all wireless solutions solve real industry problems?
September 2020, Festo South Africa , Industrial Wireless
By using modern, standards-driven wireless technologies, designers and machine users have access to new tools that can help transform and simplify their working lives.
Read more...
---
Wireless vibration monitor
September 2020, Emerson Automation Solutions , Industrial Wireless
Emerson's AMS Wireless Vibration Monitor makes it possible to monitor motors, pumps, fans and other critical plant equipment to reduce downtime and achieve more reliable operations.
Read more...
---
Pump control at a distance
September 2020, Omniflex Remote Monitoring Specialists , Industrial Wireless
The ability to control a pump remotely over distance and without using wires is simple using Omniflex Teleterm Radio RTUs over a licence free band, avoiding administration of radio frequency band use. 
...
Read more...
---
SMC launches wireless valve bank in SA
July 2020, SMC Corporation South Africa , Industrial Wireless
In response to customer demand for a reliable communication system, which could limit the number of cables needed to communicate between multiple valve banks/field sensors and a PLC, a wireless communication 
...
Read more...
---
Vibration sensor for prescriptive analytics
June 2020, Emerson Automation Solutions , Industrial Wireless
Emerson has introduced the AMS Wireless Vibration Monitor, a low-cost, easy to deploy vibration sensor that performs prescriptive analytics on vibration data using native software to automatically identify 
...
Read more...
---
A new approach to wireless networks
June 2020, EOH Process Automation Solutions. , Industrial Wireless
The Instrument Area Network (IAN) has been developed by Schneider Electric as a cost-efficient and flexible industrial wireless network as an alternative to more costly systems. Bluetooth communication 
...
Read more...
---
High-speed dependable underground communication system
June 2020, Becker Mining South Africa , Industrial Wireless
Becker Mining South Africa's Electronics Division specialises in automation and communication systems, which are designed to enhance productivity and improve safety in the mining sector. The company 
...
Read more...
---
Rugged wireless gateway for Ex areas
April 2020, Comtest , Industrial Wireless
Comtest – local representative of Industrial Scientific, a global leader in gas detection – has introduced the RGX Gateway, which enables designated safety contacts to receive real-time alerts for gas 
...
Read more...
---