printer friendly version
Surface collision avoidance system
March 2019
Industrial Wireless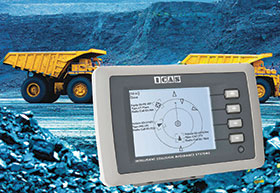 Becker Mining South Africa's advanced safety device, the intelligent collision avoidance system (ICAS), provides situational awareness to ensure optimum safety on construction sites, open-pit mines and surface operations. The system also enhances productivity and operational continuity and reduces operating costs through the elimination or reduction of damage to assets.
"ICAS is a critical safety system, which encompasses the latest industrial technology to provide real-time, 360° situation awareness for vehicle operators working in potentially dangerous and congested site applications, from coal pits to the ports," says Andrew Trentelman, senior general manager: electronics, Becker Mining South Africa. "Blind spots, poor visibility and driver distraction are common causes for unwanted vehicle interactions on mine and construction sites, processing plants, rail and road networks and ports. By creating awareness and eliminating blind spots, these hazards are reduced, which means fewer collisions and a lower risk of injury."
This robust IP67 marine grade device, which consists of three components – the display unit, GPS antenna and radio antenna – ensures equipped vehicles and fixed infrastructure are always visible and identifiable to operators, even in harsh, dusty environments. Applications for ICAS include heavy vehicle (HV) to heavy vehicle, heavy vehicle to light vehicle (LV), medium vehicle (MV) to LV and HV, vehicle to personnel, fixed and mobile plant, advanced train and rail track worker warning and rail level crossing activation.
Configurable guard zones
The flexibility of the system enables configurable guard zones to suit each vehicle and specific site regulations, and also facilitates accurate ranging with speed adaptive zoning. The 50 channel GPS receiver provides a high level of GPS coverage and reliable 3D positioning. If there is existing infrastructure, it can be incorporated into the ICAS system to increase system range, minimising the need for surface-based repeaters.
ICAS-equipped vehicles and machines within the configured guard and alert zones (up to 2 km), are represented via an intuitive graphical HMI display. Once detected, the system uses a secure radio wireless network to activate surrounding ICAS systems. The presence of vehicles and obstacles within critical guard zones is automatically advised to operators via visual and audible alerts.
The system can filter out non-priority targets and only displays the vehicles and infrastructure that may be on a collision course, thus removing the risk, uncertainty and stress related to working and interacting with vehicles in congested, low visibility and isolated environments.
A portable worker unit has been designed for use by short-term contractors or visitors to a plant. This system, with magnetic mounts, is quickly installed in a vehicle. The antenna can be positioned on the vehicle's roof and power is obtained from the cigarette lighter.
The remote worker unit is used to identify hazards or fixed plant issues, until a permanent solution is installed. This mobile unit, which is housed in a carry case, is usually battery powered, or supports 12/24 VDC input. This system contains all necessary components, including the display, GPS and radio antenna.
Although information is logged by each machine, it can also be retrieved remotely via the ICAS radio network. An optional centralised PC based vehicle tracking and event reporting system is available with data collection via the peer to peer in vehicle radio systems.
This fully scalable system, with plug-and-play connectivity, requires minimal installation time, no matter the vehicle type. Other design features include easy screen navigation, low power consumption, no licensing requirements and regular firmware upgrades. ICAS is also suitable for fixed plant, hazard awareness, data-logging or access control at boom gates.
Becker Mining South Africa's collision avoidance safety systems have all been designed to facilitate future upgrades. These modular systems, which range from a simple, low-cost single technology device, to an integrated multi-technology system, encompass many aspects of advanced communications technology.
For more information contact Andrew Trentelman, Becker Mining South Africa, +27 11 617 6300, info@za.becker-mining.com, www.za.becker-mining.com
Credit(s)
Further reading:
Intelligent wireless connectivity
September 2019, RJ Connect , Industrial Wireless
The ultimate goal of most industrial automation applications is to obtain actionable insights from data sources for more precise decision-making. To achieve this, businesses need to make their field data 
...
Read more...
---
Becker Mining upgrade for local coal operation
August 2019, Becker Mining South Africa , News
Becker Mining South Africa's energy division has been awarded a contract to upgrade the PLC infrastructure at a leading coal producer's underground operations. "This project comprises the design, manufacture 
...
Read more...
---
Industrial Scientific expands ­connected safety portfolio
August 2019, Comtest , Industrial Wireless
Comtest has announced the expansion of Industrial Scientific's connected safety portfolio to include cellular and Wi-Fi capability in the VentisPro5 Personal Gas Monitor and a satellite communication 
...
Read more...
---
Long range wireless communication for air instrumentation
Technews Industry Guide: Industrial Internet of Things & Industry 4.0, Artic Driers , Industrial Wireless
Artic Driers in association with Suto iTEC of Germany have launched a long range wireless communication system for the comprehensive range of compressed air instrumentation marketed by Artic. Wireless 
...
Read more...
---
Using IS phones or tablets for barcode scanning
Technews Industry Guide: Industrial Internet of Things & Industry 4.0, Extech Safety Systems , Industrial Wireless
Extech Safety Systems worked with Mobexx in the UK to develop the mobXscan mobile application for barcode scanning with mobile devices. The application (https://mobxscan.com) has been released for Windows 
...
Read more...
---
Bluetooth low energy IoT development kit
July 2019, RS Components SA , Industrial Wireless
RS Components is now offering the Bluetooth Low Energy IoT Development Kit (B-IDK) from ON Semiconductor. Based on the industry's lowest power Bluetooth Low Energy radio System-on-Chip (SoC), the modular 
...
Read more...
---
Linearise all your signals
July 2019, Omniflex Remote Monitoring Specialists , Industrial Wireless
Signal conditioners have progressed over the years to become mainstream protection front ends for PLC and DCS control systems. They provide signal isolation and protection from the harsh plant conditions 
...
Read more...
---
Adroit brings M2M, IoT and IIoT to the industrial world
June 2019, Adroit Technologies , Industrial Wireless
Combining the new IIoT capability with GIS interfaces, situational awareness and alarm management data, all can use the big data and analytical processing capability of Adroit's standard scada Intelligence software package to derive greater insights and value from their processes.
Read more...
---
Wireless networks for AGV systems
June 2019, RJ Connect , Industrial Wireless
In order for factories to perform their tasks efficiently and optimise production, automated material handling (AMH) systems, such as AS/RS and AGVs, need the flexibility to move around on their designated 
...
Read more...
---
Merging control and telemetry
June 2019, Omniflex Remote Monitoring Specialists , Industrial Wireless
Wireless telemetry and control in plants have become a necessity with the data acquisition requirement of modern plant control to lift performance and compliance. In-plant cabling costs often push the 
...
Read more...
---