printer friendly version
Ex-rated instruments for explosive atmospheres
March 2019
IS & Ex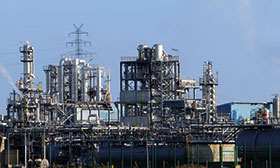 In many industries, there are certain areas that are classified as hazardous or Ex areas. This is an area that contains, or may contain, combustible substances such as gas, vapour or dust. Typical hazardous areas include coal mines, grain silos, chemical and petroleum plants, offshore and onshore oil and gas rigs, oil refineries, pharmaceutical plants and paint shops.
During the coal mining process, byproducts in the form of coal dust and methane are produced. The build-up of either of these can be extremely dangerous. Even a tiny spark can set off a disastrous explosion. Similarly, grain silo dust ignited by a spark, has led to tragic explosions.
Safety measures in hazardous areas
In order for ignition to occur, two things are needed: the combustible atmosphere as described above, and a trigger i.e. a spark or flame. Remove one or both of these conditions and an explosion cannot occur.
Removing combustible dust and vapour
Ventilation equipment can dilute or remove dangerous substances from an enclosed area and as a result reduce the risk of explosion. This method is extensively used in the mining and chemical industry.
No trigger
Apart from 'No Open Flame' signs, precaution must be taken to prevent electrical equipment from being a source of ignition. A simple electrical switch, for example, can generate an electrical spark every time it is thrown – depending on the type of load. This spark may be enough to act as a trigger for an explosion in a hazardous area. In a similar fashion, sparks can be created by portable electronic devices. In order for devices to be safe for use in hazardous areas, safety precautions have to be built into the design.
Intrinsically safe (IS) instruments
There are several aspects in the design of IS electronic devices, of which reducing or eliminating switch sparking is but one. Other considerations include, fast fuses, controlling component temperatures, eliminating tight component spacing that could lead to a short circuit, and reducing circuit current and energy storage.
R&C Instrumentation is geared to supply a considerable range of intrinsically safe instruments, for instance the Raytek MT4-IS handheld non-contact thermometer for the temperature range -18 to 400°C, the Raytek Mi3-IS 4-wire system fixed pyrometer and the Raytek TX-IS 2-wire loop powered system fixed pyrometer.
As part of the recently launched range of vibration sensors, there is also a wide range of ATEX IEC and Ex certified versions available. Additionally, due to a special request from a mining client, there is now the UT390B+IS laser distance meter available from stock.
For more information contact R&C Instrumentation, +27 11 608 1551, info@randci.co.za, www.randci.co.za
Credit(s)
Further reading:
Calibration in hazardous areas
April 2019, QTEK Instrumentation & Calibration Solutions , IS & Ex
This article is an edited version of a Beamex calibration white paper, the original unedited document can be downloaded at
https://instrumentation.co.za/papers/J4324.pdf
Read more...
---
Fixed thermal imaging for process heating
April 2019, R&C Instrumentation , Temperature Measurement
Noncontact temperature measurement is widely used for industrial process monitoring and control. Infrared (IR) thermal imaging can provide detailed information to help improve product quality and increase 
...
Read more...
---
Pump monitoring in hazardous areas
Technews Industry Guide: Maintenance, Reliability & Asset Optimisation 2019, Siemens Digital Factory & Process Indust. & Drives , IS & Ex
Safety has top priority wherever flammable media are used in industry. This applies in particular to the chemical industry, where flammable liquids are produced, processed and transported by pumps in 
...
Read more...
---
Safety meets security
March 2019, Phoenix Contact , IS & Ex
A common strategy required for the future.
Read more...
---
Is your building safe from fire?
March 2019, Alien Systems & Technologies , IS & Ex
Correct selection of detectors is vital.
Read more...
---
Safety exhaust valve for emergency stop
March 2019, Parker Hannifin Sales Company South , IS & Ex
Parker Hannifin has introduced a new safety exhaust valve that rapidly exhausts compressed air in the event of a fault condition or when a machine has an emergency stop. The P33 is designed for two-channel 
...
Read more...
---
New generation safety controllers
March 2019, Beckhoff Automation , IS & Ex
TwinSAFE: consistently modular, scalable and distributed safety applications.
Read more...
---
LSIS obtains Ex rating for HMI range
March 2019, Ana-Digi Systems , IS & Ex
Starting with the iXP2 premium series of HMIs, in the latter half of 2018 LSIS began rolling out the Ex certification for the entire range of these exceptional products. The products carry the rating 
...
Read more...
---
Safe infrared inspections under load
February 2019, R&C Instrumentation , Maintenance, Test & Measurement, Calibration
Iriss and Eaton joined forces to manufacture the Pow-R-Way III Busway System, which enables safe and accurate energised infrared inspections under full load. The UL listed joint cover design, with the 
...
Read more...
---
Contact in to contact out over fibre optic cable
February 2019, Omniflex Remote Monitoring Specialists , IS & Ex
The Omniterm FCT and FCR modules provide the ability to send a digital contact signal up to 4 km over a single optical fibre. When the contact on the FCT transmitter module is closed, the relay output 
...
Read more...
---