printer friendly version
Yokogawa to release compact new IIoT sensors outside Japan
March 2019
Sensors & Transducers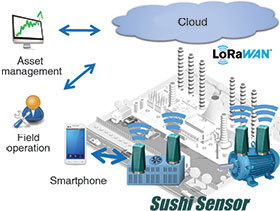 Yokogawa has announced that it will release the Sushi Sensor, an OpreX brand wireless solution, in markets other than Japan, starting with Europe (shipping in March 2019). Already available in Japan, the Sushi Sensor is a compact wireless device with integrated sensing and communication functions that is intended for use in the monitoring of plant equipment, vibration and surface temperature. Optimised for IIoT applications, the Sushi Sensor enables the online monitoring of equipment operating conditions, which helps to improve equipment maintenance and prevent failures by detecting signs of abnormalities at an early stage.
Development background
As manufacturers strive to improve productivity and the efficiency of their plant maintenance operations, they have a growing need for solutions that facilitate the collection of equipment data. This is driving demand for wireless sensors that are easier and cheaper to install than conventional wired devices.
To detect signs of equipment abnormalities at an early stage and prevent unexpected equipment failures, it is essential to frequently measure the vibration and surface temperature of plant equipment such as compressors, pumps, and motors, and to enable the monitoring of such data online. Although crucial equipment may already be continuously monitored by using wired sensors, this may be difficult with many other types of equipment due to the high initial cost and the challenges of wiring devices in difficult to access locations. Such equipment must be inspected during operator rounds or periodic inspections. Therefore, there is an increasing need for wireless vibration and temperature sensors that can be installed easily and at a low cost, to improve maintenance efficiency.
To meet this need, Yokogawa has developed the Sushi Sensor, a compact wireless device that measures vibration and temperature and uses LoRaWAN, a low-power wide-area (LPWA) wireless data communication protocol that is attracting considerable interest among developers for use in IIoT applications*1. Yokogawa released the Sushi Sensor in the Japan market in March 2018, and has already established a solid track record with this device. Yokogawa also offers field wireless systems that comply with the proven and highly reliable ISA100 Wireless*2 standard and help to ensure stable and safe plant operations. The European release of the Sushi Sensor is set for 2019, with other regions following after that, giving our customers in these markets a greater range of optimum solutions to choose from.
Features
Easy installation and setup
The compact wireless sensor complies with the LoRaWAN communication standard for long-distance communications, and thus needs no repeaters. It is also battery-powered, eliminating the need for an external power supply. Being compact and lightweight, this sensor can easily be mounted on all kinds of plant equipment. In addition, the sensor supports near-field radio communication, which allows sensor setting and sensor condition monitoring from a smartphone via a dedicated app.
Excellent environmental resistance
Although vibration and temperature sensors for IIoT applications are commercially available, most of them were designed for indoor use. Yokogawa's compact wireless Sushi Sensor is environmentally robust and is well suited for installation in harsh plant locations.
Monitoring via on premise or the cloud server
Data collected by the Sushi Sensor can be monitored either from an on premise server or a cloud-based server via a LoRaWAN gateway. From the on premise server, or any device in a remote location that can access the cloud server, operators and maintenance staff can monitor the vibration and surface temperature of equipment throughout a plant.
For the monitoring of equipment operating conditions, the compact wireless sensor with integrated sensing and communication functions collects vibration and surface temperature data and transmits this via a LoRaWAN gateway.
Applications
The sensors are designed to measure the vibration and temperature of plant equipment such as compressors, pumps, motors, fans and conveyors in the oil and gas, chemicals, electrical power, pulp and paper, pharmaceuticals, food and water industries.
For more information contact Yuvisti Ramgulam, Yokogawa South Africa, +27 11 831 6300, yuvisti.ramgulam@za.yokogawa.com, www.yokogawa.com/za
Credit(s)
Further reading:
Yokogawa's Smart Terminal Automation Solution
April 2019, Yokogawa South Africa , IT in Manufacturing
Yokogawa has accumulated more than two decades of experience in the automation of such terminals and supplied its Terminal Automation Solution to suit varying customer needs.
Read more...
---
Shock-proof linear position sensors
April 2019, Turck Banner , Sensors & Transducers
Turck's enhanced Li linear position sensors measure position values at a frequency of 5 kHz at measuring lengths of up to 2 metres. Turck has updated its contactless Li Q25 positioning systems and has 
...
Read more...
---
Inductive sensors with Teflon coating
April 2019, ASSTech Process Electronics + Instrumentation , Sensors & Transducers
With switching distances of up to 50 mm and magnetic field resistance of 200 mT, Wenglor's inductive sensors with correction factor 1 come in a total of eight new welding-field resistant models, with 
...
Read more...
---
2D barcode reader increases traceability
April 2019, SICK Automation Southern Africa , Sensors & Transducers
SICK Automation South Africa, one of the country's leading sensor solution suppliers for industrial applications, recently installed 120 image-based 2D barcode readers across multiple scanning stations 
...
Read more...
---
Setting standards for monitoring and safety in the radiation detection industry
Technews Industry Guide: Maintenance, Reliability & Asset Optimisation 2019, OEN Enterprises , Sensors & Transducers
Exposure to harmful levels of radiation can easily be prevented with a new generation of ultra-small, wearable dosimeters. Less expensive, simpler to use, and portable, Thermo Scientific's EPDs (electronic 
...
Read more...
---
Advanced monitoring for process variables
Technews Industry Guide: Maintenance, Reliability & Asset Optimisation 2019, Loadtech Loadcells , Sensors & Transducers
The LT1200 panel mount process indicator is a precision digital indicator for interfacing to and measuring most process variables. The instrument is capable of measuring and processing variables such 
...
Read more...
---
Manoeuvring agricultural robots with 2D laser scanners
March 2019, SICK Automation Southern Africa , Sensors & Transducers
The problem: how do you navigate agricultural robots through a field? The challenge of this application can be found not only in the wide variety of crops out there, but also in the fact that crop rows 
...
Read more...
---
Sensors for motion control
March 2019, ifm Electronic RSA , Sensors & Transducers
The range of stainless steel housed incremental encoders from ifm electronic is ideal for applications such as conveyor belt synchronisation because of the long maintenance intervals, even when deployed 
...
Read more...
---
Background suppression laser sensor
March 2019, Turck Banner , Sensors & Transducers
Turck's Q5X laser sensor solves the most difficult distance-based applications, even at acute angles. The high-power laser sensor features excess gain, which enables the sensor to detect dark objects 
...
Read more...
---
Leuze camera looks around the corner
March 2019, Countapulse Controls , Sensors & Transducers
Manufacturing plants, packaging facilities and warehouse operations often have areas where visibility is not what it should be, and not only can these prove hazardous to both vehicles and pedestrians 
...
Read more...
---