printer friendly version
Quality in aftermarket fuel filters
March 2019
Motion Control & Drives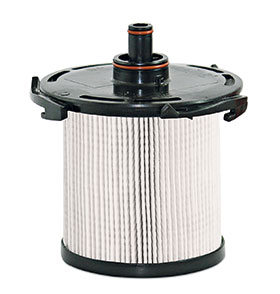 When it comes to replacing the fuel filter element on a light commercial vehicle, such as the Ford Transit, Parker Racor ensures the job is simple, fast and foolproof, thanks to a patented compound bayonet fitting system. The benefit here, however, is that by using Racor aftermarket elements, which are identical to their OE counterparts, fleet managers can achieve the same levels of performance and efficiency.
The element simply clicks into place and locks. This concept prevents anyone from removing it from the bowl and inadvertently driving off without the protection of a filter element. In essence, the Parker Racor element means 'no filter; no flow' because it is impossible to close the product without the patented part inside. The system is both tamper-proof and cannot unlock involuntarily.
Replacement filter elements from Parker are supplied as a kit that includes a replacement body seal, the main seal that sits between the filter bowl and head. It is important that this seal is changed at the same time as the element, particularly as it will have been sat in fuel for its lifetime and will likely be suffering from a degree of flattening due to the pressurised interface between the bowl and the head. As an external seal, it is designed to prevent any fuel from contaminating the environment.
The Racor body seal offers high durability and excellent levels of vibration resistance. Moreover, the seal provides high chemical compatibility and, of particular importance, can operate safely across a wide temperature range. These design attributes are important, as if the materials cannot survive in different grades of fuel at different temperatures then serious consequences are likely to result.
The use of a patented filter element on the Transit assures Ford and fleet maintainers that a quality product is being fitted, reducing worries about warranty claims and performance issues/engine damage due to selecting an inferior part. Put simply, Racor replacement filter elements for the Ford Transit are specifically designed to remove the amount of dirt required to protect the injector, i.e. 99% of particles down to 4 µm. Buying a counterfeit product puts this performance level in jeopardy. Parker Racor has worked hard on the specification with Ford to achieve the necessary technical needs, as well as the dirt-loading and long-term testing requirements.
For more information contact Lisa de Beer, Parker Hannifin SA, +27 11 961 0700, lisa.debeer@parker.com, www.parker.com/za
Credit(s)
Further reading:
Smart devices for Ex areas: Unbelievably simple mistakes that prevent control.
September 2019, Michael Brown Control Engineering , Editor's Choice, Motion Control & Drives
I am often astounded by finding really basic problems with controls in plants, which have operated that way for years. These problems are so basic that one can only wonder at how these controls could 
...
Read more...
---
DLM V-Drives
September 2019, Dupleix Liquid Meters (DLM) , Motion Control & Drives
DLM V-Drives control the latest generation of permanent magnet and standard induction motors. DLM offers the AMC (advanced motor control) and EPC (efficient pump control) V-Drives, which are available 
...
Read more...
---
Complete drive solutions to boost efficiency and cut costs
September 2019, SEW-Eurodrive , Motion Control & Drives
The importance of the sugar industry in KwaZulu-Natal to SEW-Eurodrive as a key growth area for its complete drive solutions was underscored when it exhibited at the Congress of the South African Sugar 
...
Read more...
---
Parker enhances H Series ISO valve portfolio
September 2019, Parker Hannifin Sales Company South , Pneumatics & Hydraulics
Parker Hannifin has added an expanded range of features and capabilities to its H Series ISO valve platform as part of its global focus on factory automation. Designed with a new universal manifold, the 
...
Read more...
---
RS announces drive controller kit
September 2019, RS Components SA , Motion Control & Drives
RS Components has announced the launch of the K4 Drive System Development Kit (K4DSDK) from ebm-papst, one of the world's leading manufacturers of high-efficiency fan and motor drive products. Targeting 
...
Read more...
---
How the latest pneumatics can reduce plant costs
August 2019, Parker Hannifin Sales Company South , Pneumatics & Hydraulics
The implementation of predictive maintenance has become a high-held ambition for many modern plants, a strategy that avoids the costs of both reactive and scheduled preventative maintenance by only deploying maintenance routines exactly when needed; namely, shortly before a pneumatic component is predicted to fail.
Read more...
---
Feed mill project relies on SEW-Eurodrive
August 2019, SEW-Eurodrive , Motion Control & Drives
SEW-Eurodrive has supplied 120 geared motors to Dalein Agriplan for a customised 100 tph feed mill for a major beef producer in the Free State. This is not only one of the largest single projects undertaken 
...
Read more...
---
Dust solutions for conveyor systems in bulk handling
August 2019 , Motion Control & Drives
BLTWorld works closely with ScrapeTec, to offer advanced solutions for conveyor systems used in the handling of materials with excessive dust. "AirScrape, TailScrape and DustScrape have been developed 
...
Read more...
---
Case History 167: Test your analytical capabilities
July 2019, Michael Brown Control Engineering , Editor's Choice, Motion Control & Drives
Answer to the question at the end of Case History 166 (
www.instrumentation.co.za/8690r
) In the last Case History article, I suggested you try and see what was not so good about a level control, which 
...
Read more...
---
Staying ahead of industrial cyber-security threats
July 2019, Parker Hannifin Sales Company South , IT in Manufacturing
The consequences of cyber attacks on businesses can be huge, operation downtime, loss of productivity, proprietary information loss, diminished reputation among customers, business partners and investors and disruption of services.
Read more...
---