printer friendly version
Quality in aftermarket fuel filters
March 2019
Motion Control & Drives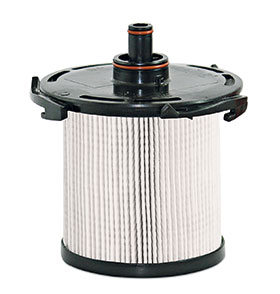 When it comes to replacing the fuel filter element on a light commercial vehicle, such as the Ford Transit, Parker Racor ensures the job is simple, fast and foolproof, thanks to a patented compound bayonet fitting system. The benefit here, however, is that by using Racor aftermarket elements, which are identical to their OE counterparts, fleet managers can achieve the same levels of performance and efficiency.
The element simply clicks into place and locks. This concept prevents anyone from removing it from the bowl and inadvertently driving off without the protection of a filter element. In essence, the Parker Racor element means 'no filter; no flow' because it is impossible to close the product without the patented part inside. The system is both tamper-proof and cannot unlock involuntarily.
Replacement filter elements from Parker are supplied as a kit that includes a replacement body seal, the main seal that sits between the filter bowl and head. It is important that this seal is changed at the same time as the element, particularly as it will have been sat in fuel for its lifetime and will likely be suffering from a degree of flattening due to the pressurised interface between the bowl and the head. As an external seal, it is designed to prevent any fuel from contaminating the environment.
The Racor body seal offers high durability and excellent levels of vibration resistance. Moreover, the seal provides high chemical compatibility and, of particular importance, can operate safely across a wide temperature range. These design attributes are important, as if the materials cannot survive in different grades of fuel at different temperatures then serious consequences are likely to result.
The use of a patented filter element on the Transit assures Ford and fleet maintainers that a quality product is being fitted, reducing worries about warranty claims and performance issues/engine damage due to selecting an inferior part. Put simply, Racor replacement filter elements for the Ford Transit are specifically designed to remove the amount of dirt required to protect the injector, i.e. 99% of particles down to 4 µm. Buying a counterfeit product puts this performance level in jeopardy. Parker Racor has worked hard on the specification with Ford to achieve the necessary technical needs, as well as the dirt-loading and long-term testing requirements.
For more information contact Lisa de Beer, Parker Hannifin SA, +27 11 961 0700, lisa.debeer@parker.com, www.parker.com/za
Credit(s)
Further reading:
Listening to the Voice of the Machine
April 2019, Parker Hannifin Sales Company South , IT in Manufacturing
The value of discrete IoT.
Read more...
---
Hoses and fittings for water blasting
April 2019, Parker Hannifin Sales Company South , Pressure Measurement & Control
Water blasting is the use of water with high pressure and high speed to clean and treat various surfaces. It can also be used to cut through different solid materials like steel and concrete. The advantage 
...
Read more...
---
Case History 165: Interesting tests on loop problems show how much can be deduced from the results.
March 2019, Michael Brown Control Engineering , Motion Control & Drives
I have published many articles showing problems in control loops with figures showing the tests conducted to determine the problems. This time, by way of a change, I would like to suggest that readers 
...
Read more...
---
The automated chameleon tongue
March 2019, Festo , Motion Control & Drives
Festo's adaptive gripper can pick up anything.
Read more...
---
Energy-saving irrigation methods
March 2019, Zest WEG Group , Motion Control & Drives
Anyone within the agricultural sector will know that operating an irrigation system can be expensive, with one of the primary factors being the cost of energy. The good news is that there are ways to 
...
Read more...
---
Flexible drive control
March 2019, Festo , Motion Control & Drives
Servo drive and servo motor as a complete system.
Read more...
---
Safety exhaust valve for emergency stop
March 2019, Parker Hannifin Sales Company South , IS & Ex
Parker Hannifin has introduced a new safety exhaust valve that rapidly exhausts compressed air in the event of a fault condition or when a machine has an emergency stop. The P33 is designed for two-channel 
...
Read more...
---
Bag-in-Box technology just got faster
February 2019, Beckhoff Automation , Motion Control & Drives
Beckhoff's control architecture provides best solutions for local machine builder.
Read more...
---
Conveyor systems for grain applications
February 2019 , Motion Control & Drives
BLTWorld offers dependable solutions for specific problems at the transfer points of conveyor systems in bulk materials handling, for example, grain in the food and beverage industry. "ScrapeTec Trading's 
...
Read more...
---
Unobtrusive approach to digitalisation
February 2019, Parker Hannifin Sales Company South , IT in Manufacturing
As Industry 4.0 continues to unfold, increasing numbers of manufacturers, big and small, are seeking the best opportunities to increase the automation of their industrial processes and improve productivity. 
...
Read more...
---