printer friendly version
Wireless and telemetry by Omniflex
March 2019
Industrial Wireless
Wireless telemetry in plants is a necessity for the data acquisition requirements of modern process efficiency and compliance monitoring. However, cabling costs often push the economic viability of such data acquisition projects onto the list of pending plant capex. The benefit of having the data is undeniable, but often too expensive to implement. Wireless communications provide a cost-effective solution, and the technology is improving all the time.
The wireless spectrum is controlled, requiring a licence to use a specified frequency and transmitter power. However, licence-free bands have been allocated worldwide to cater for wireless equipment. These bands allow vendors to supply devices subject to rules on power and duty cycles, ensuring the sharing of these bands by different equipment.
Wireless licence-free bands are extremely attractive for cable saving in industrial plants. WiFi can be used for very short-range applications and is free to use in the 2,4 GHz band, most commonly. Where more range is required, other licence-free bands like 868 MHz are employed for data transmission. These vary from country to country as legislated for the radio spectrum and are power restricted, usually in the mW range. Distances of up to 20 km are not uncommon with these low power transceivers and the Omniflex Teleterm range offers compliant frequency options to suit the global market.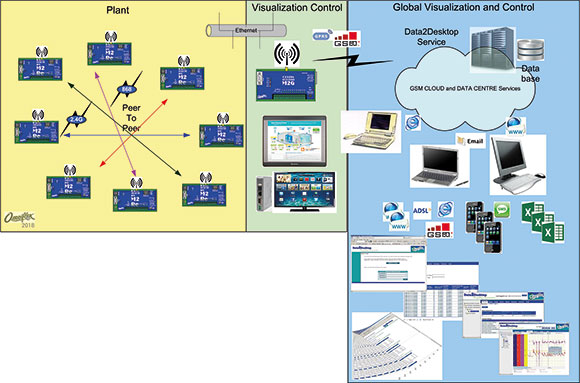 Benefits include:
• Programmable IEC61131.
• Local and remote control.
• Ethernet integration standard.
• Mixed analog and digital signal on a single RTU.
• HMI integration.
• Peer to peer for better reliability (no master).
• Channel selection options.
• SD logging.
For more information contact Ian Loudon, Omniflex Remote Monitoring Specialists, +27 31 207 7466, sales@omniflex.com, www.omniflex.com
Credit(s)
Further reading:
Alarm visualisation by Omniflex
April 2019, Omniflex Remote Monitoring Specialists , Operator Interfaces, Switches & Relays
Plant diagnostics is a key element to ongoing plant reliability and productivity. Identifying some plant abnormalities is akin to spotting an individual animal in a herd of moving animals. It is dynamic 
...
Read more...
---
Surface collision avoidance system
March 2019, Becker Mining South Africa , Industrial Wireless
Becker Mining South Africa's advanced safety device, the intelligent collision avoidance system (ICAS), provides situational awareness to ensure optimum safety on construction sites, open-pit mines and 
...
Read more...
---
Contact in to contact out over fibre optic cable
February 2019, Omniflex Remote Monitoring Specialists , IS & Ex
The Omniterm FCT and FCR modules provide the ability to send a digital contact signal up to 4 km over a single optical fibre. When the contact on the FCT transmitter module is closed, the relay output 
...
Read more...
---
Omniflex's voice alarms
January 2019, Omniflex Remote Monitoring Specialists , Operator Interfaces, Switches & Relays
Alarm overload is an issue most control rooms must deal with on an ongoing basis and relieving the situation is a priority for most process engineering professionals. Much of the burden has been caused 
...
Read more...
---
Wireless kit simplifies rotating equipment monitoring
January 2019, Turck Banner , Industrial Wireless
Banner's new Wireless Solutions Kit for vibration monitoring is a fully integrated and easy-to-use solution for monitoring assets with rotating motion. It is designed to make it easy for users of any 
...
Read more...
---
Versatile wireless telemetry solutions
January 2019, Mimic Components , Industrial Wireless
Novus' FieldLogger is a versatile, powerful and cost-effective data-logger handling analog, digital and other types of variable with high resolution and speed. It is a high-performance and high-connectivity 
...
Read more...
---
Ongoing evolution for Booyco proximity detection systems
December 2018, Booyco Electronics , Industrial Wireless
In line with the Mine Health and Safety Act's regulations on machinery and equipment, the onus is on mines to ensure that their proximity detection systems (PDSs) are 'fit for purpose' when it comes to 
...
Read more...
---
Omniflex's satellite communications
December 2018, Omniflex Remote Monitoring Specialists , Industrial Wireless
Remote monitoring requires the usage of the most suitable communications infrastructure available at the remote location. While GSM networks are ubiquitous they do not always provide complete coverage, 
...
Read more...
---
Booyco VLF technology makes mines safer
November 2018, Booyco Electronics , Industrial Wireless
The application of very low frequency (VLF) technology in the development of underground safety equipment is an important step towards achieving the mining sector's objective of zero harm, according to 
...
Read more...
---
RFID technology used in automated tomato harvesting
November 2018, SICK Automation Southern Africa , Industrial Wireless
Radio frequency identification (RFID) technology is increasingly found in food tracing as technology improves. Implementing RFID is not uncommon in the case of large containers containing raw products 
...
Read more...
---