printer friendly version
Energy-saving irrigation methods
March 2019
Motion Control & Drives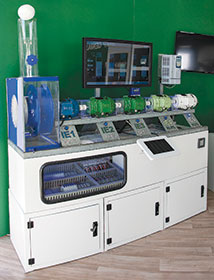 Anyone within the agricultural sector will know that operating an irrigation system can be expensive, with one of the primary factors being the cost of energy. The good news is that there are ways to reduce costs and achieve savings.
Significant efficiency can be realised by leveraging available technology to provide an appropriate electric motor and variable speed drive (VSD) combination that reduce costs while providing reliable performance. WEG's IE3 Top Premium Efficiency motors and VSDs are designed for that purpose.
As a supplier with a solid track record in irrigation applications, the Zest WEG Group can provide examples to show how energy costs can be reduced. In a pivot pump application, which operates for 4000 hours in a single year – two planting cycles – it was possible to do a comparison between a standard efficiency IE1 motor (91% Eff) and a premium efficiency WEG IE3 motor.
WEG IE3 Top Premium Efficiency motors not only offer maximum ingress protection with a higher winding insulation system to increase motor life expectancy, but also offer efficiencies of up to 96,6% and benefits are apparent when compared against IE1 standard efficiency motors. Using a 22 kW 2 Pole at 75% of full load IE1 motor with an efficiency of 91%, measured against a WEG IE3 motor with 93% efficiency, estimated savings of R2100 per year at the current tariff will be achieved.
Much higher savings can also be realised by using a WEG VSD in combination with a WEG motor. An IE1 electric motor, again operating for 4000 hours per year at 91% efficiency, will consume about R93 800 worth of energy, using old valve-based methods to throttle and reduce the output of water volume and/or pressure. The same could be achieved using a VSD to reduce the motor speed while simultaneously further reducing the energy used when compared to running the motor direct online from a power source.
If a 10% reduction in operational speed using the VSD is assumed, further savings of 22% to 27% could be achieved.
Credit(s)
Further reading:
Drive configuration made easy
November 2020, Nidec Control Techniques , Motion Control & Drives
Nidec Control Techniques prides itself on offering free software for commissioning, optimising and monitoring drive/system performance.
Read more...
---
Sinumerik One Dynamics for motion control
November 2020, Siemens Digital Industries , Motion Control & Drives
Siemens has launched three powerful technology packages exclusively for the CNC Sinumerik One.
Read more...
---
Heavy-duty wedge belts
November 2020, Bearing Man Group t/a BMG , Motion Control & Drives
Fenner Quattro Plus Twin Wrap wedge belts transmit 30% more power than conventional belts.
Read more...
---
30 years of linear motion technology
November 2020 , Motion Control & Drives
This year, factory automation specialist Bosch Rexroth celebrates 30 years of linear motion technology and innovation.
Read more...
---
Cooling VSDs with inertial spin filters
November 2020, RTS Africa Technologies , Motion Control & Drives
RTS inertial spin filter units are compact and easy to install and RTS Africa offers full service from conceptual design to ongoing support as required.
Read more...
---
Omron launches HD-1500 mobile robot
November 2020, Omron Electronics , Motion Control & Drives
Industry-leading HD-1500 expands the possibilities for autonomous material transport.
Read more...
---
BMG installs Danfoss VSDs to improve energy efficiency on farms
November 2020, Danfoss , Motion Control & Drives
BMG's Boer Slim/Smart Farming agricultural team works closely with farmers, assisting them with the selection and operation of new electromechanical systems.
Read more...
---
What is adaptive acceleration control?
November 2020 , Motion Control & Drives
Adaptive acceleration control (AAC) is a new soft start control type that allows the selection of different acceleration and deceleration profiles according to application needs.
Read more...
---
Danfoss efficiencies help South African farmers to free up energy and achieve production goals
October 2020, Danfoss , Motion Control & Drives
Danfoss, together with engineering components provider BMG, supplied a commercial maize farmer with the technology to combat challenges around irrigation sufficiency.
Read more...
---
Energy efficient drive technology for the mining industry
October 2020, Danfoss , Motion Control & Drives
The mining industry must forgo its traditional energy consumption patterns in a bid to ensure that the sector de-carbonises towards a greener and more sustainable method of extraction.
Read more...
---