printer friendly version
Energy-saving irrigation methods
March 2019
Motion Control & Drives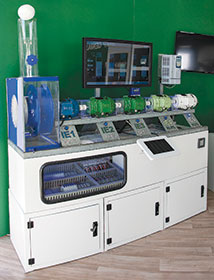 Anyone within the agricultural sector will know that operating an irrigation system can be expensive, with one of the primary factors being the cost of energy. The good news is that there are ways to reduce costs and achieve savings.
Significant efficiency can be realised by leveraging available technology to provide an appropriate electric motor and variable speed drive (VSD) combination that reduce costs while providing reliable performance. WEG's IE3 Top Premium Efficiency motors and VSDs are designed for that purpose.
As a supplier with a solid track record in irrigation applications, the Zest WEG Group can provide examples to show how energy costs can be reduced. In a pivot pump application, which operates for 4000 hours in a single year – two planting cycles – it was possible to do a comparison between a standard efficiency IE1 motor (91% Eff) and a premium efficiency WEG IE3 motor.
WEG IE3 Top Premium Efficiency motors not only offer maximum ingress protection with a higher winding insulation system to increase motor life expectancy, but also offer efficiencies of up to 96,6% and benefits are apparent when compared against IE1 standard efficiency motors. Using a 22 kW 2 Pole at 75% of full load IE1 motor with an efficiency of 91%, measured against a WEG IE3 motor with 93% efficiency, estimated savings of R2100 per year at the current tariff will be achieved.
Much higher savings can also be realised by using a WEG VSD in combination with a WEG motor. An IE1 electric motor, again operating for 4000 hours per year at 91% efficiency, will consume about R93 800 worth of energy, using old valve-based methods to throttle and reduce the output of water volume and/or pressure. The same could be achieved using a VSD to reduce the motor speed while simultaneously further reducing the energy used when compared to running the motor direct online from a power source.
If a 10% reduction in operational speed using the VSD is assumed, further savings of 22% to 27% could be achieved.
Credit(s)
Further reading:
A game changer for MCCs
April 2019, Zest WEG Group , News
The replacement of steel by aluzinc in the manufacture of Shaw Controls' motor control centres (MCCs) is giving a range of benefits to the company's customers. "Traditionally we used only steel for our 
...
Read more...
---
VSDs drive cost saving in pumping systems
April 2019, Zest WEG Group , Electrical Power & Protection
WEG variable speed drives (VSDs) offer the agricultural sector the ability to reduce the operating cost on automated water collection systems with a reduction in motor energy consumption when the motor 
...
Read more...
---
Case History 165: Interesting tests on loop problems show how much can be deduced from the results.
March 2019, Michael Brown Control Engineering , Motion Control & Drives
I have published many articles showing problems in control loops with figures showing the tests conducted to determine the problems. This time, by way of a change, I would like to suggest that readers 
...
Read more...
---
The automated chameleon tongue
March 2019, Festo , Motion Control & Drives
Festo's adaptive gripper can pick up anything.
Read more...
---
Quality in aftermarket fuel filters
March 2019, Parker Hannifin Sales Company South , Motion Control & Drives
When it comes to replacing the fuel filter element on a light commercial vehicle, such as the Ford Transit, Parker Racor ensures the job is simple, fast and foolproof, thanks to a patented compound bayonet 
...
Read more...
---
Flexible drive control
March 2019, Festo , Motion Control & Drives
Servo drive and servo motor as a complete system.
Read more...
---
Bag-in-Box technology just got faster
February 2019, Beckhoff Automation , Motion Control & Drives
Beckhoff's control architecture provides best solutions for local machine builder.
Read more...
---
Conveyor systems for grain applications
February 2019 , Motion Control & Drives
BLTWorld offers dependable solutions for specific problems at the transfer points of conveyor systems in bulk materials handling, for example, grain in the food and beverage industry. "ScrapeTec Trading's 
...
Read more...
---
Bosch Rexroth introduces latest transfer system
February 2019, Tectra Automation , Motion Control & Drives
By optimising existing components and integrating new modules into its TS 5 conveyor system for heavy loads, Bosch Rexroth has enhanced its already impressive flexibility to meet the requirements of an 
...
Read more...
---
One machine control over EtherCAT
February 2019, Omron Electronics , Motion Control & Drives
Manufacturing is changing. Production lines need to be increasingly flexible to cope with shorter production runs, more varied products and tighter deadlines. Manufacturers are addressing these challenges 
...
Read more...
---