printer friendly version
The Fluke 810 vibration tester for condition monitoring
February 2019
Maintenance, Test & Measurement, Calibration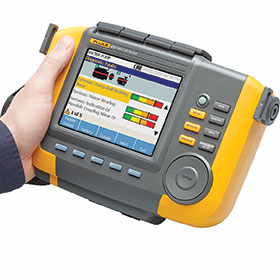 Vibration, on a basic level, is just an oscillation of machines and components in motorised equipment. Sometimes it is a symptom or even a cause of trouble; other times, it is part of normal machine operation. Oscillating sanders and vibratory tumblers, for example, rely on vibration in order to function. In internal combustion engines and gear drives, vibration is to an extent unavoidable. However, most devices are engineered to avoid vibration. Left unchecked, vibration can cause damage or deterioration to equipment over time.
A number of factors can cause vibration. Unbalance occurs when a 'heavy spot' develops in a rotating component. The effects of unbalance increase along with machine speed and can reduce bearing life or cause machine vibration. Misalignment or shaft runout is when machine shafts are not in line. This can happen during assembly, or develop over time as a result of thermal expansion, shifting components or improper reassembly following maintenance. Vibration can be radial, axial or both. Wear can produce vibration when components such as bearings, drive belts or gears become worn or damaged. A heavily worn or chipped gear tooth, for example, can cause vibration. If a vibrating component has loose bearings or is loosely attached to its mounts, it can become destructive through added wear and fatigue.
Vibration can accelerate machine wear, consume excess power and result in other severe side effects such as safety problems and worsened plant working conditions. It can even damage equipment to the extent that it must be taken out of service, halting plant production.
When measured and analysed properly, however, vibration can play an important role in preventive maintenance programmes. It can serve as an indicator of machine condition and allow plant maintenance professionals to act before damage or disaster strike. When analysing vibration, variables such as direction (fradial or axial) and amplitude (severity) should be taken into account. Another factor to consider is frequency, which is how often the machine moves back and forth as a result of the factors that are causing the vibration.
It is important for plant maintenance professionals to be able to tell when vibration is normal and when vibration signals a need for immediate attention. Equipped with a basic understanding of vibration and its causes, along with the Fluke 810 Handheld Vibration Tester, plant maintenance professionals can quickly and reliably find the root and the severity of machine vibration and determine whether there is cause for service or repair.
The Fluke 810 Handheld Vibration Tester provides information on equipment, without requiring extensive monitoring over the long term. The advanced handheld device is designed and programmed to discover and diagnose common mechanical problems. It can detect vibration along three planes of movement and provide a plain text diagnosis with a recommended solution.
The Fluke 810 helps maintenance professionals determine machine condition and get to the root of problems quickly. It fills the gap between high-end, complex vibration analysers, and low-end vibration pens, which sacrifice accuracy for cost and ease of use. The Fluke 810 offers the diagnostic capabilities of the high-end analysers, along with the speed and convenience of the lower-end testers, at a reasonable price. It is programmed to diagnose unbalance, looseness, misalignment and more, and can be used to test a wide variety of mechanical equipment, including motors, fans, blowers, drives, gearboxes, couplings, pumps, compressors and spindles.
More than just a vibration detector, the 810 offers maintenance professionals comprehensive diagnostics and problem solving. The diagnostic technology analyses machine condition and identifies faults by comparing vibration data to an extensive set of rules and algorithms developed over years of field experience. It determines fault severity by simulating a fault-free condition and establishing a baseline for instant comparison to gathered data. Thus every measurement is essentially compared to a 'like new' machine.
When a fault is detected, the Fluke 810 identifies the problem, along with its location and severity, in order to help maintenance professionals prioritise necessary maintenance tasks. It also recommends repairs and uses context-sensitive on-board help to provide users with guidance and tips in real time. This precision allows maintenance teams to act when needed to keep mechanical equipment in peak condition and to keep facilities productive.
For more information contact Comtest, +27 10 595 1821, sales@comtest.co.za, www.comtest.co.za
Credit(s)
Further reading:
Calibration in times of digitalisation
Technews Industry Guide: Industrial Internet of Things & Industry 4.0, QTEK Instrumentation & Calibration Solutions , Maintenance, Test & Measurement, Calibration
Factors that will play a role in the future, will be explained, step by step, in this paper.
Read more...
---
Ready for Maintenance 4.0
Technews Industry Guide: Industrial Internet of Things & Industry 4.0, Phoenix Contact , Maintenance, Test & Measurement, Calibration
How errors can be minimised and time saved through smart maintenance and augmented reality.
Read more...
---
Increased plant availability through optimal management of field devices
Technews Industry Guide: Industrial Internet of Things & Industry 4.0, Endress+Hauser , Maintenance, Test & Measurement, Calibration
As a complete provider for process sensory mechanisms, the company has accumulated decades of expertise with a strong range of solutions and services. The new online services enable it to link this expertise 
...
Read more...
---
Oil and gas reduces downtime through plant-wide visibility
Technews Industry Guide: Industrial Internet of Things & Industry 4.0, Rockwell Automation , Maintenance, Test & Measurement, Calibration
A key contributor in the quest to reach zero unplanned downtime is healthy equipment – like pumps – achieved through monitoring and maintenance. The company's pipeline supplies the interior areas of 
...
Read more...
---
New sonic industrial imager
July 2019, Comtest , Motion Control & Drives
Fluke's new ii900 is a handheld sonic industrial imager that enables maintenance teams to quickly and accurately locate air, steam, gas and vacuum leaks in compressed air systems. The straightforward, 
...
Read more...
---
Infrared inspection windows on ships
June 2019, R&C Instrumentation , Maintenance, Test & Measurement, Calibration
Infrared thermography is a widely-accepted preventive maintenance technology, both for land-based and maritime applications. Electromechanical assets like motors, especially on ships where both vibration 
...
Read more...
---
Vibration tester for rotating ­machinery
June 2019, Comtest , Maintenance, Test & Measurement, Calibration
Vibration in rotating machinery is the oscillation of machine components such as drive motors, driven devices (pumps, compressors, etc), and the bearings, shafts, gears, belts and other elements that 
...
Read more...
---
Effective day-to-day monitoring of essential assets
June 2019, Emerson Automation Solutions , Maintenance, Test & Measurement, Calibration
Efficient operation of essential assets is key in achieving productivity and operational targets. Facilities, manufacturers, operators, and producers can move forward in planning for their output by having 
...
Read more...
---
Handheld control valve tester
June 2019, Comtest , Sensors & Transducers
In the past, control valve testing meant using complicated testers that required extensive training, the removal of the valve, and often one-to-two hours of test time on the bench. Comtest is therefore 
...
Read more...
---
The Heartbeat of plant processes
May 2019, Endress+Hauser , Maintenance, Test & Measurement, Calibration
Self-diagnostics and predictive maintenance.
Read more...
---