printer friendly version
Steam system inspection technology
February 2019
Maintenance, Test & Measurement, Calibration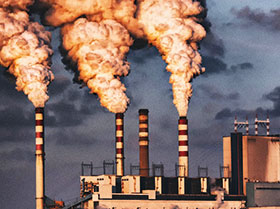 Steam is used to heat raw materials and treat semi-finished products. It is also a power source for equipment, as well as for heat and electricity generation. But steam is not free. Annually, it costs millions to feed the generation boilers.
Generally speaking, steam is an efficient way to transport heat energy because the amount of latent heat required to produce steam from water is quite large, and it is easily moved in pressurised piping systems that can deliver that energy at manageable costs. When steam gets to its point of use and gives up its latent heat to a process, it condenses into water, which must be returned to the boiler for re-conversion to steam.
Several condition-monitoring technologies are useful for monitoring steam systems to determine how well they are functioning. Among those technologies is infrared (IR) thermography, in which technicians use thermal imagers to capture two dimensional images of the surface temperatures of equipment and structures.
Thermal images of steam systems reveal the comparative temperatures of system components and thereby indicate how effectively steam system components are operating.
What to check
Using a combination of ultrasound and thermal inspection significantly increases the detection rate of problems in steam systems. Check all steam traps and steam transmission lines, including any underground lines. In addition, scan heat exchangers, boilers and steam-consuming equipment. In other words, examine every part of the steam system with a thermal imager.
Steam traps are valves designed to remove condensate as well as air from the system. During inspections, use both thermal and ultrasonic testing to identify failed steam traps, and whether they have failed open or closed. In general, if a thermal image shows a high inlet temperature and a low outlet temperature (< 100°C) that indicates that the trap is functioning correctly. If the inlet temperature is significantly less than the system temperature, steam is not getting to the trap. Look for an upstream problem – a closed valve, pipe blockage, etc. If both the inlet and outlet temperatures are the same, the trap probably has failed open and is 'blowing' steam into the condensate line. This keeps the system operating but with significant energy loss. Low inlet and outlet temperatures indicate that the trap has failed closed and condensate is filling the trap and the inlet line.
Also use the thermal imager to scan steam transmission lines for blockages, including closed valves, and underground steam lines for leaks, heat exchangers for blockages, boilers, especially their refractories and insulation, and steam-using equipment for any anomalies.
Consider creating a regular inspection route that includes all key steam-system components in the facility, so that all traps are inspected at least annually. Larger or more critical traps should be inspected more frequently, as the potential for loss is greater. Over time, this process will help determine whether a hot or relatively cool spot is unusual or not and help to verify when repairs are successful.
What represents a 'red alert'?
Water boils at 100°C making steam, which is routinely transmitted at high pressure, extremely hazardous, so any condition that poses a safety risk should take the highest repair priority. In many situations, the next most important kinds of problems to deal with are those that can affect production capabilities.
The cost to an operation that completely loses its steam system varies from industry to industry. Among the industries that use the most steam are chemicals, food and beverage processing and pharmaceuticals. If the facility has performed no maintenance of steam
traps for three to five years, expect 15 to 30 percent of the traps to have failed. So, if there are 60 medium-sized traps on the system, losses from 'blow by' are estimated to be between R0,5 million and R0,85 million annually.
To check steam trap performance, sight, sound and temperature are the dominant techniques. Implementing a basic annual inspection of the steam traps and associated equipment with infrared inspections will
likely reduce steam losses by 50-75%. A sensible approach to a steam system management programme is to establish repair priorities based on safety, steam/energy loss and possible impact on production and quality. Whenever a problem is discovered using a thermal imager, use the associated software to document the findings in a report, including a thermal image and a digital image of the equipment. It is the best way to communicate the problems found and to suggest repairs.
For more information contact Comtest, +27 10 595 1821, sales@comtest.co.za, www.comtest.co.za
Credit(s)
Further reading:
Infrared inspection windows on ships
June 2019, R&C Instrumentation , Maintenance, Test & Measurement, Calibration
Infrared thermography is a widely-accepted preventive maintenance technology, both for land-based and maritime applications. Electromechanical assets like motors, especially on ships where both vibration 
...
Read more...
---
Vibration tester for rotating ­machinery
June 2019, Comtest , Maintenance, Test & Measurement, Calibration
Vibration in rotating machinery is the oscillation of machine components such as drive motors, driven devices (pumps, compressors, etc), and the bearings, shafts, gears, belts and other elements that 
...
Read more...
---
Effective day-to-day monitoring of essential assets
June 2019, Emerson Automation Solutions , Maintenance, Test & Measurement, Calibration
Efficient operation of essential assets is key in achieving productivity and operational targets. Facilities, manufacturers, operators, and producers can move forward in planning for their output by having 
...
Read more...
---
Handheld control valve tester
June 2019, Comtest , Sensors & Transducers
In the past, control valve testing meant using complicated testers that required extensive training, the removal of the valve, and often one-to-two hours of test time on the bench. Comtest is therefore 
...
Read more...
---
The Heartbeat of plant processes
May 2019, Endress+Hauser , Maintenance, Test & Measurement, Calibration
Self-diagnostics and predictive maintenance.
Read more...
---
IIoT and electronics ­development solution
Africa Automation Fair 2019 Preview, RS Components SA , Maintenance, Test & Measurement, Calibration
XinaBox is a rapid IIoT and electronics development solution that does not require soldering or wiring, only basic coding. These plug-and-play modules are reconfigurable chips that can be used in both 
...
Read more...
---
Speedy, reliable mA loop valve testing
Africa Automation Fair 2019 Preview, Comtest , Valves, Actuators & Pump Control
Fluke's new 710 mA loop valve tester allows technicians to source the 4-20 mA signal while it interrogates HART data to collect critical information about a valve's position and status, providing quick 
...
Read more...
---
Multifunction motor-drive analysers
May 2019, RS Components SA , Maintenance, Test & Measurement, Calibration
RS Components has announced the availability of two motor-drive analysers from test and measurement maker Fluke, which help to locate and troubleshoot typical problems on inverter type motor-drive systems. The 
...
Read more...
---
Powerful electronic deadweight testers
May 2019, Comtest , Maintenance, Test & Measurement, Calibration
Comtest now offers the latest Fluke E-DWT-H electronic deadweight tester, an electronic calibrator designed to deliver traditional hydraulic deadweight tester performance with digital measurement features 
...
Read more...
---
Infrared cameras with leading edge technology
Africa Automation Fair 2019 Preview, Comtest , Temperature Measurement
The Fluke Ti450 and Ti480 PRO infrared cameras capture and display smaller temperature differences that visualise and diagnose issues, making it easier for technicians, engineers and electricians to get 
...
Read more...
---