Four questions to ask when ­choosing a vision solution
February 2019
Sensors & Transducers

printer friendly version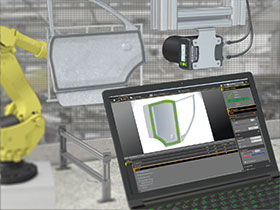 Many users find vision systems challenging and it can be difficult to know where to start, but there are some simple steps that can help to match the right vision solution to an application. This article describes four questions to ask to help clarify the application requirements.
Vision sensors and smart cameras are some of the most accessible vision technologies, especially for those just getting started with implementing vision solutions in their manufacturing processes. The following questions can help evaluate the application requirements before making a decision:
1. What is the speed of the application? It is important to verify that the vision solution is suited to the speed of the application. The more conditions that need to be inspected, the longer the inspections will take.
2. What is the distance from object to sensor? How far away from the objects will the sensor be mounted? A vision sensor should typically be mounted less than 300 mm away from the target. For further distances, a higher-end system may be required.
3. What size objects are being inspected? Make sure that the object(s) fit within the viewing window of the vision sensor. Note that vision sensors have a more limited field of view compared to more expensive vision solutions. Therefore, vision sensors work best for small parts, or assemblies with small quantities of parts. If a wider field of view is needed, a smart camera may be a better option, offering more functionality while still being easy to commission and use.
4. What conditions are being inspected? This is the question where many people struggle when getting started with vision. They know they are looking for a 'good' condition, but what counts as good? What are the true pass/fail requirements? For this, evaluate the tolerance for less than perfect parts. One way to do this is to find the 'best' bad'part and the 'worst' good part and set the tolerances for the sensor at both ends of the spectrum. Setting tolerances is essential for any vision application and will help ensure minimum wastage of parts and material through rejecting parts that should be considered passable – or allowing parts through that should have been rejected.
Next steps
After answering these questions, the next step is to try out a solution. Every vision application is unique, and it is best to try out the device under real-world conditions to make sure it works for the application. Finally, partner with a manufacturer that offers both vision sensors and smart cameras, which makes it simpler to upgrade if needed.
For more information contact Brandon Topham, Turck Banner,+27 11 453 2468, brandon.topham@turckbanner.co.za, www.turckbanner.co.za
Credit(s)
Further reading:
Large German fertiliser manufacturer reduces costs thanks to SICK Automation
February 2019, SICK Automation Southern Africa , Sensors & Transducers
Available agricultural land in Europe is limited. As a result, large quantities of fertiliser are used in order to increase yields. Producing fertiliser, however, is an energy-intensive process which 
...
Read more...
---
Traceability for tobacco manufacturer
February 2019, SICK Automation Southern Africa , Sensors & Transducers
SICK Automation South Africa recently installed 120 image-based 2D barcode readers across multiple scanning stations in a South African tobacco manufacturing plant. The cigarette manufacturer was looking 
...
Read more...
---
Hygienic limit switches for processes
February 2019, Morton Controls , Sensors & Transducers
Process and storage vessels incorporate limit switches to prevent overfilling of a tank or vessel (full indicator) or dry running of a pump (empty indicator). Anderson-Negele's NCS series are ideally 
...
Read more...
---
A new standard for digital ­inclination measurement
February 2019 , Sensors & Transducers
A new standard for digital inclination measurement has been set with the latest digital protractors from Stabila. Both the Tech 500 DP and Tech 1000 DP are manufactured exclusively in Germany, the main 
...
Read more...
---
Bromide sensor for water disinfection
February 2019, ASSTech Process Electronics + Instrumentation , Sensors & Transducers
With the expansion of its product range of membrane-covered amperometric digital sensors for liquid analysis, ASSTech now has available the Jumo tec-Line Br bromide sensor for general water disinfection 
...
Read more...
---
Wenglor expands optical sensor range
February 2019, ASSTech Process Electronics + Instrumentation , Sensors & Transducers
Wenglor's PNG/smart generation of photoelectronic sensors is distinguished by a combination of performance and communication. An aligned optical axis and a balanced switching point, as well as large switching 
...
Read more...
---
Intelligent valve sensor
February 2019, ifm Electronic RSA , Sensors & Transducers
The intelligent valve sensor for pneumatic quarter-turn actuators from ifm electronic features 360° position monitoring to allow precise and continuous scrutiny of the valve condition. Problems such as 
...
Read more...
---
Fast optical data transmission
February 2019, Countapulse Controls , Sensors & Transducers
The Leuze DDLS 500 optical data transceiver has a high optical transmission rate of 100 Mbit/s. This photoelectric sensor allows data transmission without cabling and without interference. Gerry Bryant, 
...
Read more...
---
Speed sensor with IO-Link
February 2019, ifm Electronic RSA , Sensors & Transducers
The new range of speed sensors from ifm electronic has the evaluation electronics integrated into the sensor housing. This allows for low cost and easy monitoring or rotating, as well as linear movements 
...
Read more...
---
Collision avoidance in reverse gear
January 2019, ifm Electronic RSA , Sensors & Transducers
To avoid collisions during manoeuvring, ifm electronic offers an automatic collision avoidance system: a 3D camera mounted at the back of a vehicle monitors the rear area, detects objects in the travel 
...
Read more...
---