printer friendly version
One machine control over EtherCAT
February 2019
Motion Control & Drives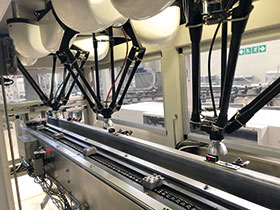 Manufacturing is changing. Production lines need to be increasingly flexible to cope with shorter production runs, more varied products and tighter deadlines. Manufacturers are addressing these challenges with more advanced, interconnected and intelligent systems that can be programmed to handle a variety of tasks.
This has brought new challenges, such as how to program all these devices without needing to learn many different systems and programming languages. Fortunately, there are tools out there such as Omron's Sysmac Studio that offer fully integrated development environments (IDE) for configuration, programming, monitoring and 3D simulations. The machine controller used comes standard with built-in EtherCAT.
The EtherCAT network can be accessed with one connection and is the perfect match between fast real-time machine control and data plant management.
"One machine control over EtherCAT through one connection and one software is how we define Omron's Sysmac automation platform," notes Omron product manager, Evert Janse van Vuuren. Omron's EtherCAT solutions include products for logic, motion, safety, robotics, vision, information, visualisation and networking, all under one software.
Accurate positional information over EtherCAT
Recently, Omron partnered with an OEM, one of the top three end of line machine solution providers in Africa, to install a system at a multinational end user plant. The customer required an automated solution to the current manual packing method currently being used. It was suggested by the Omron product manager that the company should deploy Omron Delta robots to pick and place the bottles from a moving puck conveyor and precisely pack the bottles onto a moving tray.
With no vision system being used, it was decided to use two servo systems for feedback on the position of the trays and the pucks.
"The robots synchronise with latched positional data from both the puck and the tray conveyor systems and pick and place relying on the accurate positional information coming from the EtherCAT network," explains Janse van Vuuren.
The pick and place robotics machine is one of five smart machines that complete this specific line. The bottles are filled, labelled and inspected before the Omron robotics system pick and place the filled bottles into pack trays. The final product is filled roll-on bottles that are shrink wrapped at the last machine in sets of six, to be transported to the distribution facility, from where it is sent to various selling points.
What makes this so remarkable is the seamless integration between Sysmac and EtherCAT that results in the extraordinary speed and accuracy of the system, which provides a complete automated solution to the packaging of bottles, directly from the tray, after being filled.
For this specific project, three Delta robots were used, each having three EtherCAT servo axes controlled as a group. The communications network used between the servo axes and the master robotics controller is EtherCAT.
"At Omron, EtherCAT is used because of its network speed," concludes Janse van Vuuren. "EtherCAT offers high speed communications between the master controller and actuators or sensors, which is crucial in motion control and robotic applications."
Credit(s)
Further reading:
Steierl-Pharma uses smart cameras to modernise its labelling processes
Omron Electronics Sensors & Transducers
Steierl-Pharma of Herrsching, Germany, relies on the support of Omron automation experts for state-of-the-art labelling technology. By using a new labelling system with smart camera technology, the company 
...
Read more...
---
ABB robotics offers a taste of the future
ABB South Africa Motion Control & Drives
Food and beverage manufacturers increasingly need more flexibility on their production lines to enable them to adapt to changing consumer tastes and demands.
Read more...
---
BMG extends bearing portfolio
Bearing Man Group t/a BMG Motion Control & Drives
BMG's bearings portfolio has been enriched with the addition of the new RN series, launched recently by leading global bearing manufacturer, Rexnord.
Read more...
---
Omron's Sysmac Studio 3D Simulation Integrated Development Environment boosts productivity
Omron Electronics Motion Control & Drives
Logic, motion, robotics, HMI, vision, sensing, safety and 3D simulation are all integrated within a single platform.
Read more...
---
2-channel EtherCAT motion interface
Beckhoff Automation Motion Control & Drives
Flexible and cost-effective stepper motor terminal with 6 A total current.
Read more...
---
Omron launches new laser sensor
Omron Electronics Sensors & Transducers
New sensing technology detects difficult targets and reduces the need for complex installation design.
Read more...
---
Conveyor chain for special applications
Bearing Man Group t/a BMG Motion Control & Drives
BMG's comprehensive range of power transmission components incorporates ZMC industrial conveyor chains that offer dependable service in diverse applications, especially in food production.
Read more...
---
BMG'S Nord IE5+ motor generation
Bearing Man Group t/a BMG Motion Control & Drives
BMG and German precision engineers, Getriebebau Nord, entered a partnership agreement in 1996 to assemble, distribute and support Nord Drive Systems throughout southern Africa.
Read more...
---
Get full value from factory floor data with data sciences
Omron Electronics IT in Manufacturing
Valuable information needs to be extracted from the data and presented to the right audience, at the right time and in the right way.
Read more...
---
Omron joins The Valuable 500
Omron Electronics News
The Valuable 500 aims to get leaders of multinational companies to bring about changes in business, society and the economy so that persons with disabilities can realise their true potential.
Read more...
---