printer friendly version
One machine control over EtherCAT
February 2019
Motion Control & Drives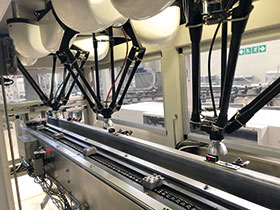 Manufacturing is changing. Production lines need to be increasingly flexible to cope with shorter production runs, more varied products and tighter deadlines. Manufacturers are addressing these challenges with more advanced, interconnected and intelligent systems that can be programmed to handle a variety of tasks.
This has brought new challenges, such as how to program all these devices without needing to learn many different systems and programming languages. Fortunately, there are tools out there such as Omron's Sysmac Studio that offer fully integrated development environments (IDE) for configuration, programming, monitoring and 3D simulations. The machine controller used comes standard with built-in EtherCAT.
The EtherCAT network can be accessed with one connection and is the perfect match between fast real-time machine control and data plant management.
"One machine control over EtherCAT through one connection and one software is how we define Omron's Sysmac automation platform," notes Omron product manager, Evert Janse van Vuuren. Omron's EtherCAT solutions include products for logic, motion, safety, robotics, vision, information, visualisation and networking, all under one software.
Accurate positional information over EtherCAT
Recently, Omron partnered with an OEM, one of the top three end of line machine solution providers in Africa, to install a system at a multinational end user plant. The customer required an automated solution to the current manual packing method currently being used. It was suggested by the Omron product manager that the company should deploy Omron Delta robots to pick and place the bottles from a moving puck conveyor and precisely pack the bottles onto a moving tray.
With no vision system being used, it was decided to use two servo systems for feedback on the position of the trays and the pucks.
"The robots synchronise with latched positional data from both the puck and the tray conveyor systems and pick and place relying on the accurate positional information coming from the EtherCAT network," explains Janse van Vuuren.
The pick and place robotics machine is one of five smart machines that complete this specific line. The bottles are filled, labelled and inspected before the Omron robotics system pick and place the filled bottles into pack trays. The final product is filled roll-on bottles that are shrink wrapped at the last machine in sets of six, to be transported to the distribution facility, from where it is sent to various selling points.
What makes this so remarkable is the seamless integration between Sysmac and EtherCAT that results in the extraordinary speed and accuracy of the system, which provides a complete automated solution to the packaging of bottles, directly from the tray, after being filled.
For this specific project, three Delta robots were used, each having three EtherCAT servo axes controlled as a group. The communications network used between the servo axes and the master robotics controller is EtherCAT.
"At Omron, EtherCAT is used because of its network speed," concludes Janse van Vuuren. "EtherCAT offers high speed communications between the master controller and actuators or sensors, which is crucial in motion control and robotic applications."
Credit(s)
Further reading:
Smart devices for Ex areas: Unbelievably simple mistakes that prevent control.
September 2019, Michael Brown Control Engineering , Editor's Choice, Motion Control & Drives
I am often astounded by finding really basic problems with controls in plants, which have operated that way for years. These problems are so basic that one can only wonder at how these controls could 
...
Read more...
---
DLM V-Drives
September 2019, Dupleix Liquid Meters (DLM) , Motion Control & Drives
DLM V-Drives control the latest generation of permanent magnet and standard induction motors. DLM offers the AMC (advanced motor control) and EPC (efficient pump control) V-Drives, which are available 
...
Read more...
---
Complete drive solutions to boost efficiency and cut costs
September 2019, SEW-Eurodrive , Motion Control & Drives
The importance of the sugar industry in KwaZulu-Natal to SEW-Eurodrive as a key growth area for its complete drive solutions was underscored when it exhibited at the Congress of the South African Sugar 
...
Read more...
---
RS announces drive controller kit
September 2019, RS Components SA , Motion Control & Drives
RS Components has announced the launch of the K4 Drive System Development Kit (K4DSDK) from ebm-papst, one of the world's leading manufacturers of high-efficiency fan and motor drive products. Targeting 
...
Read more...
---
Feed mill project relies on SEW-Eurodrive
August 2019, SEW-Eurodrive , Motion Control & Drives
SEW-Eurodrive has supplied 120 geared motors to Dalein Agriplan for a customised 100 tph feed mill for a major beef producer in the Free State. This is not only one of the largest single projects undertaken 
...
Read more...
---
Dust solutions for conveyor systems in bulk handling
August 2019 , Motion Control & Drives
BLTWorld works closely with ScrapeTec, to offer advanced solutions for conveyor systems used in the handling of materials with excessive dust. "AirScrape, TailScrape and DustScrape have been developed 
...
Read more...
---
Case History 167: Test your analytical capabilities
July 2019, Michael Brown Control Engineering , Editor's Choice, Motion Control & Drives
Answer to the question at the end of Case History 166 (
www.instrumentation.co.za/8690r
) In the last Case History article, I suggested you try and see what was not so good about a level control, which 
...
Read more...
---
Innovation and intelligence for smart manufacturing
Technews Industry Guide: Industrial Internet of Things & Industry 4.0, Omron Electronics , IT in Manufacturing
Adaptive algorithms offer new ways to optimise production lines.
Read more...
---
BMG drives sewage and effluent management
July 2019, Bearing Man Group t/a BMG , Motion Control & Drives
BMG supplies a range of drives designed specially for optimum efficiency in sewage treatment applications. "Nord drives, which consist of Unicase helical shaft mount geared motors, have special features 
...
Read more...
---
Bauer motors for water treatment plants
July 2019 , Motion Control & Drives
According to Bearings International (BI) electric motors product manager Lewis Hiepner, the arduous operating conditions at water-treatment plants mean that the motors specified not only have to be high-efficiency, 
...
Read more...
---