printer friendly version
Bosch Rexroth introduces latest transfer system
February 2019
Motion Control & Drives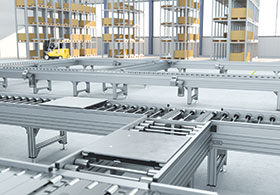 By optimising existing components and integrating new modules into its TS 5 conveyor system for heavy loads, Bosch Rexroth has enhanced its already impressive flexibility to meet the requirements of an even broader range of industry sectors. The new capabilities include tandem transport for oversized cargo, which is of particular importance to users in the automotive sector. The TS 5 can now also connect with i4.0 tools, to visualise production processes in real-time, and, with the MTpro design planning tool, can achieve any layout for loads of over 400 kg.
In the latest generation, Bosch Rexroth has expanded on the roller conveyor system's known strengths by developing new modules that users can combine in any configuration they choose. With the new conveyor, customers can now integrate a 3-way diverter, a rotate unit, a front-end drive, and a compact stop gate into the final system. For larger components, the tandem transport capability allows for the transfer of excessively long products.
The upgrades provide the user with even more flexibility when designing their individual system layout and make the TS 5 the ideal solution in a broad range of industry sectors. Other advantages, such as ESD capability, suitability for abrasive or oily environments, or use in a dry room, further enhance the variety of applications optimised by the conveyor system.
Compared with standard chain drives, the system's king shaft drive and the conveyor rollers allow customers to experience virtually maintenance-free production, with low wear and increased productivity.
Transfer system meets Industry 4.0
The conveyor also sets a benchmark in terms of digitalisation: the system can be seamlessly connected to other Rexroth solutions such as the ActiveCockpit. The interactive communication platform processes and displays manufacturing data in real time. Parameters such as energy efficiency, cycle time and work piece pallet tracking can be measured and visualised for greater transparency and more efficient production processes.
Finally, the MTpro project planning tool simplifies every part of the project with its easy layout design, automated order lists and links to the product catalogue and assembly instructions. This means that the transfer system can be planned and implemented even faster, further shortening time to market for manufacturers who depend on TS 5.
For more information contact Jonathan Narainsamy, Tectra Automation, +27 11 971 9400, jonathan.narainsamy@tectra.co.za, www.hytecgroup.co.za
Credit(s)
Further reading:
Case History 165: Interesting tests on loop problems show how much can be deduced from the results.
March 2019, Michael Brown Control Engineering , Motion Control & Drives
I have published many articles showing problems in control loops with figures showing the tests conducted to determine the problems. This time, by way of a change, I would like to suggest that readers 
...
Read more...
---
The automated chameleon tongue
March 2019, Festo , Motion Control & Drives
Festo's adaptive gripper can pick up anything.
Read more...
---
Energy-saving irrigation methods
March 2019, Zest WEG Group , Motion Control & Drives
Anyone within the agricultural sector will know that operating an irrigation system can be expensive, with one of the primary factors being the cost of energy. The good news is that there are ways to 
...
Read more...
---
Quality in aftermarket fuel filters
March 2019, Parker Hannifin Sales Company South , Motion Control & Drives
When it comes to replacing the fuel filter element on a light commercial vehicle, such as the Ford Transit, Parker Racor ensures the job is simple, fast and foolproof, thanks to a patented compound bayonet 
...
Read more...
---
Flexible drive control
March 2019, Festo , Motion Control & Drives
Servo drive and servo motor as a complete system.
Read more...
---
Bag-in-Box technology just got faster
February 2019, Beckhoff Automation , Motion Control & Drives
Beckhoff's control architecture provides best solutions for local machine builder.
Read more...
---
Conveyor systems for grain applications
February 2019 , Motion Control & Drives
BLTWorld offers dependable solutions for specific problems at the transfer points of conveyor systems in bulk materials handling, for example, grain in the food and beverage industry. "ScrapeTec Trading's 
...
Read more...
---
One machine control over EtherCAT
February 2019, Omron Electronics , Motion Control & Drives
Manufacturing is changing. Production lines need to be increasingly flexible to cope with shorter production runs, more varied products and tighter deadlines. Manufacturers are addressing these challenges 
...
Read more...
---
Case History 164: More on valves that do not control properly.
January 2019, Michael Brown Control Engineering , Motion Control & Drives
I often publish articles showing valve problems. One of the reasons is that I do not think many people understand that valves are generally responsible for 75-80% of all control loop problems. When it 
...
Read more...
---
Global partnerships for automotive support
January 2019, Parker Hannifin Sales Company South , Motion Control & Drives
Parker Hannifin is a global leader in motion control components and system solutions serving industrial, mobile and automotive markets. Specialising in hydraulics, pneumatics, electromechanics, fluid 
...
Read more...
---