printer friendly version
Rittal's new industry-first enclosure system
February 2019
Enclosures, Cabling & Connectors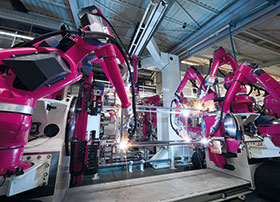 Following the official launch of Rittal's new VX25 large enclosure system at last year's Hanover Trade Fair, Rittal South Africa unveiled this evolution during a customer day which took place last year.
After five years of development work, the VX25 is an enclosure system that has been fully developed to meet the requirements for increased productivity in control and switchgear manufacturing, and along the Industry 4.0 value chains. With the 'System Perfection' slogan, Rittal offers a major innovative leap, made possible through depth of experience and intensive customer dialogue.
The VX25 offers high quality, reduced complexity and easy assembly. The uptake has been exceptional and the range has gone on to include a Blue e+ version, which offers revolutionary energy efficiency thanks to hybrid technology.
Observe, listen and learn
Intensive dialogue with Rittal customers was crucial in developing the new large enclosure system. During a large-scale, scientifically-based usability study, researchers used words, images and moving film to document the everyday working life of control and switchgear manufacturers, covering ten companies in Germany, eight in the US and six in China, including small, medium-sized and large companies. As a result, 150 systematically recorded and specific requirements for a new enclosure emerged, providing developers and product managers with a robust guide for the actual development work.
Pure customer benefits and a high degree of innovation
The development culminated in the new VX25 large enclosure system where the name stands for the versatility of options, the fulfilment of customer requirements and for perfect symmetry through a consistent 25 mm pitch pattern. The VX25 matches the way the control and switchgear manufacturer thinks and works – both in functionality and processes.
The heart of the innovation is the newly-developed frame section. It determines the installation space, the efficiency in engineering and assembly, the expansion options, the stability and thus the reliability and flexibility in the customer's workshop. With the new enclosure system, it is possible to maintain all the important and established product features of the existing TS 8 range and to expand them significantly with a multitude of new functions and customer benefits. More than 25 registered patent and trademark applications demonstrate the high level of innovation in the VX25.
For more information contact Rittal South Africa, +27 11 609 8294, info@rittal.co.za, www.rittal.co.za
Credit(s)
Further reading:
Hazardous area installations
March 2019, Pepperl+Fuchs , Enclosures, Cabling & Connectors
How to find the most efficient protected solution for each application.
Read more...
---
Rittal's aftersales service plan
March 2019, Rittal , News
When investing in products and systems, it is easy to overlook the maintenance and aftercare associated with these purchases. More than just the initial investment, companies are encouraged to look at 
...
Read more...
---
M12 field wired push-in connectors
March 2019, Turck Banner , Enclosures, Cabling & Connectors
Turck has added M12 field wireable connectors with integrated push-in connection technology to its connectivity portfolio. The new connectors enable the user to complete rapid and safe manual assembly 
...
Read more...
---
Adrian Buddingh joins Rittal South Africa as managing director
February 2019, Rittal , News
Effective as of 1 January, Rittal South Africa is pleased to welcome Adrian Buddingh as the subsidiary's new managing director. Buddingh's engineering expertise, knowledge of the industry and passion 
...
Read more...
---
Enclosure series for explosion protection in process automation
February 2019, Pepperl+Fuchs , Enclosures, Cabling & Connectors
For many years, users have been waiting for a new, universal enclosure system in the field of electrical explosion protection. Having invested in this area, Pepperl+Fuchs has developed the GRP enclosure 
...
Read more...
---
RS launches rugged Molex connectors
February 2019, RS Components SA , Enclosures, Cabling & Connectors
RS Components has introduced the Molex Squba range of 1,80 mm sealed wire-to-wire connectors, designed to fit into small spaces while offering IP67 protection against liquid, dust and dirt. Squba supports 
...
Read more...
---
Isobus series of connectors from Amphenol
February 2019, RS Components SA , Enclosures, Cabling & Connectors
RS Components has announced availability of a new series of Isobus circular connectors manufactured by Amphenol, a leading maker of connectivity components for industrial engineering applications. The 
...
Read more...
---
RS introduces Harting's compact industrial Ethernet interface
February 2019, RS Components SA , Enclosures, Cabling & Connectors
RS Components has announced availability of the Harting ix Industrial range of Ethernet interfaces. These new devices set a higher standard and respond to the future challenges posed by Industry 4.0 and 
...
Read more...
---
Compact splice boxes for future-proof data transmission
December 2018, Phoenix Contact , Enclosures, Cabling & Connectors
The new FDX 20 splice boxes from Phoenix Contact extend the range to ensure continuously reliable data transmission in real time. With their compact and uniform design, the splice boxes provide ample 
...
Read more...
---
Cables for the direct current era
November 2018, Lapp Southern Africa , Enclosures, Cabling & Connectors
Alternating current is the blood that flows through the veins of most power grids. It conveys electrical energy across great distances from the power station to factories and homes. But the monopoly of 
...
Read more...
---