printer friendly version
Operators step into the future
February 2019
IT in Manufacturing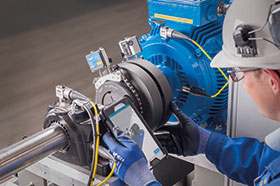 Recognising the increasingly vital role that technology plays in business, SKF continues to move with the Industry 4.0 tide. In line with its 'World Class Manufacturing' initiative, SKF has implemented Operator 4.0, a new approach to managing machinery and operations from the palm of employees' hands.
Since SKF's launch of the 'World Class Manufacturing' digitalisation model at Göteborg plant in 2015, the company has been rolling out new innovative digitalisation and automation features to improve production and turnaround times to the ultimate benefit of customers.
This automation transformation also upskills employees and enhances their job experience with smarter technology leading to a more productive and safer working environment. The introduction of Operator 4.0 relieves operators from manual tasks and requires them to broaden their knowledge in order to be in a position to understand a more comprehensive system, with multiple connections.
Smartphones enable strategic decision making
Smartphones are a vital part of this equation as data alerts on these devices enable operators to interpret information and make strategic decisions. To assist in this transition, SKF has hired data scientists and data analysts. These experts assist in upskilling and training employees to equip them with the necessary knowledge so that they are able to understand complex systems with multiple connections to ultimately work faster, smarter and safer.
The straightforward process of data collection to operator interpretation begins with the operator viewing real-time data of all machines which is conveniently displayed on a screen mounted in the assembly island area. The compact Multilog IMx-8 from SKF is an online data collection instrument that offers sophisticated, fit-for-purpose machine health monitoring.
The most recent addition to SKF's highly popular IMx-16 and -32 channel machine health monitoring platforms, the IMx-8, then processes and interprets the data measured by the sensors (up to 8 channels in this case). QuickCollect is the software on the smart device (smartphones and tablets) that interprets the IMx-8 data in a user friendly and comprehensible format. Through the power of the IMx-8 and software, machinery results detected by the sensors including temperature, rotation speed, and vibrations, are sent directly to the operators' mobile phones. Operators are able to view machine condition, when service is required or detect problems early, thus avoiding critical failures, costly replacements and downtime.
In the event of an anomaly, an alert is sent to the operator's smartphone via the 'MOST' application. Developed in-house by the Connectivity Room, this versatile application allows the operator to move between the assembly islands and view the instructions at each workstation by scanning the data matrix placed on each unit.
In addition to being privy to information which was previously restricted, operators are now also able to exchange information with colleagues via an integrated chat messaging application. This functionality allows employees and their supervisors to be connected at various locations.
In this digital age it is widely accepted that new technology also means increased risk and this too has been addressed by SKF. The company has introduced a number of measures to limit any potential hazards: Segmenting the physical network into virtual sub-networks, ordering two firewalls, and working on the development of a system to block viruses transferred via USB port inputs. Furthermore, e-learning modules and IT security workshops are conducted with employees to generate improved awareness on IT security and risks.
SKF employees are reaping the benefit of cutting-edge technology through the acquisition of new IT skills and the use of the smartphones in the workplace. With the recent implementation of these dynamic digital solutions, SKF is poised to elevate employee skills and enhance production quality and performance for the ultimate benefit of SKF customers.
For more information contact Samantha Joubert, SKF South Africa, +27 11 821 3500, samantha.joubert@skf.com, www.skf.com
Credit(s)
Further reading:
Yokogawa's Smart Terminal Automation Solution
April 2019, Yokogawa South Africa , IT in Manufacturing
Yokogawa has accumulated more than two decades of experience in the automation of such terminals and supplied its Terminal Automation Solution to suit varying customer needs.
Read more...
---
Listening to the Voice of the Machine
April 2019, Parker Hannifin Sales Company South , IT in Manufacturing
The value of discrete IoT.
Read more...
---
Measurement data on the lookout for artificial intelligence
April 2019, Phoenix Contact , IT in Manufacturing
In the global race for competitive prices, it is the most efficient processes that win the race.
Read more...
---
IoT-enabled field services improve industrial asset availability
Technews Industry Guide: Maintenance, Reliability & Asset Optimisation 2019 , IT in Manufacturing
Today, many equipment manufacturers are reclaiming the service relationship from the distribution channels with a modern field service management system and remote monitoring.
Read more...
---
Understanding how predictive analytics tools benefit power utility management
Technews Industry Guide: Maintenance, Reliability & Asset Optimisation 2019, IS³ - Industry Software, Solutions & Support , IT in Manufacturing
This paper reviews how predictive analytics tools can be applied to both utility operations and maintenance.
Read more...
---
Seamless acquisition and analysis of plant data
Technews Industry Guide: Maintenance, Reliability & Asset Optimisation 2019, Beckhoff Automation , IT in Manufacturing
TwinCAT Analytics supports the ability to investigate machine optimisation and facilitate predictive maintenance.
Read more...
---
Faster results with a digital twin
April 2019, Siemens Digital Factory & Process Indust. & Drives , IT in Manufacturing
High tech company Grenzebach's portfolio includes the simulation of material flow in complex plants in the glass industry. To achieve this, Grenzebach uses Siemens' simulation solutions. Together, the 
...
Read more...
---
Mining in the Industry 4.0 era
April 2019 , IT in Manufacturing
Pitram from Micromine can assist mining operations to automate and boost efficiency.
Read more...
---
Stepping carefully into the Fourth Industrial Revolution
April 2019 , IT in Manufacturing
Rapid advances in technology and artificial intelligence in the mining industry raise issues like data protection, intellectual property ownership and legal liability. In the current absence of specific 
...
Read more...
---
Paving the way to digitalisation in oil and gas
April 2019, RJ Connect , IT in Manufacturing
Oil and gas are still indispensable fuels for the global economy, and exploring for new sources of oil and gas remains a lucrative and attractive endeavour. New oil platforms, rigs and pipelines are constantly 
...
Read more...
---