printer friendly version
Operators step into the future
February 2019
IT in Manufacturing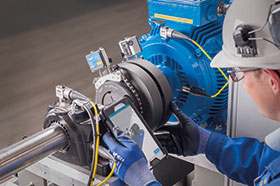 Recognising the increasingly vital role that technology plays in business, SKF continues to move with the Industry 4.0 tide. In line with its 'World Class Manufacturing' initiative, SKF has implemented Operator 4.0, a new approach to managing machinery and operations from the palm of employees' hands.
Since SKF's launch of the 'World Class Manufacturing' digitalisation model at Göteborg plant in 2015, the company has been rolling out new innovative digitalisation and automation features to improve production and turnaround times to the ultimate benefit of customers.
This automation transformation also upskills employees and enhances their job experience with smarter technology leading to a more productive and safer working environment. The introduction of Operator 4.0 relieves operators from manual tasks and requires them to broaden their knowledge in order to be in a position to understand a more comprehensive system, with multiple connections.
Smartphones enable strategic decision making
Smartphones are a vital part of this equation as data alerts on these devices enable operators to interpret information and make strategic decisions. To assist in this transition, SKF has hired data scientists and data analysts. These experts assist in upskilling and training employees to equip them with the necessary knowledge so that they are able to understand complex systems with multiple connections to ultimately work faster, smarter and safer.
The straightforward process of data collection to operator interpretation begins with the operator viewing real-time data of all machines which is conveniently displayed on a screen mounted in the assembly island area. The compact Multilog IMx-8 from SKF is an online data collection instrument that offers sophisticated, fit-for-purpose machine health monitoring.
The most recent addition to SKF's highly popular IMx-16 and -32 channel machine health monitoring platforms, the IMx-8, then processes and interprets the data measured by the sensors (up to 8 channels in this case). QuickCollect is the software on the smart device (smartphones and tablets) that interprets the IMx-8 data in a user friendly and comprehensible format. Through the power of the IMx-8 and software, machinery results detected by the sensors including temperature, rotation speed, and vibrations, are sent directly to the operators' mobile phones. Operators are able to view machine condition, when service is required or detect problems early, thus avoiding critical failures, costly replacements and downtime.
In the event of an anomaly, an alert is sent to the operator's smartphone via the 'MOST' application. Developed in-house by the Connectivity Room, this versatile application allows the operator to move between the assembly islands and view the instructions at each workstation by scanning the data matrix placed on each unit.
In addition to being privy to information which was previously restricted, operators are now also able to exchange information with colleagues via an integrated chat messaging application. This functionality allows employees and their supervisors to be connected at various locations.
In this digital age it is widely accepted that new technology also means increased risk and this too has been addressed by SKF. The company has introduced a number of measures to limit any potential hazards: Segmenting the physical network into virtual sub-networks, ordering two firewalls, and working on the development of a system to block viruses transferred via USB port inputs. Furthermore, e-learning modules and IT security workshops are conducted with employees to generate improved awareness on IT security and risks.
SKF employees are reaping the benefit of cutting-edge technology through the acquisition of new IT skills and the use of the smartphones in the workplace. With the recent implementation of these dynamic digital solutions, SKF is poised to elevate employee skills and enhance production quality and performance for the ultimate benefit of SKF customers.
For more information contact Samantha Joubert, SKF South Africa, +27 11 821 3500, samantha.joubert@skf.com, www.skf.com
Credit(s)
Further reading:
Reliable gas production
September 2019, Siemens Digital Industries , IT in Manufacturing
Energy supplier uses Siemens technology for optimum information exchange.
Read more...
---
Automotive supplier relies on Siemens PLM solution
September 2019, Siemens Digital Industries , IT in Manufacturing
Küster Automotive is an internationally active family-run company and a part of Küster Holding. A full-service supplier, Küster manufactures components for the automotive industry. For its production 
...
Read more...
---
Top tips to help you implement 4IR projects that deliver value
September 2019 , Editor's Choice, IT in Manufacturing
In the just over 10 years I have spent working on IT projects in the manufacturing space, the amount of new fads and IT jargon that has to be adopted has reached the heavens, and ascended into other realms. 
...
Read more...
---
Digitisation requires new skills
September 2019, Schneider Electric South Africa , IT in Manufacturing
Smart grid investments by municipal and public power utilities typically focus on electric distribution and customer systems. The expected benefits include lower costs, better customer service and more 
...
Read more...
---
Industry 4.0: Manufacturing Executing Systems
September 2019, S4 Integration , IT in Manufacturing
Industry 4.0 is set to lead the way for digitisation of manufacturing processes. Manufacturing Executing Systems (MES) are a critical component of Industry 4.0 as they act as an enabler for end-to-end 
...
Read more...
---
Safety and cybersecurity convergence goes beyond safety systems
August 2019 , IT in Manufacturing
However, the scope of safety and cybersecurity goes well beyond process safety systems alone. Across the industrial and infrastructure worlds, an increasing number of end users are adopting more sophisticated 
...
Read more...
---
Countering the counterfeiters
August 2019, SKF South Africa , News
In 2017, working with law-enforcement authorities, SKF destroyed 15 tonnes of counterfeit bearings that were identified and seized several years ago. The batch, which comprised 17 000 individual items, 
...
Read more...
---
Mobile app configures level transmitters
August 2019, Emerson Automation Solutions , IT in Manufacturing
Emerson has added the Radar Master app for the AMS Trex Device Communicator, making it easier for field technicians to configure Rosemount radar level transmitters. Radar level devices are critical to 
...
Read more...
---
Yapper: pet food goes digital
August 2019 , IT in Manufacturing
Over the past decade, there has been an increase of the 'pet humanisation' trend, which continues to capture the entire world. Pet owners are caring for and spending on their pets as they would do for 
...
Read more...
---
Artificial intelligence in packaging
August 2019, Beckhoff Automation , IT in Manufacturing
Beckhoff Automation's Benjamin Bruns explains how the company has incorporated machine ­learning as a natural extension of its control platform.
Read more...
---