Wenglor expands optical sensor range
February 2019
Sensors & Transducers

printer friendly version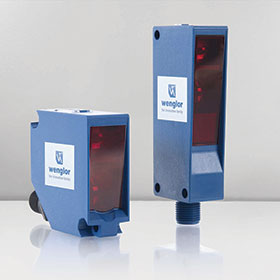 Wenglor's PNG/smart generation of photoelectronic sensors is distinguished by a combination of performance and communication. An aligned optical axis and a balanced switching point, as well as large switching distances and consistent integration of IO-Link, result in a new class of sensors. In addition, the product range, including high-performance distance sensors and reflex light barriers, is supplemented with two new functional principles.
Wenglor's PNG/Smart sensors are currently one of the most comprehensive range of industry 4.0 sensors available on the market. With three housing formats (1K, 1N and 1P) as well as seven functional principles and a selection of three light sources (red and blue LED light and red laser light), nearly any application for contactless object detection can be implemented. This means that not only are automated product changeovers for flexible production all the way down to lot size 1 made possible, but predictive maintenance for increased systems availability and automated configuration of sensor parameters can also be implemented.
As all sensors are equipped with IO-Link, integration into existing control systems via Profinet and EtherNet/IP is available. A special NFC interface allows users sensor set-up via near field communication. Settings can also be adjusted using a potentiometer, Teach-In, or at the LED display.
Whereas the reflex sensors with background suppression and 1N housing format have an upper range of 1200 mm, the through-beam sensors detect objects at distances up to 60 m. The through-beam sensors with 1P housing have a range of up to 2 m. These multifunction sensors can be used either as switching or measuring devices and, due to WinTec technology, they do not interfere with each other. The series is completed by diverse connection functions, optionally connectable via M8x1 or M12x1 plug, or with cable to permit all sensors to be integrated into any system design.
For more information contact Anastas Schnippenkotter, ASSTech Process Electronics & Instrumentation, +27 11 708 9200, info@asstech.co.za, www.asstech.co.za
Credit(s)
Further reading:
Large German fertiliser manufacturer reduces costs thanks to SICK Automation
February 2019, SICK Automation Southern Africa , Sensors & Transducers
Available agricultural land in Europe is limited. As a result, large quantities of fertiliser are used in order to increase yields. Producing fertiliser, however, is an energy-intensive process which 
...
Read more...
---
Traceability for tobacco manufacturer
February 2019, SICK Automation Southern Africa , Sensors & Transducers
SICK Automation South Africa recently installed 120 image-based 2D barcode readers across multiple scanning stations in a South African tobacco manufacturing plant. The cigarette manufacturer was looking 
...
Read more...
---
Hygienic limit switches for processes
February 2019, Morton Controls , Sensors & Transducers
Process and storage vessels incorporate limit switches to prevent overfilling of a tank or vessel (full indicator) or dry running of a pump (empty indicator). Anderson-Negele's NCS series are ideally 
...
Read more...
---
A new standard for digital ­inclination measurement
February 2019 , Sensors & Transducers
A new standard for digital inclination measurement has been set with the latest digital protractors from Stabila. Both the Tech 500 DP and Tech 1000 DP are manufactured exclusively in Germany, the main 
...
Read more...
---
Bromide sensor for water disinfection
February 2019, ASSTech Process Electronics + Instrumentation , Sensors & Transducers
With the expansion of its product range of membrane-covered amperometric digital sensors for liquid analysis, ASSTech now has available the Jumo tec-Line Br bromide sensor for general water disinfection 
...
Read more...
---
Four questions to ask when ­choosing a vision solution
February 2019, Turck Banner , Sensors & Transducers
Many users find vision systems challenging and it can be difficult to know where to start, but there are some simple steps that can help to match the right vision solution to an application. This article 
...
Read more...
---
Intelligent valve sensor
February 2019, ifm Electronic RSA , Sensors & Transducers
The intelligent valve sensor for pneumatic quarter-turn actuators from ifm electronic features 360° position monitoring to allow precise and continuous scrutiny of the valve condition. Problems such as 
...
Read more...
---
Fast optical data transmission
February 2019, Countapulse Controls , Sensors & Transducers
The Leuze DDLS 500 optical data transceiver has a high optical transmission rate of 100 Mbit/s. This photoelectric sensor allows data transmission without cabling and without interference. Gerry Bryant, 
...
Read more...
---
Speed sensor with IO-Link
February 2019, ifm Electronic RSA , Sensors & Transducers
The new range of speed sensors from ifm electronic has the evaluation electronics integrated into the sensor housing. This allows for low cost and easy monitoring or rotating, as well as linear movements 
...
Read more...
---
Collision avoidance in reverse gear
January 2019, ifm Electronic RSA , Sensors & Transducers
To avoid collisions during manoeuvring, ifm electronic offers an automatic collision avoidance system: a 3D camera mounted at the back of a vehicle monitors the rear area, detects objects in the travel 
...
Read more...
---