printer friendly version
Effective level sensors
February 2019
Level Measurement & Control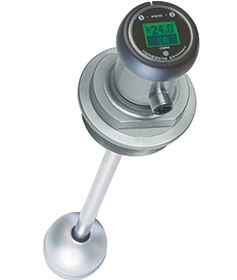 Val.co offers a range of affordable and effective level sensors that have applications across all sectors of industry, but that benefit, in particular, the tank building sector. The range includes small float switches, Linear-LC, limit level switch for side installation, simple or double contact limit level switches, and multipoint devices.
"Val.co has a proven track record of more than 30 years of experience in the process instrumentation field," commented GHM Messtechnik South Africa managing director, Jan Grobler. "The company is dedicated to designing process instrumentation that satisfies customer requirements and the quick turnaround from design to customer prototype is one of its strengths."
Five ranges
Affordable small float switches for lid or bottom installation for industrial use are available in brass, stainless steel, polypropylene, PVC and PVDF. Combinations are available for use under aggressive conditions and have parallel or conical thread connections.
A comfortable continuous measurement based on proven float technology is offered by the Linear C range. An integrated Reed chain with resistance circuit enables continuous level monitoring. Switching of tube lengths up to 2000 mm enables affordable electronic measurement in large tanks. The Omni-LC digital indicator offers the possibility of displaying measurements locally and in plain text with background lighting.
The variety of Limit level switches for side installation include:
• Type SML – stainless steel designed for contact with media with pressure resistance up to 30 bar.
• Type NW1 – brass and stainless steel versions with NBR-butadiene with a stainless steel or PVDF float.
• Type MW3 – microswitch variant with max 5 A switching current, electrical connection via DIN plug 43650-A or round pug connector M12x1.
• Type NW3 – Reed switch variant in brass or stainless steel with NBR-butadiene, stainless steel of PVDF float.
• Type RW..HK – for internal or external installation in stainless steel.
• Type MW1 – One of two micro switches, convenient for use as an advance warning contact or for monitoring of two close levels.
Multipoint level switches for complex level monitoring with tube length switching up to 6000 mm with a plastic version up to 5000 mm. The Multipoint is used for distance monitoring of tanks that use up to six float stations. It offers additional application safety with temperature elements that can be optionally integrated in a switching tube monitor the media temperature continuously.
Effective limit level switches are supplied in a simple or double contact sensor in proven Reed switch design. Again, these switches are available in stainless steel, brass as well as aluminium or PVC. In continuous operation they offer temperature resistance up to 1050°C. Optional switching functions as a NC or change-over contact making external voltage supply unnecessary.
"The Val.co range complies with all international standards," concluded Grobler. "The robust devices perform in the most demanding conditions and are approved for ATEX Exd – Exi a, EAC, and for naval use."
The range is available from GHM Messtechnik South Africa.
For more information contact Jan Grobler, GHM Messtechnik South Africa, +27 11 902 0158, info@ghm-sa.co.za, www.ghm-sa.co.za
Credit(s)
Further reading:
Is your building comfortable?
June 2020, GHM Messtechnik SA , Analytical Instrumentation & Environmental Monitoring
When was the last time you did a health check on your work environment? Monitoring the quality and temperature of the air, air-conditioning, heating, ventilation, outside weather, and even the amount 
...
Read more...
---
New additions to Optiflex level transmitter series
May 2020 , Level Measurement & Control
Krohne has introduced four new additions to the Optiflex series of guided radar (TDR) level transmitters. Each device is designed for specific areas of application in the chemical, oil and gas, power, 
...
Read more...
---
Capacitive level switch for fluid, pasty and powdery media
May 2020, GHM Messtechnik SA , Level Measurement & Control
Martens, part of the GHM group of companies, has introduced its MLC 437 capacitive level switches for use principally for the registration of limit levels, full/empty signals in pipes and tanks in fluid, 
...
Read more...
---
Top-mounted level indicator
May 2020, WIKA Instruments , Level Measurement & Control
WIKA's model UTN top-mounted level indicator consists of a measuring chamber, a float with guide rod and a magnetic system. Mounting onto the vessel is made via appropriate process connections (flanged 
...
Read more...
---
New 80 GHz compact radar transmitters
May 2020, Siemens Digital Industries , Level Measurement & Control
Siemens has introduced the Sitrans LR100 series 8 GHz radar level transmitters, a compact instrument with a narrow beam for flexible installations in existing vessel openings or even non-intrusively through 
...
Read more...
---
New compact radar sensor
April 2020, VEGA Controls SA , Level Measurement & Control
A new era in radar level measurement began a few years ago when Vegapuls sensors based on 80 GHz technology were introduced. Thanks to the more precise focusing of the radar beam, the sensor virtually 
...
Read more...
---
Thermal flow measurement with IO-Link
March 2020, GHM Messtechnik SA , Flow Measurement & Control
Honsberg has launched the new Omniplus-F thermal flow sensor measurement device enabling users to use only one device for applications which previously required three. Additionally, it has a uniquely 
...
Read more...
---
Digital innovations using the vibronics measuring principle
February 2020, Endress+Hauser South Africa , Level Measurement & Control
Continuous optimisation and increasingly automated processes are shaping the history of process automation, as well as that of industrialisation.
Read more...
---
High-speed level measurement
February 2020, Morton Controls , Level Measurement & Control
Morton Controls in partnership with Anderson-Negele has introduced the innovative NSL-F level sensor based on a modular device platform. The new platform strategy used with this sensor is based on a building-block 
...
Read more...
---
Capacitive level limit switch
February 2020, Morton Controls , Level Measurement & Control
The Capanivo level limit switch can be used in most solids and liquids as a full or empty detector. The robust, glass reinforced PPS (polyphenylene sulphide) sensor is suitable for food applications while 
...
Read more...
---