printer friendly version
Hygienic flow measurement
February 2019
Flow Measurement & Control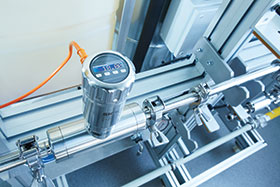 Intelligent solutions for level, temperature, flow, and pressure measurement from SICK Automation's product portfolio are proven to meet the stringent requirements for safety and hygiene in the food and beverage industry. The portfolio contains a new flow sensor that uses ultrasonic technology to determine the flow volume of conductive and non-conductive liquids in hygienic and highly demanding environments.
Selecting the right method and appropriate device for the flow measurement generally involves resource intensive consideration of the advantages and disadvantages of the different systems and measuring methods. Particularly in the food and beverage industry, which relies on high process reliability and perfect hygiene standards, this means that there are often a large number of different measuring devices for the respective production areas. Therefore, the industry welcomes instruments that reliably monitor the flow of drinking chocolate, beer, olive oil, demineralised water or milk, and which are just as precise in measuring the flow of cleaning agents in CIP and SIP plants, or cooling water in cooling circuits. This variety of applications is possible thanks to sophisticated ultrasonic technology.
The Dosic ultrasonic sensor operates according to the concept of time-of-flight difference: If the ultrasonic signal is sent against the flow direction, it requires a longer transit time than the signal sent in the direction of the flow. The transit-time difference between the two ultrasonic signals is directly proportional to the mean flow velocity. With regard to reliability and precision in transit-time difference measurements, the sensor can detect a wide range of challenging liquids and media for beverage and food production, irrespective of their properties.
Durable and reliable in hygienic conditions
The rugged and compact model combined with a hygienic design ensures highly reliable measurement results. The absence of moving parts in the sensor eliminates potential contamination risks in the demanding hygienic environments of the food industry. In addition, the sensor has a straight, seal-free and self-emptying measuring tube made of high-quality stainless steel. The sensor has EHEDG certification and demonstrates FDA conformity. Since there is no contact between the sensor and the flowing media, and the flow volume is determined in a non-contact manner, aggressive cleaning agents in CIP and SIP operations are not a problem either. The sensor can easily withstand temperatures up to 145C in SIP processes for up to one hour. The rugged design ensures a long service life and reduces the need for maintenance.
Compared to similar flow sensors that take up a lot of installation space, the Dosic can be used in the most confined spaces. Two configurable digital inputs and outputs and up to two analog outputs, as well as an IO-Link interface reduces cabling and also enables complete control and monitoring of the sensor in Industry 4.0 machine environments.
It is not necessary to set special parameters before the measurement process. If the medium is changed, the sensor automatically adjusts its parameters accordingly. This 'plug & measure' solution eliminates the need for initial medium calibration and reduces installation and operating costs. The Dosic is a flexible measurement system available in two sizes: DN15 and DN25.
In addition to the flow sensor, the extensive SICK portfolio contains other sensors that are ideal for hygienic application conditions. For example, the PHT pressure transmitter ensures constant liquid pressure in buffer tanks when bottling carbonated beverages. The PHT controls the pressure precisely at high throughput rates, even when pressure is applied to bottles and cans to prevent foaming. The PBS hygienic pressure switch is also designed for hygienic pressure measurement and monitoring. It is used in bottling machines, particularly for the hydrostatic level measurement of liquids in tanks. The LFP Inox, which has been developed especially for the high demands of the beverage and food industry, measures the fill levels as well as the limit levels in buffer or machine tanks. Thanks to its high-end design and variant diversity, it provides the ideal prerequisites for a number of application possibilities. Thanks to the foam mode, the LFP can easily be used even in difficult applications such as bottling foaming liquids like milk.
For more information contact Robert de Scánde, SICK Automation Southern Africa, +27 11 472 3733, robert.descande@sickautomation.co.za, www.sickautomation.co.za
Credit(s)
Further reading:
2D barcode reader increases traceability
April 2019, SICK Automation Southern Africa , Sensors & Transducers
SICK Automation South Africa, one of the country's leading sensor solution suppliers for industrial applications, recently installed 120 image-based 2D barcode readers across multiple scanning stations 
...
Read more...
---
Plug-and-play solution for flow monitoring
April 2019, Countapulse Controls , Flow Measurement & Control
Ease of flow monitoring with low maintenance benefits is a given with the compact plug and play EGE SNS 450 thermodynamic flow sensor from Countapulse Controls – the sole southern African agent for EGE's 
...
Read more...
---
Low volume rotating vane flowmeter
April 2019, Instrotech , Flow Measurement & Control
Instrotech is offering Kobold's DTK rotating vane flowmeter for small quantities, a versatile, efficient and very economic piece of equipment. This flowmeter was specially developed for use in low viscosity 
...
Read more...
---
Electromagnetic flowmeter for conductive fluids
April 2019, Instrotech , Flow Measurement & Control
Instrotech is offering the Kobold electromagnetic inductive flowmeter for conductive fluids – the model DMH – with a standard accuracy of ± 0,3% of reading stability of zero. It is used specifically for 
...
Read more...
---
Foxboro's vortex flowmeters designed for harsh process environments
April 2019, EOH Process Automation Solutions , Flow Measurement & Control
The 84 series measures volumetric and mass flow of saturated and super-heated steam.
Read more...
---
Manoeuvring agricultural robots with 2D laser scanners
March 2019, SICK Automation Southern Africa , Sensors & Transducers
The problem: how do you navigate agricultural robots through a field? The challenge of this application can be found not only in the wide variety of crops out there, but also in the fact that crop rows 
...
Read more...
---
Visual flow indicators from Valco
March 2019, GHM Messtechnik SA , Flow Measurement & Control
The visual inspection of the passage of liquids, gas and other matter in plant processes is a critical element and can be achieved quickly and efficiently with Val.co's visual flow indicators, which can 
...
Read more...
---
Large German fertiliser manufacturer reduces costs thanks to SICK Automation
February 2019, SICK Automation Southern Africa , Sensors & Transducers
Available agricultural land in Europe is limited. As a result, large quantities of fertiliser are used in order to increase yields. Producing fertiliser, however, is an energy-intensive process which 
...
Read more...
---
Traceability for tobacco manufacturer
February 2019, SICK Automation Southern Africa , Sensors & Transducers
SICK Automation South Africa recently installed 120 image-based 2D barcode readers across multiple scanning stations in a South African tobacco manufacturing plant. The cigarette manufacturer was looking 
...
Read more...
---
Flow control problems in a pulp mill
January 2019, Valve & Automation , Flow Measurement & Control
NAF's advanced process valves solve pulp, paper and cellulose applications.
Read more...
---