Traceability for tobacco manufacturer
February 2019
Sensors & Transducers

printer friendly version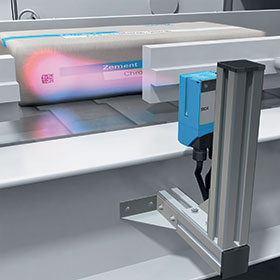 SICK Automation South Africa recently installed 120 image-based 2D barcode readers across multiple scanning stations in a South African tobacco manufacturing plant. The cigarette manufacturer was looking for a solution to move from its manually intensive marking and tracing system, which facilitated human error and lacked a satisfactory verification process, to a modern technological one.
The client's objective was to ensure the plant retained its ability to produce world-class products. This would be achieved through increased product traceability and improved quality control. SICK recommended its Lector 620 Professional image-based barcode readers, part of the Lector 62x product family, specifically designed for improved product and process traceability.
The installation of these barcode readers has ensured that the plant has technologically up-to-date unit level traceability on all product elements. This extends from the container-stored tobacco blends through the entire production process, ending with the cartons of cigarette boxes contained in palletised containers for distribution. The Lector 620 range includes a fail-safe microSD card in case of device failure, which automatically loads all required device settings when inserted into a new device.
"Traceability allows for safe products to be manufactured while protecting the production process," points out Mark Madeley, marketing manager, SICK South Africa. He adds that among the benefits of the Lector 620 Professional is the automatic parameter switching ability. "This allows the barcode reader to change its settings between four different modes, thereby accommodating variances in lighting conditions." The software used can also artificially enhance the barcode to ensure the highest possible read rates and its image capturing ability conducted simultaneously to scanning is another advantage. "No-read images are saved, providing our client with the ability to diagnostically ascertain the cause of the fault and implement timeous remedial action," adds Madeley.
All devices were pre-programmed according to the manufacturer's standards with the plant's maintenance engineers receiving device competence training.
Used in the packaging and pharmaceutical, automotive, electronics and solar industries as well as the document handling industry, the Lector 62x family decodes all common 1D, 2D and stacked codes and has optical character recognition. They come standard with industrial, compact housing with swivel connector; flexible interfaces; and microSD memory card, while the function buttons include aiming laser, focus adjustment, auto-setup and greed feedback LEDs.
For more information contact Mark Madeley, SICK Automation Southern Africa, +27 10 060 0550, mark.madeley@sickautomation.co.za, www.sick.com/za
Credit(s)
Further reading:
Large German fertiliser manufacturer reduces costs thanks to SICK Automation
February 2019, SICK Automation Southern Africa , Sensors & Transducers
Available agricultural land in Europe is limited. As a result, large quantities of fertiliser are used in order to increase yields. Producing fertiliser, however, is an energy-intensive process which 
...
Read more...
---
Hygienic limit switches for processes
February 2019, Morton Controls , Sensors & Transducers
Process and storage vessels incorporate limit switches to prevent overfilling of a tank or vessel (full indicator) or dry running of a pump (empty indicator). Anderson-Negele's NCS series are ideally 
...
Read more...
---
Hygienic flow measurement
February 2019, SICK Automation Southern Africa , Flow Measurement & Control
Compact stainless steel sensor for conductive and non-conductive liquids.
Read more...
---
A new standard for digital ­inclination measurement
February 2019 , Sensors & Transducers
A new standard for digital inclination measurement has been set with the latest digital protractors from Stabila. Both the Tech 500 DP and Tech 1000 DP are manufactured exclusively in Germany, the main 
...
Read more...
---
Bromide sensor for water disinfection
February 2019, ASSTech Process Electronics + Instrumentation , Sensors & Transducers
With the expansion of its product range of membrane-covered amperometric digital sensors for liquid analysis, ASSTech now has available the Jumo tec-Line Br bromide sensor for general water disinfection 
...
Read more...
---
Wenglor expands optical sensor range
February 2019, ASSTech Process Electronics + Instrumentation , Sensors & Transducers
Wenglor's PNG/smart generation of photoelectronic sensors is distinguished by a combination of performance and communication. An aligned optical axis and a balanced switching point, as well as large switching 
...
Read more...
---
Four questions to ask when ­choosing a vision solution
February 2019, Turck Banner , Sensors & Transducers
Many users find vision systems challenging and it can be difficult to know where to start, but there are some simple steps that can help to match the right vision solution to an application. This article 
...
Read more...
---
Intelligent valve sensor
February 2019, ifm Electronic RSA , Sensors & Transducers
The intelligent valve sensor for pneumatic quarter-turn actuators from ifm electronic features 360° position monitoring to allow precise and continuous scrutiny of the valve condition. Problems such as 
...
Read more...
---
Fast optical data transmission
February 2019, Countapulse Controls , Sensors & Transducers
The Leuze DDLS 500 optical data transceiver has a high optical transmission rate of 100 Mbit/s. This photoelectric sensor allows data transmission without cabling and without interference. Gerry Bryant, 
...
Read more...
---
Speed sensor with IO-Link
February 2019, ifm Electronic RSA , Sensors & Transducers
The new range of speed sensors from ifm electronic has the evaluation electronics integrated into the sensor housing. This allows for low cost and easy monitoring or rotating, as well as linear movements 
...
Read more...
---