printer friendly version
Large German fertiliser manufacturer reduces costs thanks to SICK Automation
February 2019
Sensors & Transducers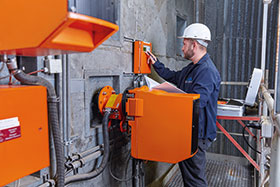 Available agricultural land in Europe is limited. As a result, large quantities of fertiliser are used in order to increase yields. Producing fertiliser, however, is an energy-intensive process which requires monitoring. One of the largest fertiliser manufacturers in Germany chose to use technology from SICK Automation, which includes the installation of over 100 analysers in existing plants.
SICK also developed a self-cleaning in situ measuring probe for reliable gas measurement in environments with wet dusts. Specific monitoring during the processing of phosphate rock and the production of sulphuric acid and phosphoric acid was required. The technology also had to be capable of monitoring processes during the manufacture of mono and diammonium phosphate (MAP/DAP). Until recently, the technology used to measure the gas and dust emissions did not always deliver reliable results.
Technology deployed
Processing of phosphate rock
In most cases, SICK has tried and tested products available ideal for the task at hand. With regard to the processing of phosphate rock, the company needed a product to monitor SO2, NOx, CO, and CO2 as well as dust loads at the outlet of the rotary kilns. The solution had to be able to provide reliable and accurate measurements even in the presence of fine dusts. The GM32 in situ gas analysers were provided for SO2 and NOx, the GM35 for CO and CO2, along with the Dusthunter SP100.
Sulphuric acid production
In the case of sulphuric acid production, the solution had to be able to monitor SO2 and O2 emissions from the stack. In this case, the best choice was the MCS300P HW multi-component analyser system, which requires significantly less maintenance due to its hot/wet extractive measuring technology.
Fluoride
As phosphate rock contains fluoride, HF is released during the production of phosphoric acid and is washed out in the wet scrubber. In order to monitor the performance of the scrubber, HF levels need to be measured on the stack. This task was taken on by the GM700 laser gas analyser, which has a proven track record in the measurement of aggressive and corrosive HF.
Dust emissions, NH3 concentrations and HF emissions
These tasks proved to be a major challenge as the humid, aggressive, and dusty process media made it difficult to take continuous measurements. The chosen solution in this case was the GM700 in situ gas analyser combined with the FWE200 extractive dust measuring device. SICK developed a special measuring probe for the GM700 which cleans itself periodically. The solution can withstand the high levels of salt formation and significantly reduces maintenance. As a result of the continuous monitoring, the excess ammonia in the process can also be cut considerably. The final step was to install eight FWE200 dust measuring devices at one of the sites.
The customer's key requirements were greater plant safety, fewer failures, lower operating costs, and access to real-time production data. Thanks to SICK Automation's leading technology, this was achieved and preparations are already under way for a second site.
For more information contact Mark Madeley, SICK Automation Southern Africa, +27 10 060 0550, mark.madeley@sickautomation.co.za, www.sickautomation.co.za
Credit(s)
Further reading:
Accurate bulk flow measurement in the cement industry
June 2019, SICK Automation Southern Africa , Flow Measurement & Control
The rapid development of sensor technology provides cement producers with a toolbox of solutions to optimise performance and strengthen market presence. Non-contact volume flow measurement of conveyed 
...
Read more...
---
Part localiser from SICK Automation
June 2019, SICK Automation Southern Africa , System Integration & Control Systems Design
Testing and assembly specialist, Kubik Automation from Baienfurt, Germany, is putting SICK Automation's PLOC2D robot guidance system to use in its new sCube assembly cell. The team of experienced industry 
...
Read more...
---
Multi-colour touch sensors with ­IO-Link
June 2019, ifm - South Africa , Sensors & Transducers
The new multi-colour touch sensors from ifm bring flexible adaptation to any application. Where many different sensors were required before, one individually adjustable sensor is sufficient today. The 
...
Read more...
---
Static and rotational torque sensors
June 2019, ASSTech Process Electronics + Instrumentation , Sensors & Transducers
With the new compact 8661 series of torque sensors, Burster has extended its portfolio to include static and rotating torques over the range from 0,05 to 200 Nm. In addition to the highly accurate measurements, 
...
Read more...
---
Handheld control valve tester
June 2019, Comtest , Sensors & Transducers
In the past, control valve testing meant using complicated testers that required extensive training, the removal of the valve, and often one-to-two hours of test time on the bench. Comtest is therefore 
...
Read more...
---
Magnetic sensors for C-groove cylinders from SMC
June 2019, Turck Banner , Sensors & Transducers
Turck's portfolio of magnetic field sensors is being expanded: The BIM-UNC product series was specially optimised for perfect mounting in the C-groove pneumatic cylinder of SMC. The sensors can be inserted 
...
Read more...
---
Photoelectric sensor for demanding applications
June 2019, Rockwell Automation , Sensors & Transducers
The new Allen-Bradley 42AF RightSight M30 photoelectric sensor from Rockwell Automation is the latest addition to the company's smart sensing portfolio. Built with improved environmental resistance and 
...
Read more...
---
Vision sensors
Africa Automation Fair 2019 Preview , Sensors & Transducers
The VG series vision sensors utilise images captured by integrated industrial camera lenses to determine a target object's presence, colour, size, shape, orientation, patterns and more. On show at Stand 
...
Read more...
---
Radiometric density system
Africa Automation Fair 2019 Preview, Mecosa , Sensors & Transducers
On show at Stand D08 is the new DuoSeries LB 475 radiometric density system from Berthold, which is designed for the cementing and hydraulic fracturing industries. The density transmitter is a state-of-the-art 
...
Read more...
---
IO-Link infrastructure components
Africa Automation Fair 2019 Preview, Pepperl+Fuchs , Sensors & Transducers
Pepperl+Fuchs has on show a range of IO-Link infrastructure components. As a globally established communication standard that is system- and fieldbus-independent, IO-Link offers many advantages. The universal 
...
Read more...
---